Course Content
Public List of NSECC Trained Professionals
Documents
PowerPoint Presentations
Upcoming Training Locations and Dates
Past Training Locations and Dates
Natural Shoreland Erosion Control Certification Course
for Landscapers, Contractors, and Site Workers
Course Content: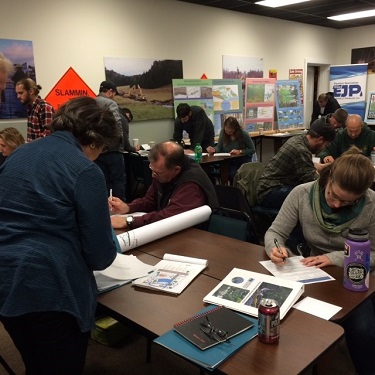 This Certification Course covers shoreland Best Management Practices, including techniques for erosion control, stormwater management, bioengineering and wildlife habitat protection. Lakeshore owners often rely on professional contractors, landscapers, engineers or other site workers to advice and help them manage their property. The NSECC course teaches contractors both the science for using BMPs and the science of how they work to protect the lake while remaining attractive and appealing to homeowners.  All workers certified through this six hour training course will be listed on the Agency of Natural Resources web site and the list will be shared with lakeshore property owners. Those certified through this course will also be given preference for grants and contracts awarded through the new Vermont Clean Water Initiative, and are eligible for professional development credits, including four non-soil credits for Licensed Designers. 
---
Public List of NSECC Trained Professionals:
Documents:
PowerPoint Presentations 
(from November 2016 trainings)
Related Videos
Legislative Report
---
Upcoming Training Locations and Dates
More information about future NSECC trainings should become available in spring 2019. 
---
Past Training Locations and Dates
November 2018 Training Locations and Dates:
Monday, November 5 - Castleton University
Wednesday, November 7 - Richmond (Formerly scheduled to take place in Essex)
Friday, November 9 - Associated General Contractors of Vermont
November 2017 Training Locations and Dates: 
Monday November 6 - Fairbanks Museum and Planetarium in St. Johnsbury
Wednesday November 8 - Associated General Contractors of Vermont in Montpelier
Wednesday November 15 - Lake Champlain Sea Grant and UVM Extension in Essex
November 2016 Training Locations and Dates: 
Monday, November 7, at Rutland Natural Resources Conservation District in Rutland, VT
Wednesday, November 9, at the Fairbanks Museum in St. Johnsbury, VT
Monday, November 14, at  Lake Champlain Sea Grant at UVM in Essex Junction, VT
Wednesday, November 16, at Assoiated General Contractors of Vermont in Montpelier, VT
January and February 2016 Training Locations and Dates:
Wednesday, January 20, at the Lake Champlain Basin Program in Grand Isle, VT
Friday, January 22, at the Associated General Contractors of Vermont in Montpelier, VT
Monday, January 25, at the Northwoods Stewardship Center in Charleston, VT
Wednesday, January 27, at the Poultney Mettowee Natural Resources Conservation District in Castleton, VT
Thursday, February 4, at the Lake Champlain Sea Grant at UVM in Burlington, VT
---
Other Useful Information