Vermont has over 800 lakes, with 220 of them larger than 20 acres in size. The Lake Score Card currently includes information for 823 Vermont lakes, including all those over 20 acres in size.
How to Access the Lake Score Card
Option 1: NEW – 2022 Lake Score Card in new format
Option 2: The latest free version of Google Earth Pro must be installed on your computer's desktop.
Open the latest version of the Lake Score Card in Google Earth Pro
Once the image appears, click on a lake to view the lake's score or select a layer/lake from the list on the left sidebar. Lake-specific individual water quality and chemistry data can be accessed online through the Vermont Integrated Watershed Assessment Information System (IWIS) using Site Search. 
Alternatively, the Lake Score Card report links can be accessed directly as follows:
View Detailed Nutrient Trends and Status
View Plant List, Including Invasive Plants
The New Vermont Inland Lake Score Card
What is the Vermont Inland Lakes Score Card?
The Vermont Inland Lake Score Card is a user-friendly interface developed by the Vermont Lakes and Ponds Management and Protection Program (VLPP) to share available data on overall lake health with lake users.   Using Google Earth, viewers can select from more than 800 lakes in the state and learn about four key aspects of lake health:  nutrients, aquatic invasive species, shoreland and lake habitat, and mercury pollution.  Links embedded in the Score Card open deeper views into the underlying data and point to steps Vermonters can take to protect their lakes.
New and Improved
The new Vermont Inland Lake Score Card is the first comprehensive update since the Score Card was launched in 2010.  With this update, several significant changes were made:
More lakes are represented (n=823). 
New available data is included.
Shoreland and Habitat scores are available for an additional 200 lakes. 
Previous metrics were modified and/or new metrics have been developed to capture:

Nutrient Trend
Watershed Disturbance
Water Quality Standards Status 

Mercury Fish Tissue Contamination, one of the most widespread stressors to Vermont lakes, is now scored separately from acid sensitivity (now captured in the Water Quality Standards Status).
Lakes with insufficient data are clearly distinguished from those with data.  In the original scorecard, lakes without data defaulted to good condition.  The new Score Card defaults to 'no score' if there is insufficient data to calculate a score. 
Data are limited to Vermont's inland lakes.  Lake Champlain is not included. 
The new Vermont Inland Lake Score Card, like the original Vermont Lake Score Card, aims to answer the question "how is a lake doing?" with easy-to-interpret graphics and images.  The Lake Scores are based on the best available data and information the VLPP has currently.  While the data upon which a score is based is empirically derived, the actual thresholds differentiating lake scores were based on the best professional judgement.    Final scores were reviewed by VLPP scientists. 
Those wishing to better understand the scoring process are encouraged to read the 'How Lakes Are Scored' sections and watch the recorded webinar on the YouTube channel for the VTDEC Watershed Management Division.  Those wishing to protect a lake's 'good' score, or wishing to restore a lake with a 'fair' or 'poor' score can refer to the 'Checklist of Lake Protection Actions.'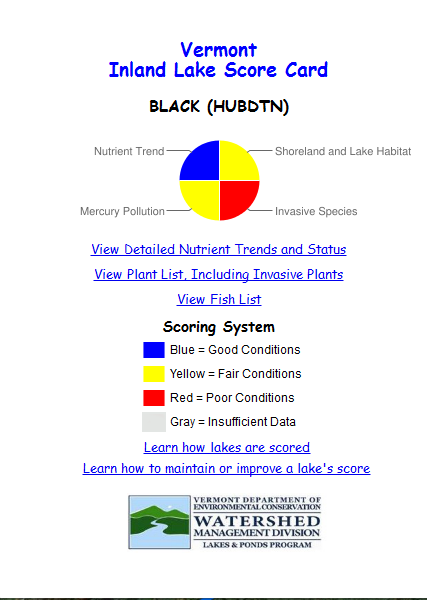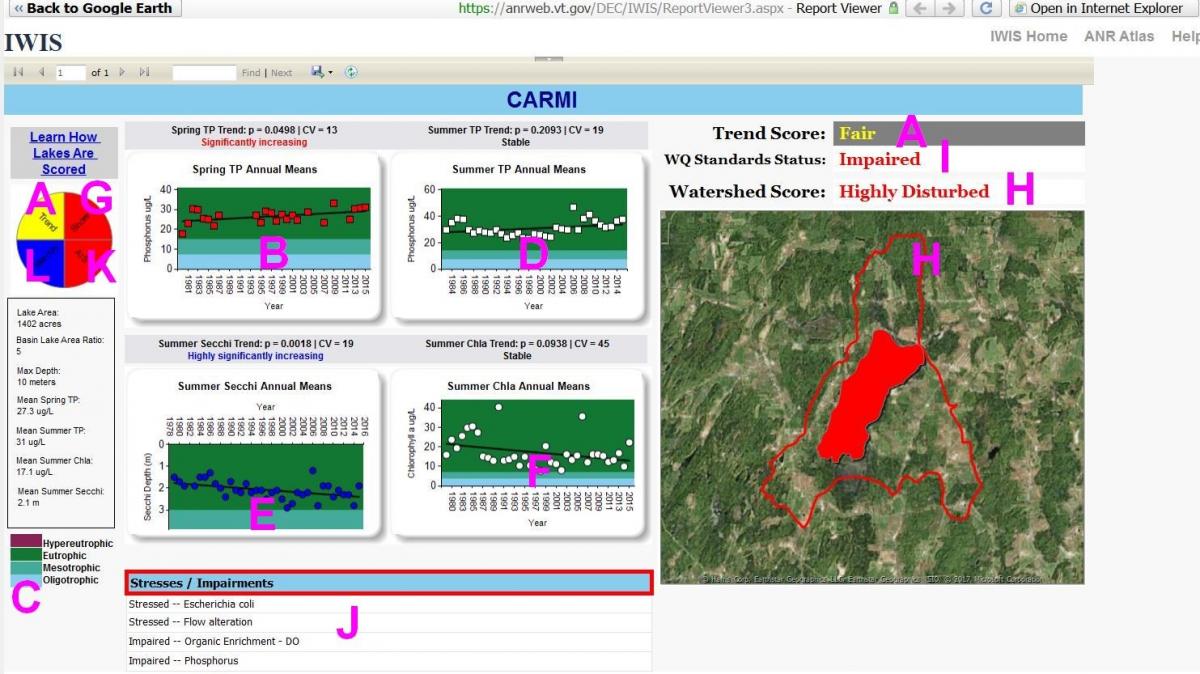 Pop-up displayed when selecting the 'View Detailed Trends and Status' link on the Score Card.   Letters denote specific references from 'How Lakes are Scored.'  Note: to save or print in this Report Viewer, click on the 'Open in Default Web Browser' button in the top right corner of the page.