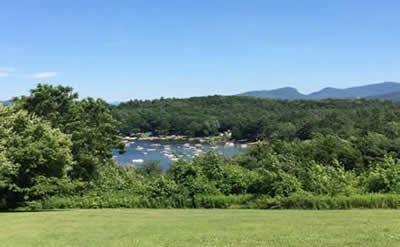 Under Section 401(a)(1) of the Clean Water Act (33 USC § 1341), states have the authority to review and approve, condition, waive, or deny water quality certification for any activity that is subject to a Federal permit or license and may result in a discharge to waters of the United States.
In Vermont, Section 401 Water Quality Certification (WQC) applications are reviewed to determine if the proposed activity will comply with the Vermont Water Quality Standards and other state requirements.  Section 401 authority applies, for example, to projects requiring a permit from the U.S. Army Corps of Engineers  (USACE) or a hydropower license from the Federal Energy Regulatory Commission (FERC).
For information and application forms regarding Section 401 Water Quality Certifications requiring a permit from USACE contact the Watershed Management Division: ANR.WSMD401@vermont.gov 802-828-1535
For information regarding Section 401 Water Quality Certifications requiring a permit from FERC contact: Jeff Crocker 802-490-6151
---
Examples of Federal permits / licenses that may require Section 401 Water Quality Certification:
A permit from the USACE)pursuant to §9 or §10 of the Rivers and Harbors Act for work or structures in or affecting navigable waters.
A permit from the USACE pursuant to §404 of the Clean Water Act (CWA) Pollutant for the placement of fill or discharge of dredged materials into waters of the Unite d States.
FERC hydropower license. FERC does not require a §401 certification before acting on a FERC exemption application, the Secretary deems certification necessary to fulfill the Secretary's obligations in the FERC process as a fish and wildlife resource agency.
A discharge permit issued by the U.S. Environmental Protection Agency (EPA) pursuant to §402 of the CWA and the National Pollutant Discharge and Elimination System (NPDES) program for a point source discharge of pollutant(s) into waters of the United States (visit the Vermont Stormwater Program page for information regarding NPDES permit programs).
A license issued by the Nuclear Regulatory Commission (NRC).
Any other federal license or permit to conduct any activity, including, but not limited to, the construction or operation of facilities, which may result in any discharge into waters of the United States.
---
Related Watershed Management Programs:
---
Application Review Process:
Below is an overview of the typical practice for processing WQC applications.
Upon receipt of a WQC application an initial review to determine administrative completeness will occur. In order for a WQC application to be administratively complete it must include all of the initially required documentation necessary to conduct a technical review.
If an application is not administratively complete, then the applicant has an additional 30 days to provide the information, and if the information is not provided, the application may be denied without prejudice.
If an application is administratively complete, a technical review of the application will occur. At which point, the findings and conditions of other surface-water related permits for the project (e.g. wetlands, stormwater, stream alteration, encroachment permits) will be considered. Information from other proceedings, such as Section 248 or Act 250 may also be considered. Applicants are encouraged to apply for all surface-water related permits or approvals prior to applying for a 401 WQC to avoid unnecessary delays in the review process.
Once an application is deemed technically complete, a draft certification will be noticed to the public for 30 days. During the 30-day public notice period, a public meeting may be held to offer a project overview and hear comments on the draft certification.
All public comments will be considered when a final decision is made.       
---
Other Resources: