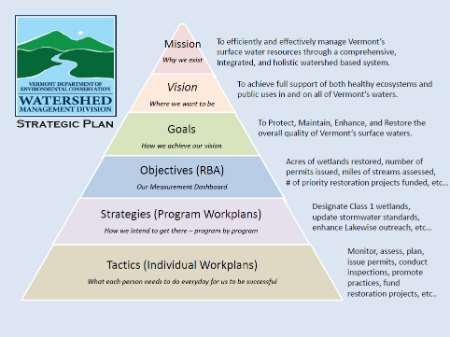 Division Mission and Planning
The Division's Mission is to efficiently and effectively manage Vermont's surface waters through a comprehensive, integrated and holistic watershed based system. This mission is expressed through our four goals to PROTECT, MAINTAIN, ENHANCE, and RESTORE Vermont's surface waters. Our Division Strategic Plan guides the collective work of the Division to meet these four goals. Progress is tracked via Results Based Accountability performance measures that summarize work across a number of Division programs, as well as through program-specific performance measures. 
2017 Division Annual Report (4.4MB)
2016 Division Annual Report (5.1MB)
2021-2022 Watershed Management Division Strategic Plan
Results Based Accountability
In 2014, the Department of Environmental Conservation (VTDEC) launched an effort to improve how the Department tracks and measures performance using Results Based Accountability (RBA). RBA is a framework used to measure how well an agency, department, division or program is performing. RBA look to answer three primary questions: (1) How much did we do? (2) How well did we do it? (3) Is anyone better off? RBA is required by Act 186 and is being rolled out statewide. The Division's RBA performance measures reflect the efforts of WSMD in implementing its mission to protect, maintain, enhance, and restore the quality of Vermont's surface water resources. 
Fiscal Year 2016 Report - Results based accountability report for year ending June 30, 2016
Fiscal Year 2015 Report - Results based accountability report for year ending June 30, 2015
Fiscal Year 2014 Report - Results based accountability report for year ending June 30, 2014