Monitoring
The Lakes and Ponds Program hosts a variety of monitoring programs to study long-term water quality, habitat, climate, and other ecological trends on Vermont's lakes and ponds.
Inland Lake Assessment Program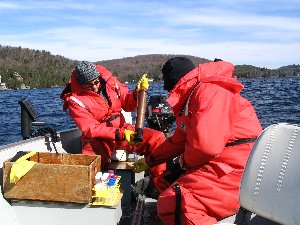 The primary function of the Lake Assessment Program is to monitor the status and trends of Vermont's inland lakes.  Sampling conducted at spring turnover  (through the Spring Phosphorus Program) since 1977 is used to monitor inland lake water quality trends.  To assess the status or current condition of Vermont's inland lakes, the program conducts summer sampling as part of the National Lake Assessment and Vermont Next Generation Lake Assessment. Additional special studies may focus on a particular stressor or a particular lake, or aid in the development of new methodologies to measure Vermont Water Quality Standards or in interpreting status or trend data.
Volunteer Lay Monitoring Program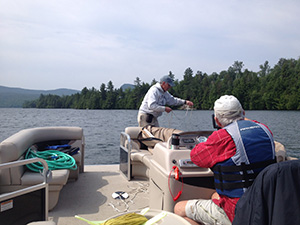 The Lay Monitoring Program is a statewide, volunteer lake monitoring program that has sampled more than 100 inland lakes and 40 stations on Lake Champlain since 1979.  
From Memorial Day through Labor Day, Lay Monitors follow a strict protocol to measure Secchi transparency and collect water samples that are tested for the nutrient Total Phosphorus and Chlorophyll-a, the green pigment in algae.  Results characterize a lake's trophic status and allow us to track water quality trends over time. If you would like to participate in Vermont's volunteer Lay Monitoring Program, please contact us at anr.lakesvolmonitoring@vermont.gov 
Lake Champlain Long-Term Water Quality and Biological Monitoring Project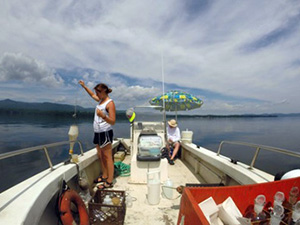 The Lake Champlain Long-Term Water Quality and Biological Monitoring Project surveys the quality of Lake Champlain waters on a bi-weekly basis, at 15 locations throughout the lake. Twenty-one major tributaries are sampled on an event-basis as well. The program's large physico-chemical parameter list includes: species of phosphorus, nitrogen and organic carbon; chlorophyll-a; base cations and alkalinity; TSS; dissolved oxygen; conductivity; and pH. The project also performs biological sampling, which is primarily aimed at assessing phytoplankton, zooplankton, and macroinvertebrate communities.
Volunteer Cyanobacteria Monitoring and Tracking
Volunteer cyanobacteria monitors around the State help track the status and presence of cyanobacteria blooms. The Vermont Department of Heath maintains a Cyanobacteria Tracker website, where you can report blooms and where you can see recent reports of blooms around the state. Our volunteer monitors take visual observations of lake conditions every week, whether or not there is a bloom present. These observations help us to better understand how common blooms are in different locations, and to better compare bloom severity across years. If you are interested in becoming a volunteer cyanobacteria monitor, please reach out to: peter.isles@vermont.gov
Aquatic Invasive Species Monitoring
The Vermont Department of Environmental Conservation (VTDEC) staff annually monitor and survey priority lakes and ponds in areas where aquatic invasive species (AIS) are considered a threat. During the growing season, VTDEC staff routinely survey and monitor Vermont waters to: check for and document infestations of aquatic nuisance species in new waterbodies, evaluate population status of existing infestations and their impacts on aquatic native species, determine best management and control efforts that may be used on existing infestations, assess habitat suitability of waters to determine risk of a possible invasive infestation.
Other Monitoring Programs within the Department
Additionally, within the Department of Environmental Conservation, other Programs conduct monitoring efforts, including:
The Monitoring and Assessment Program has conducted  Long-Term Monitoring (VLTM) of Acid Sensitive Lakes in Vermont since the winter of 1980 and has conducted the Bioassessment Program since 1985 to survey macroinvertebrate and fish communities of lakes, wetlands, rivers, and streams to evaluate the biological health, or biological integrity, of the resource surveyed.
The Rivers Program conducts Geomorphic Assessments to use in assessing, understanding, and evaluating the condition of the river system.
Water Testing in Public Swimming Areas
The Vermont Integrated Watershed Information System (I-WIS), is an online data portal for water quality infomration. Water quaility and chemistry testing data inforation is available for waters all thorughout Vermont. 
Data & Maps
Data collected are publicly available and are used for assessment purposes, decision making support, and outreach purposes. The following are links to Department wide data sources:
Datasets
Maps