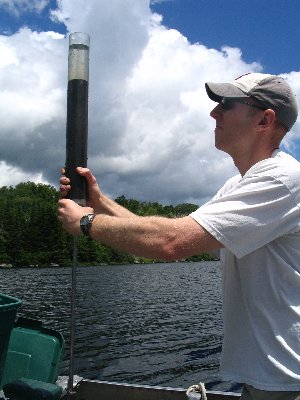 The Lake Assessment Program monitors the status and trends of Vermont's inland lakes. The program is funded by Clean Water Act Section 106 Funds, which support ambient water quality monitoring and assessment, monitoring strategy enhancement, participation in the National Aquatic Resource Surveys, water quality standards development, surveillance and enforcement, water quality planning, assistance to local agencies, and public information efforts.
The Vermont Water Quality Standards, based on the federal Clean Water Act, describe in detail Vermonters' expectations of the condition of lakes and ponds. These standards limit the amount of change Vermonters will allow to all waters, depending on the class of the waterbody. For example, some lakes and ponds are exceptional and or rare, and should be maintained in this state for future generations. For all other waters the standards attempt to strike a balance between the use of lakes and ponds, along with the inevitable impacts those uses will have on them, and the desire to maintain high quality waters. To accomplish this, both status and trends need to be established.
---
Statistical surveys are a cost-effective means of assessing all waters as called for under CWA section 305(b)" (EPA, 2013). Every 5 years (since 2007), the National Lake Assessment (NLA) is conducted during the summer index period (July through early September). Survey results are used to assess the extent to which lakes meet designated uses for 305B reporting as well as provide statistically-defensible assessments of water quality at the state scale. Results from the 2007 National Lake Assessment are summarized in the report Gauging the Health of Vermont Lakes (VTDEC, 2013).
In years that the National Lake Survey is not being conducted, high priority lakes are targeted for an intensive multiday survey during the summer index period. Lakes are prioritized based on information needed by the Lakes and Ponds Program, the tactical basin planning process, and other groups within and outside the Agency of Natural Resources.
The Next Generation Lake Assessment is a comprehensive, quantitative survey of a lake's condition which began in 2010. A suite of physical, chemical and biological parameters are sampled at three areas: the deep open water 'index site', ten randomly distributed shoreland and littoral habitat sites, and the inlets and outlet (Figures1 and 2).
Parameters measured in Next Generation Lake Assessment

| Parameter | Location(s) Measured |
| --- | --- |
| Total Hardness (mg/L), Regular Alkalinity (mg/L), Total Calcium (mg/L), Total Magnesium (mg/L), Total Potassium (mg/L) Total Sodium (mg/L), Turbidity (NTU), Chlorophyll a (ug/L), Secchi (M), Dissolved Organic Carbon and Sediment Diatom Taxonomy | Index site |
| Conductivity (uS/cm), Dissolved Oxygen (mg/L & % saturation), pH, Temperature (C), Total Nitrogen (mg/L), Total Phosphorus (ug/L)P, Total Chloride (mg/L) | Index site, Tributaries and Outlet |
| Physical habitat complexity, shallow water habitat, lakeshore habitat, lakeshore disturbance, embeddedness, shading | 10 random sites around the lake |
| Crayfish | 3 sites with good crayfish habitat |
| Area and depth of deltas, Aquatic plant and algae % cover, note three dominant macrophyte species | Tributaries |
In addition to the sampling protocols enumerated in the table above, the Lake Assessment Program, in conjunction with the AIS program, is developing macrophyte biocriteria, which if successful, will be incorporated into routine Lake Assessment sampling protocol.
---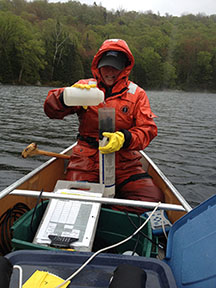 Soon after the ice goes out in the spring, most of Vermont's inland lakes "turn over," fully mixing the water column.  Phosphorus readings taken at this time indicate the amount of phosphorus a lake will have available for the growth of primary producers like phytoplankton, algae and aquatic plants when the hours of daylight grow longer and summer temperatures arrive.  
Vermont lakes and ponds 10 acres and greater have been sampled since 1977 for a variety of water quality parameters including total phosphorus, total nitrogen, alkalinity, calcium, chloride, magnesium, hardness, Secchi disk transparency, color, temperature, dissolved oxygen, pH, conductivity, Chlorophyll a and turbidity. 
View data and trends for individual lakes using the Lake Score Card or the Vermont Lake Data application.
---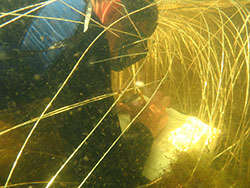 The 2007 National Lakes Assessment found that the most widespread stressor to Vermont's lakes was not phosphorus, acid rain, or aquatic invasive species, but lakeshore disturbance (VTDECa, 2013). A study conducted by the Lake Assessment Program from 2005 through 2011 found that unbuffered lakeshore development was adversely impacting aquatic habitat and biota in conflict with the Vermont Water Quality Standards (Merrell, Howe and Warren, 2009). Moreover, a study in collaboration with Maine DEP found that lakeshore developed following Maine's minimum mandatory shoreland zoning standards complied with Vermont's Water Quality Standards (Merrell, Deeds, Mitchell and Bouchard, 2013).
Climate Change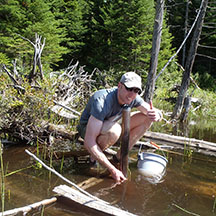 Climate change creates new challenges to achieving the Watershed Management Division's three primary goals for the state's surface waters to:  1) Protect, maintain, enhance, and restore the Biological, Chemical & Physical Integrity of all Surface Waters, 2) Support the Public Use and Enjoyment of Water Resources and 3) Protect the Public Health and Safety.  Both the status and trend data collected by the Lake Assessment Program will be influenced by climate change.  Accurately assessing what that change is and teasing it out from local land use and invasive species impacts is important for informing future lake management decisions.  In the paper "Climate Change Comes to the Clean Water Act: Now What?" Craig (2010) notes that states can use the Clean Water Act to '(1) make valuable contributions to the nation's efforts to gather information about actual climate change impacts on water resources and to promote more effective modeling of future impacts; (2) generate expert recommendations about potential responses to those impacts; and (3) encourage and require states and the EPA to implement water quality standards, permitting requirements, best management practices, and other measures to blunt the worst water quality impacts from climate change, increase protections for particularly sensitive areas, and increase the resilience of aquatic species, aquatic ecosystems, and the socio-ecological systems dependent upon them.'  To that end, in 2011, the Vermont Lakes and Ponds Management and Protection Program selected a set of least disturbed lakes to serve as sentinels of climate change.  Click here to learn more about Vermont's Sentinel Lakes.
Diagnostic Studies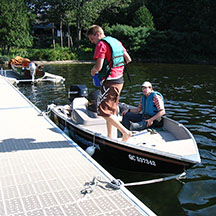 Diagnostic studies are typically aimed at identifying the cause of eutrophication in Vermont lakes. Over the years, Vermont has performed numerous such monitoring studies, and the results of many of these studies have led to concrete remediation steps. Lakes on which notable diagnostic studies have been performed include Harvey's Lake (Barnet), Lake Morey (Fairlee), Lake Iroquois (Hinesburg), Lake Champlain, Lake Carmi (Franklin), Lake Parker (Glover), Ticklenaked Pond (Ryegate) and Lake Memphremagog (Newport).
A wide variety of parameters are sampled in conjunction with diagnostic studies, with the actual tests performed specific to the project. Standard eutrophication parameters (phosphorus, Secchi disk transparency, and dissolved oxygen) are always measured. Other parameters from both the sediment and the water column are measured as needed.
Bioassessment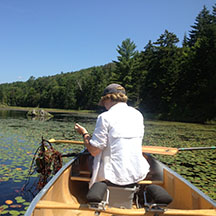 According to EPA's Water Standards Academy basic course, "biological monitoring is the best integrator of multiple stressors/pollutants to indicate a problem". VTDEC uses monitoring of fish and macroinvertebrates for direct assessment of aquatic life use attainment in streams. The lake assessment program began evaluating the status of selected biological species and communities in 1996 with the aim of developing numeric measurements to assess aquatic life use attainment in lakes. This initial effort led to the development of protocols for phytoplankton (Kamman, 2003) and macroinvertebrates (Kamman, 2006). In 2009, further development of approaches for using macroinvertebrates ensued as part of the Littoral Habitat Assessment study. In 2010, the Lake Assessment Program incorporated sediment diatom sampling into its routine protocols.  In 2015, Vermont began piloting the use of the Wisconsin Standard Aquatic Plant Survey Method with the aim of using plants as bioindicators. Vermont's development of bioindicators for its inland lakes is ongoing and a Vermont and NEIWPCC led regional lake biomonitoring workgroup continues to pursue the development of biocriteria for lakes.
Species data collected as part of the lake assessment program is shared with the VTFW Nongame and Natural Heritage Program when rare, threatened, endangered or species of special concern observations are made. Similarly, when aquatic invasive species are observed, the information is shared with VTDEC's Aquatic Invasive Species Scientists.