We need your help: Become a Vermont Invasive Patroller!
Early detection is vital to protecting Vermont's water bodies from harmful invasive plants and animals.  With more than 800 lakes and ponds throughout the state, volunteers play a key role in our surveying efforts.  Vermont Invasive Patrollers (VIPs) monitor water bodies for new introductions of invasive species and report their findings to the Department of Environmental Conservation (DEC).
Volunteering as a VIP
We ask volunteers to:
Participate in a VIP workshop to learn how to identify and survey for aquatic invasive species;
During the summer, survey for the presence of invasive plants and animals in a local lake or pond (or a section thereof); and
Notify DEC staff of their survey(s) and submit suspicious samples for positive identification.
VIP Workshops 
A VIP workshop spans two to five hours.  All workshops include introductory presentations and hands-on time with plant and animal specimens in the classroom.  Longer workshops also include "field" time on the water to learn survey techniques and practice plant identification skills.
Specific topics addressed include: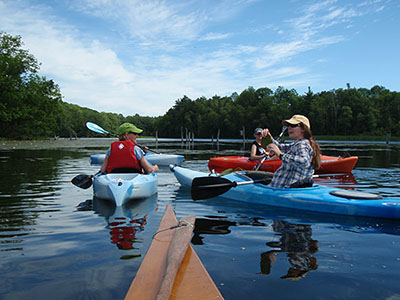 The fundamentals of lake ecology
The difference between native, exotic, nuisance and invasive species
How invasive species are introduced and established
How to identify common aquatic plants and animals, both native and invasive (the latter will be emphasized)
How to conduct surveys for invasive species in their natural habitat
Workshops and materials are offered at no cost to participants.  Space is limited.  For more information, contact Kim Jensen at kimberly.jensen@vermont.gov or (802) 490-6120.
Host a VIP Workshop
Do you have a group of volunteers interested in becoming VIPs? If so, consider hosting your own VIP workshop.
It's helpful if you can provide: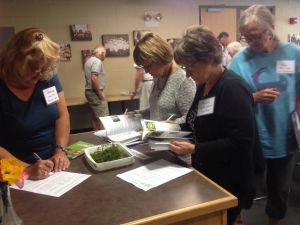 An indoor venue with electricity
A nearby waterbody that can be paddled, preferably with an existing invasive species infestation, such as Eurasian watermilfoil, suitable for plant survey field training
Canoes and/or kayaks and personal flotation devices (i.e. life jackets) for as many participants as possible.
Contact
For more information or if you're interested in becoming a VIP or hosting a VIP workshop for a group of volunteers in your area, please contact:
Julie Silverman at Julie.Silverman@vermont.gov or Kimberly Jensen at Kimberly.Jensen@vermont.gov  or call (802) 490-6120
VIP Resources