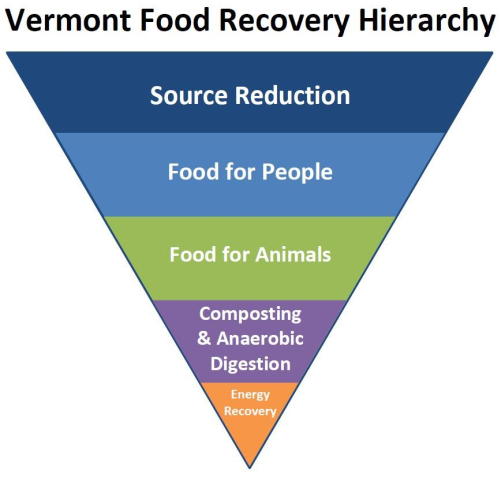 ACT 170 passed by VT Legislature in 2022 required a collaborative stakeholder process to make recommendations on the proper management of packaged organic materials in Vermont. Information and documents used and prepared by the Depackager Stakeholder Group will be organized on this page. The final report to legislature is due on or before January 15, 2023. 
For more information or to learn how to participate, contact Mia Roethlein at mia.roethlein@vermont.gov or (802)522-5926.
Statutory Requirements:
The responsibilities of the Agency of Natural Resources and the Depackager Stakeholder Group Members can be reviewed in Section 25 of Act 170 (Act 170, Section 25 excerpt). 
Volunteer Stakeholders:
| PArticipant (Per Act 170) | Name & Affiliation |
| --- | --- |
| VT Agency of Agriculture, Food & Markets | Steven Cash, VAAFM Inspection Program |
| A Food Waste Composter | Dan Goossen, Green Mountain Compost |
| A Farm That Allows Animals to Forage Food Waste | Tom Gilbert, Black Dirt Farm |
| A Company Operating a Depackaging Facility | Michael Casella, Casella Waste Management Inc.  |
| The VT Retailers & Grocers Association | Erin Sigrist, VRGA |
| A Company That Anaerobically Digests Food Waste | Billy Connelly, Vanguard Renewables |
| A Food Product Manufacturing Company in VT | Jenna Evans, Ben & Jerry's |
Documents:
 A few key files are highlighted below. These and all other files reviewed, generated or produced by the stakeholder group can be downloaded by clicking here.
DEC Policy for Managing Food Residuals Including Packaged Food Residuals - January 2020
DEC DRAFT Policy for Managing Food Residuals Including Packaged Food Residuals - August 2019
Meetings: 
December 6, 2022 from 9:30 to 11:30 at National Life Drive, Montpelier, VT. - Catamount Room: Final Agenda
---
November 30, 2022 from 9:30 to 11:30 at National Life Drive, Montpelier VT - Catamount Room: Final Agenda - Draft Minutes - Meeting Recording - 
---
November 9, 2022 from 9:30 to 11:30 at National Life Drive, Montpelier, VT - Catamount Room: Final Agenda - Draft Minutes - Meeting Recording - Meeting Transcript Text
---
October 20, 2022 from 2:30 to 4:30 at 1 National Life Drive, Montpelier, VT - Catamount Room: Final Agenda -  Draft Minutes - Video Recording - Meeting Transcript Text
---
October 5, 2022 from 9:30 to 11:30 at 1 National Life Drive, Montpelier, VT - Catamount Room: Final Agenda -  Draft Minutes - Video Recording - Meeting Transcript Text
---
September 28, 2022 from 9:30 to 11:30 at 1 National Life Drive, Montpelier, VT - Catamount Room:  Final Agenda - Draft Minutes - Video Recording - Meeting Transcript Text 
---
August 31, 2022 from 1-2:30pm at 1 National Life Drive, Montpelier, VT - Catamount Room: Final Agenda - Draft Minutes - Video Recording - Meeting Transcript