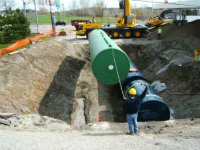 Underground Storage Tanks (USTs)
The regulation of Underground Storage Tank (UST)  was created in 1985 to regulate the installation and operation of underground petroleum/chemical storage tanks. The goal of the Program is to protect human health and the environment by preventing releases of liquid petroleum and hazardous substances from storage tank systems. The release of these regulated products into the environment threatens groundwater resources and can cause explosive vapors to seep into confined spaces and occupied dwellings. 
Underground Storage Tank (UST) Rules (Effective 10/13/2018)
Aboveground Storage Tanks (ASTs)
Regulation of ASTs by the Agency of Natural Resources began in 2011 as a way to try and reduce the number of releases from ASTs (mostly home heating tanks). Reducing the number of releases reduces the threat and impact of petroleum products on human health and the environment, and also helps limit liability for cleanup of uninsured releases to the Petroleum Cleanup Fund.
Aboveground Storage Tank  (AST) Rules  (Effective 8/15/2017)
TO REPORT A RELEASE please click the link to go to the Spills Management page https://dec.vermont.gov/waste-management/spills
If an AST is out-of-compliance and needs to be red tagged please visit the Red Tag Reporting at the Quick Links which is at the  bottom of this page.
Please check with Vermont's Public Safety's Division of Fire Safety for storage tank reporting requirements for Hazardous Materials or Pesticides in the Workplace, Vermont's Community Right-To-Know Program (Tier II), 20 VSA Chapter 1 (Contact: Todd Cosgrove, Chief VT Hazmat Team, Barre 802-479-7586).  Public Safety's Division of Fire Safety may have other regulatory requirements for the installation of commercial Aboveground Storage Tanks and Underground Propane tanks.  Propane tanks are not regulated by DEC's Storage Tank Program. 
AST Inspection Checklist - New Installation or First Fill
AST Inspection Checklist - Routine (Every 3 year) or New Customer  
*Coming Soon* AST Registration Form (Bulk facilities and for those facilities that resell liquid petroluem products)
contact 802-828-1138 to have a form sent to you. 
Contact the Storage Tank Staff with any questions
What type of tank do you have?
Residential Home Heating Oil Underground Tank Removal Guidance
UST Talk Newsletter Winter 2018
2018 Inspection list (find out if your facility is slated to have a compliance inspection).*NEW LIST FOR 2019 will be forthcoming in several weeks*
Discussion Topic:  Water in a tank system is a bigger problem than ever before. Today's cars do not tolerate water in fuel! And water in a tank system provides habitat for microorganisms which can deteriorate tanks. The Steel Tank Institute has developed a brochure detailing the issues and offers recommendations. To get a copy of the brochure, click the  link to the "Protect your tanks, Reduce your downtime, Reduce your risk" brochure on STI-SPFA's website