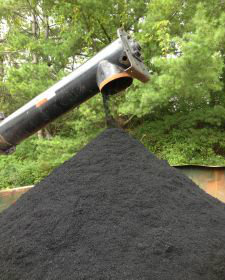 This program of the Waste Management and Prevention Division oversees the management of residuals, the semi-solid material that is produced as a byproduct of the treatment of industrial or municipal wastewater. Examples of residual materials include wastewater treatment sludges, septage, short paper fiber, wood ashes and sludges generated during food processing.
For a broad overview of biosolids and septage management in Vermont, and of associated research, please see the Program's working, draft whitepaper:   "Wastewater Treatment Sludge and Septage Management in Vermont" .
Approximately 80,000 wet tons (~12,000 dry tons) of wastewater sludge is generated annually by Vermont's wastewater treatment facilties. The primary options for final management of this material include:
biosolids -  treated wastewater sludge that meets State of Vermont pollutant limits and US EPA pathogen reduction requirements may be land applied to certified agricultural fields for agronomic value or, after treatment in a process to further reduce pathogens, be distributed to the public as a fertilizer
landfill disposal - typically after dewatering; or
incineration - at an out-of-state solid waste facility 
About 55% of Vermont residences utilize septic systems, the highest rate in U.S., and approximately 35-40M gallons of septage is pumped from Vermont's septic systems annually and the vast majority is disposed at wastewater treatment plants.
Septage Haulers operating in Vermont (pumping and/or disposing) must pay a fee of $10.00 per 1,000 gallons pumped, rounded to the nearest 1,000 gallon.  Fees are due quarterly, and submitted using the Septage Reporting and Payment Form (pdf).
All residuals permittees must submit QUARTERLY REPORTS (updated Oct 2018) via email to: ANR.WSMDResiduals@vermont.gov.
For questions and/or assistance, please contact Eamon.Twohig@vermont.gov or Joshua.Burns@vermont.gov.