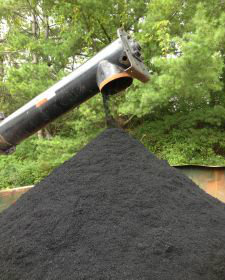 This program oversees the management of residual materials, industrial and municipal wastes with the potential for beneficial use on soil. Examples of residual materials include wastewater treatment sludges, septage, short paper fiber, wood ashes and water treatment residuals. The primary options for final management of residual materials in Vermont include:
land application - wastewater sludge that meets State of Vermont pollutant limits and is treated to US EPA biosolids standards for pathogen and vector reduction requirements may be land applied to certified agricultural fields for agronomic value or, after treatment in a process to further reduce pathogens, be distributed to the public 
landfill disposal - dewatered sludge is often used for landfill 'top cover'
For a broad overview of biosoilds and septage management in Vermont, and associated research, please see the Program's working, draft whitepaper:  "Wastewater Treatment Sludge and Septage Management in Vermont".
Septage Haulers operating in Vermont (pumping and/or disposing) must pay a fee of $10.00 per 1,000 gallons pumped, rounded to the nearest 1,000 gallon.  Fees are due quarterly, and submitted using the Septage Reporting and Payment Form (pdf).  
All residuals management activities must be authorized via solid waste certifications, sludge managment plans, or certificates of approval.  Permittees must submit QUARTERLY REPORTS via email to: ANR.WSMDResiduals@vermont.gov.
For questions and/or assistance, please contact Eamon.Twohig@vermont.gov or Joshua.Burns@vermont.gov.