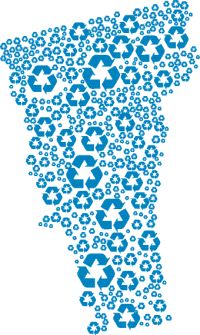 Stakeholders discuss the implementation of the Universal Recycling Law and share resources and solutions at quarterly meetings.  Twelve meetings have been held since December 2015.
Participants include solid waste haulers, municipalities, composters, educational institutions, non-profit advocacy groups, food scrap generators, multiple state agencies, solid waste districts and alliances, environmental contractors, industry groups, and others.
The next meeting will be held Thursday June 21st 1:00-3:00pm at the ANR Annex in Montpelier. Discussions will focus on the food scrap hauling requirement. 
For more information, or to participate, contact Mia Roethlein at mia.roethlein@vermont.gov or 802-522-5926.
September 24, 2018
---
August 7, 2018
---
June 21, 2018
---
October 3, 2017
---
July 13, 2017
---
April 24, 2017
---
January 23, 2017
---
Further Information
Regional Organics Processing Gap Analysis
Organics Capacity Regions in 2017
2017 DRAFT Revised Solid Waste Exemption Guidance
Examples of Hauler Exemptions