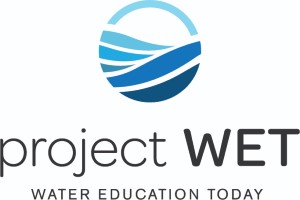 Vermont Project WET, (Water Education Today), is an interdisciplinary water education curriculum for kindergarten through twelfth grade designed to facilitate and promote awareness, appreciation, knowledge and stewardship of Vermont's water resources. Project WET's mission is to "Advance water education to understand global challenges and inspire local solutions." The program reflects the role that effective, action‐oriented water education plays in confronting serious environmental issues such as climate change. 
Project WET focuses on people's relationship to water throughout their lives. Students learn that water is not only a shared resource but a shared responsibility. Many activities include action steps for students to involve their families, friends and community in their learning process.
Partners in Environmental Education 
How to Get Trained in WET
Project WET is available to formal and informal educators only through workshops conducted by Vermont's Project WET coordinator and trained facilitators. WET workshops are offered throughout Vermont during the year. Interested schools, districts, and other organizations can request an on-site Project WET workshop with a minimum of 10 participants. If you are interested in attending a workshop, contact Laura Dlugolecki or Lindsay Miller.
The Project WET Guide and Other Program Publications 
The prize of Project WET is the Project WET Curriculum and Activity Guide, a 500+ page collection of more than 90 fun, innovative, water-related educational activities designed to supplement an educator's existing curriculum. Project WET materials were developed and field-tested by over 600 educators and resource managers working with more than 34,000 students nationwide. The materials are hands-on, fun to do, easy to use, and meet the needs of many different teaching and learning styles.
The guide is only available through Project WET workshops. People's relationships to water are a major theme of the activity guide which also addresses: 
Water's chemical and physical properties
Aquatic habitats and systems
Quantity and quality issues
Water management strategies
Water's social and cultural constructs
The guide is organized in a manner that makes it as user-friendly as possible. It features:
Background information for each activity
Comprehensive planning and cross-reference charts
"Charting the Course" section that links activities together
Activity icons for quick connections to water concepts
Other Environmental Educational Links
Vermont Watershed Questions
How's my lake doing, and what fish live there? Check out the Vermont Lake Score Card.
Find Vermont deer habit, drilled wells, landfills, etc. at the VT Natural Resources Atlas.
Learn about water quality monitoring from the Vermont Lay Monitoring Program.