Due to the coronavirus (COVID-19), the Agency of Natural Resources is taking additional safety measures to protect our employees, partners and customers. We are now working remotely and focused on keeping our normal business processes fully functional. We encourage you to communicate electronically or via phone to the greatest extent possible.  Thank you for your patience and understanding that responses may occasionally be delayed.

State law bans food scraps from the trash starting July 1, 2020.
Learn about requirements for residents, businesses, and haulers in our Food Scrap Ban Guidance. Find tips for reducing food waste at scrapfoodwaste.org.
---
Food scraps are:
Parts of food items that are typically discarded rather than eaten: peels, rinds, cores, eggshells, seeds, pits, bones, coffee grounds (and filters), loose-leaf tea, and fats/oils/grease.
Food that was eaten but not finished: "plate scraps" or leftovers that went bad. Any type of food can become scrap--bread, pasta, soup, veggies, fruit, sauces, meat, dairy, sweets, etc.
What will I have to do?
If it was once part of something alive, like a plant or animal, it does not belong in the landfill. Food scraps and yard debris (leaves, grass, brush clippings, etc.) will need to be managed separately from trash. 
The first step is to collect your food scraps in container. There's no right way to do this. You can buy a food scrap bucket, reuse a large yogurt tub, or keep a plastic bag in the freezer--find a method that works for you based on how much food scrap you generate, how often you want to empty and wash your container, etc. You'll empty your container regularly--into a backyard bin if you compost at home, into a food scrap tote if you have pick-up, or into a larger container if you bring scraps to a drop-off.
Why separate food scraps from the trash?

Food scraps and yard debris make up nearly 1/4 of a typical Vermont family's waste; at restaurants and cafeterias, food scraps can be over half the waste. Keeping these materials out of the landfill has a big impact:
Without food scraps in it, garbage is cleaner and less smelly.

Generating less trash conserves landfill space.

When it is trapped in a landfill, food waste decomposes slowly, and without oxygen. This process produces methane, which is a greenhouse gas 84 times more powerful than CO2 over a 20-year period.

Food scraps contain valuable nutrients that

 are good for the soil

. Finished compost can be 

used in gardens, farms, and landscaping.

 

 

Composting puts your waste to work supporting composters, local farmers, and food scrap haulers. 
How does food waste relate to climate change?
According to the book Drawdown, food that is produced but not eaten contributes 8% of the world's total greenhouse gas emissions, and reducing food waste is one of the single most impactful actions for reducing the effects of climate change. Composting food scraps is also an important climate solution. 

How can I waste less food?
Buy only what you need and eat what you buy.
Learn more at scrapfoodwaste.org.
A. Compost on-site
Make your own bin or purchase a container (some solid waste districts or towns offer free workshops and discounted bins). Your bin should be enclosed and sit on top of wire-mesh hardware cloth, so animals can't get in.
Cover every bucket of food scraps ("greens") with three buckets of dried yard debris ("browns"), like leaves, dry grass, sawdust, or chipped wood. Covering food scraps with browns reduces odors and creates a good carbon to nitrogen ratio for soil bacteria and other decomposers to break down the pile.
Once the material has decomposed for several months (speed up the process by mixing it once in a while) and cured for a few more months, you can use it as a nutrient boost for your garden. Mature compost looks and smells like dark brown soil.

If you compost at home, it's ok to throw meat, bones, and grease in the trash—those items don't break down quickly in small-scale compost systems.
To get started with on-site composting, read The Dirt on Compost or the other resources at the bottom of this page, take the Vermont Master Composter Course, or attend a composting workshop.
What about bears and other critters?
Check out our Compost with Confidence guide for tips. 
B. Digest on-site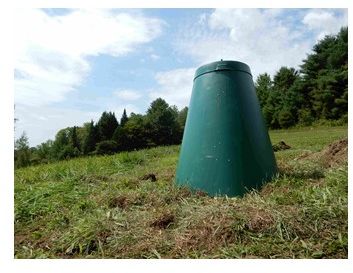 The Green Cone is a solar digester that uses the sun's energy to break down food scraps.
You don't need to add browns, and it IS ok to include meat, bones, and other animal products.
The Green Cone decomposes waste material almost completely, so you will not end up with finished compost that you can use in your garden.
You may be able to purchase a Green Cone from your waste district or town.
        C. Feed animals
If you have chickens or pigs, you can feed household scraps to them.
To prevent the spread of diseases, the Agency of Agriculture prohibits feeding pigs food scraps that have touched meat or fish, including their organs, bones, and juices. These regulations do not apply to feeding personal food scraps to pigs that are for personal consumption. To learn more, consult Feeding Food Scraps to Pigs and the Agency of Agriculture's Guidance on Feeding Food Scraps to Pigs.
The Agency does allow feeding food scraps to chickens, at a small scale. 
Some food scraps from food manufacturing, such as spent brewery grain and whey, can also be fed to animals.
D. Send it to "The Pros"
Remember! Ask your drop-off facility or hauler what materials they accept. 
Drop-off composting: You can drop off food scraps and yard debris at any transfer station or bag-drop in Vermont. Many compost facilities also have drop-offs. Consult our Materials Management Map or your local Waste Management District or town to learn about services in your area. 
Curbside pick-up: Ask your hauler if they offer leaf and yard debris or food scrap pick-up, or call a hauler on the statewide list of food scrap haulers. 
What happens to the food scraps I've separated?
Most of Vermont's food scraps are composted at composting facilities and some are fed to animals or processed at anaerobic digesters.  Click on the map to view facilities around the state.
Vermont Compost Operator Training
If you are interested in operating a certified compost facility in Vermont, or if you simply want to increase your composting knowledge, sign up for the one-day Vermont Compost Operator Course (~$30 course fee). To put your name on the contact list for the 2020 training, or for more information on compost operator training requirements, contact Ben Gauthier at benjamin.gauthier@vermont.gov or (802) 522-5080.