Home-Generated Sharps, Syringes, and Needles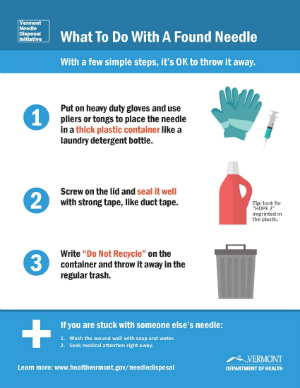 To be safe and legal, dispose of home-generated sharps, needles, and syringes in this manner:
Place sharps in an empty, rigid plastic container, such as a laundry detergent bottle.
Tape the bottle's cap shut with strong tape. Firmly attach a "Do Not Recycle" label to the bottle. You can print this sample label or call 802-828-1138 to request "Do Not Recycle" stickers for home-generated sharps.
Dispose of bottle in the trash.
The Universal Recycling Law allows people to reuse rigid plastic bottles to dispose of their home-generated sharps.
Resources:
Safe Needle Disposal in Vermont - VT Department of Health Toolkit & Website: includes a demo video, a toolkit for communities, case studies, and more.
"Safe Needle Disposal: What should I do?" Decision Tree (for residents and health care professionals)
Sample "Do Not Recycle" label to tape to disposal containers. Printing on colored paper makes the label more eye-catching.
What To Do With A Found Needle 

 
Regulated Medical Waste (non-residential)
For questions about how businesses and institutions should dispose of regulated medical waste, contact Ben Gauthier at (802)522-5080 or Benjamin.Gauthier@vermont.gov.
Please see the current procedure for storage, treatment, transport and disposal requirements. 
To contact a licensed hauler about transporting your regulated medical waste for proper treatment and disposal, check the "M" waste type designation on the list at the following link: https://anrweb.vermont.gov/DEC/_DEC/SolidWasteTransporters.aspx