Lake Encroachment Permits (LEP) are issued under 29 V.S.A Chapter 11 (Management of Lakes and Ponds), which regulates Encroachment in public waters. The goals of this program are to minimize the encroachment on public waters as well as ensure that projects do not adversely affect the public good and are consistent with the Public Trust Doctrine.
Encroach means:
To place or cause to be placed any material or structure in any lakes and ponds which are public waters, or
To alter, or cause to be altered, the lands underlying any public waters, or
To place or cause to be placed any bridge, dock, boathouse, cable, pipeline or similar structure beyond the shoreline delineated by the mean water level of any lakes and ponds which are public waters, and to the lower sections of tributaries to Lake Champlain, Lake Memphremagog and the Connecticut River.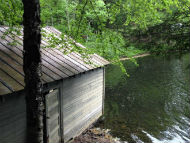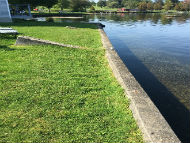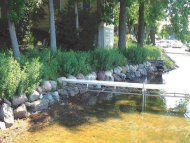 Any project that proposes work at, below, or beyond mean water level may require a Lake Encroachment permit. The following projects are examples of lake encroachments:
Installation of Riprap
Repair to an Existing Seawall/Bulkhead/Retaining Wall
Culvert Replacements
Repair to an Existing Concrete Dock
Repair to an Existing Boathouse
Dredging
Marina Upgrades, Operation, and Installation
Cable Installation or Replacement
Addition of Fill
Water Intake Lines
Bridge Repairs/Installation
Fountains, Aerators, Bubblers, Ice Eaters
Boat Ramp Repairs
Exemptions
Provided that boating or navigation is not impeded, a Lake Encroachment Permit is not required for the following encroachments:
Docks for non-commercial use, mounted on posts or floats - provided that the combined horizontal distance of all docks within 100 feet of each other which are owned/controlled by one person does not exceed 50 feet in length and the combined surface area does not exceed 500 square feet; and provided that concrete, masonry, earth or rock fill, sheet piling, bulkheading, cribwork or similar construction is not part of the encroachment.
Water intake pipes not exceeding two inches inside diameter.
Temporary extensions of existing structures added for a period not to exceed 6 months, if required by low water.
Ordinary repairs and maintenance, not including expansion or complete replacement.
Duck blinds, floats, rafts and buoys.
The installation on lake bottoms of small filtering devices not exceeding nine square feet of disturbed area on the end of water intake pipes less than two inches in diameter for the purpose of zebra mussel control.
Aeration
Within public waters of the State, small-scale aeration devices including fountains, bubblers, ice-eaters, hydraulic jets, or other small aerators that attach to docks, are placed on the lakebed, or float on the lake surface are regulated under Lake Encroachment. Small-scale aeration for individual, private use is not allowed within public waters without approval. However, these types of small-scale aeration projects are likely to adversely impact the public good and are not consistent with the Public Trust Doctrine. Therefore, it is highly unlikely that small-scale aeration projects will be approved. Aeration projects proposed as a whole-lake management tool are similarly reviewed under Lake Encroachment and would require a Lake Encroachment permit for implementation. More information about aeration as a lake management tool is available in the report: "Aeration as a Lake Management Tool and its Use in Vermont: A Review of the Lake Management Literature." 
Technical Assistance
Lake Encroachment Permitting provides technical assistance, please contact your regional Lake and Shoreland Permit Analyst.