The Clean Water Initiative Program (CWIP) funds, tracks, and reports on priority projects to restore Vermont's waters. To learn more about clean water restoration tracking and clean water reporting see the Clean Water Projects page.
---
The purpose of Best Management Practice (BMP) Verification is to ensure that water quality improvement projects implemented with Clean Water Initiative Program (CWIP) funds are built, properly maintained, and functioning. Verification involves visiting clean water project sites to collect data (using a mobile application described below) by visually assessing a BMP's performance.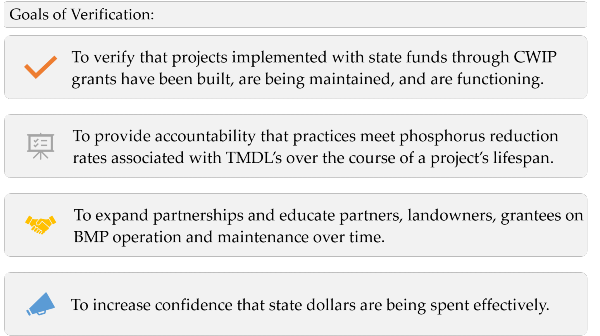 ---
Clean water projects constructed/implemented through CWIP funding programs require a signed Operation and Maintenance (O&M) Plan and Agreement. 
The O&M Plan describes the location, type, lifespan and required routine maintenance of a BMP.  The plan identifies the individual(s) or entity(ies) that are responsible for the BMP's maintenance and inspection (responsible party).  The O&M agreement also establishes an understanding of the role the responsible party, the landowner and the Department of Environmental Conservation (DEC) play in inspecting and verifying an individual practice. It outlines expectations for how post construction BMP performance will be verified. 
---
CWIP is a non-regulatory entity and will only visit BMPs implemented through its funding program.

Site visits typically occur May through Octoboer. Currently, only DEC CWIP employees are completing site visits under this BMP verification program. CWIP plans to expand the network of BMP verification to other partner organizations in the future, as envisioned in the Clean Water Service Delivery Act (Act 76 of 2019).
Survey123 is a mobile application used to collect data during BMP verification site visits. Survey123 facilitates data collection through project type specific checklist - checklists are currently availble for stormwater treatment, road erosion remediation, and riparian buffer restoration projects.    
After site visits, data are uploaded to the database and, a BMP Verification report is automatically generated. The report shows an overview of data collected and an average BMP functionality score. BMPs with low scores are flagged for follow up with the O&M responsible party, recommending maintenance tasks and resources to restore BMP functionality. 
---

To learn more about the BMP's that may be verified you can check out the 
Project Explorer
for completed implementation clean water projects. The results may not reflect the exact list of BMP's that will be visited.
The development of the BMP Verification involved research and collaboration with partners. Visit the linked resources below to learn more. 
VT ANR Regulatory Programs
---