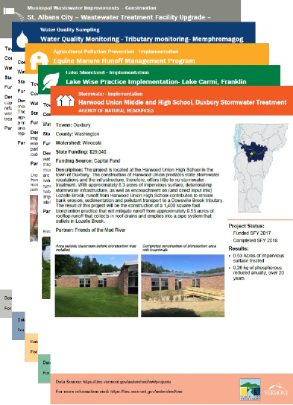 The Clean Water Initiative Program coordinates with State of Vermont and federal agencies to fund, track, and report priority projects to restore Vermont's rivers, streams, lakes, ponds, and wetlands. State of Vermont clean water funds target projects that reduce nutrient and sediment pollution across various land use sectors. These projects - applied across the landscape - result in nutrient and sediment pollution reductions necessary for surface waters to meet State of Vermont water quality standards. Pollution reductions are described in clean water restoration plans known as "Total Maximum Daily Loads" (TMDLs), and are further supported by programs under the Vermont Clean Water Act  (Act 64 of 2019) and the Combined Sewer Overflow Rule of 2016.
Learn more:
---
Additional reports can be found on the Reports webpage.
---
The Clean Water Portal is an online platform that houses a variety of clean water tools to assist with project planning, searching existing projects, funding opportunities, and more. Tools on the portal include:
Clean Water Project Explorer
Watershed Projects Database (WPD) Search
Water Quality Project Screening Tool
Funding Opportunities Tool
Stormwater Treatment Practice (STP) Calculator
Clean Water Cashboard (coming soon!)
---
The Clean Water Project Explorer is an interactive application that displays clean water project information, including funding, results, and nutrient reductions from the State of Vermont's clean water tracking database. Users can search clean water project data from six state agencies and download individual project reports. These agencies include: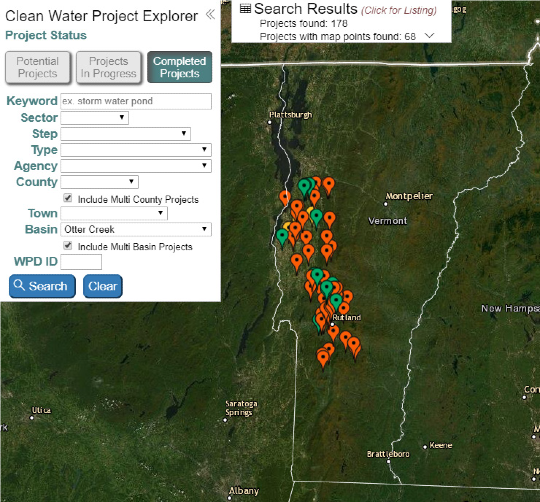 The Explorer complements the Vermont Clean Water Initiative 2019 Performance Report and includes projects that have been funded (i.e., projects in progress) or completed from State Fiscal Year (SFY) 2016 to 2019. In addition, the Explorer includes potential projects in various stages of development, identified through Tactical Basin Planning and listed in the Watershed Projects Database (WPD).