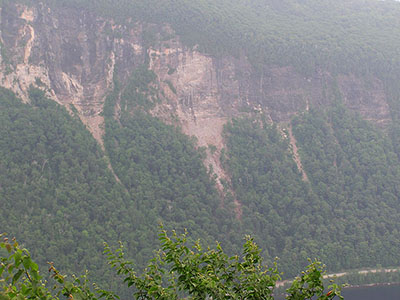 REPORT A LANDSLIDE  - fill out the online form to help us locate landslides (rockfalls, debris flows, gullying, other mass failures) in Vermont
The talus slope at Mt. Pisgah (left) with the road below is an example of  the landslide hazard in Vermont. We study the characteristics and causes of landslides, rockfalls and erosion in order to protect the public from exposure to these safety hazards and to inform mitigation efforts.  As  development expands over all types of landforms, conflicts between development and natural hazards is likely. A hazard map identifies areas of higher risk and is a primary mitigation tool.  A landslide inventory provides one indicator of potential future failure sites.
The Vermont Geological Survey responds to and monitors landslide and rockfall events, maps areas prone to erosion and landslides, and is working with our partners to implement landslide hazard mapping protocols (2012 VGS Technical Report) from the State Hazard Mitigation Plan.  In 2015 the Division began a program to provide planning-level landslide hazard maps for all Vermont counties, contingent upon funding and availability of Lidar. Landslide hazard susceptibility maps were prepared for Addison County, the Town of Highgate, and Washington County in 2016 - 2017; Chittenden County was completed in 2018 and added to the statewide GIS data inventory. The maps help Vermont prepare for safer growth and development, develop mitigation and hazard avoidance strategies (FEMA), avoid economic loss, and be prepared (USGS preparedness list) to respond to events. 
PUBLICATIONS
SITE MEMOS AND REPORTS
Barre City, 2011
Brattleboro, 2007, Crosby Brook
East Barre, 2007, Honey Brook
Hardwick, 2004
Hartford, 2008, Country Lane
Jeffersonville, 2009 Progress Report
Jeffersonville, 2014 Report
---
Rockfalls (photo gallery), Lake Willoughby
Mt. Pisgah Rockfall Poster
Jeffersonville Landslide
Rockfall on Elm St., Montpelier
City of Montpelier Elm Street site
Landslides in Vermont, 2010 presentation: Part One - Mad River Watershed and Highway Rock Fall project ; Part Two - Smugglers Notch and Jeffersonville
---
Tropical Storm Irene: Rainfall, flood  magnitude and geomorphic impacts of Tropical Storm Irene on the White River Watershed, east-central Vermont(NEGSA presentation, 2013)
Impact of Tropical Storm Irene on Streams in Vermont, 2011
Landslides and flash floods in the Great Brook Watershed, Plainfield, VT, 2016
Rockfall Hazard Rating of Rock Cuts on US and State Highways (AOT Report, 2007)