Who are the DEC Floodplain Managers?


What Do Floodplain Managers Do?


Where can I find more Floodplain Management Information?
DEC Regional Floodplain Managers
Map of Regions -  2017
Gray-scale Version of Map of Regions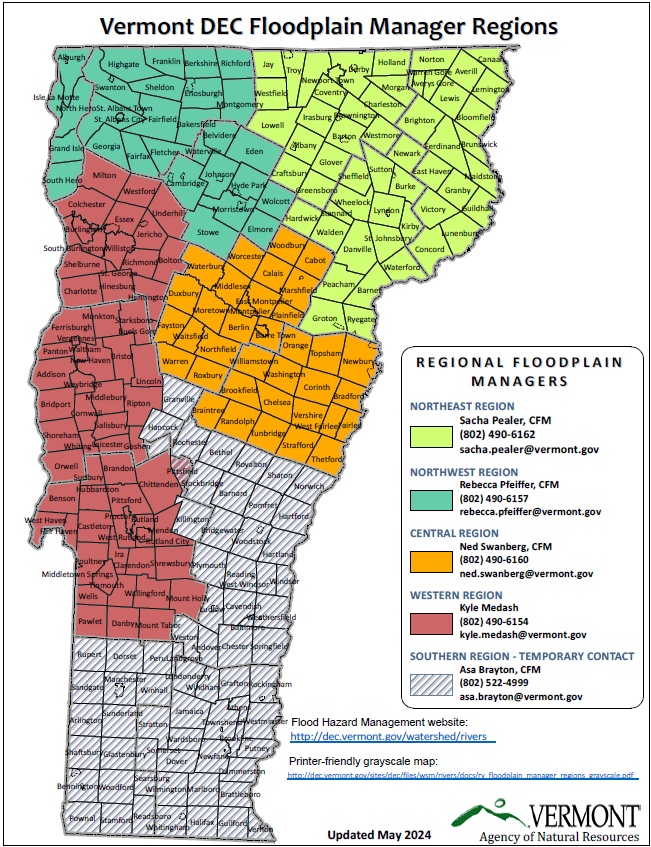 Northeast Region 
Sacha Pealer, CFM  
802-490-6162
sacha.pealer@vermont.gov
Northwest Region 
Rebecca Pfeiffer, CFM  
802-490-6157
rebecca.pfeiffer@vermont.gov
Central Region
Ned Swanberg, CFM
802-490-6160
ned.swanberg@vermont.gov
Western Region
Kyle Medash
802-490-6154
kyle.medash@vermont.gov
Southern Region
John Broker-Campbell, CFM 
802-490-6196
john.broker-campbell@vermont.gov
What do Floodplain Managers Do?
The Floodplain Management section of the VT Rivers Program works with the Federal Emergency Management Agency (FEMA) to oversee the National Flood Insurance Program (NFIP) in Vermont. The NFIP is a voluntary program administered at the community level. Participating communities agree to manage floodplain development using building and land-use regulations. In return, residents have the ability to purchase flood insurance, apply for federally insured loans (such as mortgages), and receive flood disaster assistance. While NFIP designated floodplains provide a useful management tool, they do not necessarily show the full extent of flood risk along Vermont streams and rivers. We encourage towns to be proactive in managing floodplains and to adopt regulations that go beyond the minimum NFIP requirements as well as consider the addition of river corridors to their flood hazard management regulations and approach.  Click here for more on Municipal Assistance.

Floodplain Management Information
The Municipal Assistance page links on to additional information for municipal officials including pages on the
The Flood Ready Vermont website is intended to support community officials working on flood resilience.  It includes community data, maps, information on river corridor protection, incentives such as ERAF and resources for flood resilience planning, damage reduction and mitigation.
The Flood Training site supports Administrative Officers (including ZAs and municipal board members) to help administer bylaws for floodplains and river corridors.  The site included tools, case studies, and "what you need to know".
Vermont Floodplain Management Blogspot provides current information on floodplain management in Vermont including data, training, map changes and news.
Two listserves are available to support community officials: