The National Flood Insurance Program (NFIP) is a voluntary program managed by the Federal Emergency Management Agency (FEMA) and the Federal Insurance Agency (FIA).  The NFIP provides access to federally-backed flood insurance.  The NFIP was created by the US congress in 1968 to try to address the rising costs of flood losses and flood-related disaster assistance across the country.  The focus of this program is aimed at reducing the impacts of flooding on private and public structures through local community adoption of a minimum set of local land use regulations in FEMA-mapped floodplains and the availability of federally-backed flood insurance.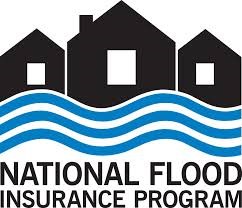 What Is the NFIP?
The NFIP is often referred to as a "three-legged stool", meaning there are 3 different parts that help support the program – Flood Insurance, Floodplain Development Regulations, and Floodplain Maps.
Flood Insurance
When a community voluntarily joins the program, the NFIP makes federally-backed flood insurance available for all citizens in that community, whether they are a renter or a property owner. For more information about flood insurance, please visit FloodSmart.gov.
Typically, flood insurance is required if a person has a loan or mortgage on a structure that is located in the high risk FEMA-mapped floodplain.  Such insurance is required regardless of whether a community participates in the NFIP.  Private flood insurance may or may not be available. NFIP flood insurance is also available to renters for coverage of their contents, and to properties located outside of high-risk floodplains.  It may be a good idea to consider the purchase of flood insurance if there is a history of flooding at your property or if you are located near a brook, stream, river or lake, regardless of whether it has been mapped as a floodplain by FEMA.  
Floodplain Development Regulations
When joining the NFIP, a community agrees to, at a minimum, regulate land development that is located in the FEMA-mapped floodplain, known as the Special Flood Hazard Area (SFHA).  This minimum set of regulations, described in 44 CFR, is intended to reduce damage from flooding to new structures and improved structures.  The insurance program does not address public safety, the public costs of disasters, reduce damage from erosion; or protect floodplain functions, water quality, or other community values.  However, communities are strongly encouraged and supported to adopt flood hazard area regulations that are more protective and avoid aggravating risk to existing structures and floodplain functions.  The NFIP Community Rating System provides discounts on the cost of flood insurance for communities adopting higher standards. 
Floodplain Maps
FEMA provides Flood Insurance Rate Maps (FIRMs) to help identify high-risk floodplains in a community.  Maps made prior to 2007 were made on a town-by-town basis, while newer maps published after 2007 have been created on a county-wide basis.  The maps do not identify all floodplain hazards.  The maps may be of varying age and detail, usually dependent on a community's population at-risk from flooding.  To find out more about the FEMA FIRMs, please visit Flood Ready Vermont. To view community's most recent FIRM, please visit the FEMA Map Service Center, or for areas with Digital FIRMs you can use the VT ANR Natural Resource Atlas.
How does the NFIP work in Vermont?
Why participate in the NFIP?
Technical Support