Mercury is highly toxic and energy-efficient alternatives are widely available. The following fluorescent lamps (lightbulbs) shall not be sold, offered for sale, or delivered to a retailer for subsequent sale in the state of Vermont. Learn more in this Fact Sheet.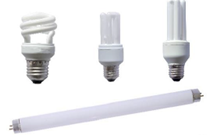 February 17, 2023 – Restriction on sale of screw-based, mercury-containing, compact fluorescent lightbulbs (CFLs).  Learn more in the Agency determination and comments.
NOTE: The restriction on sale is for bulbs that meet all three criteria (the top 3 bulbs on the left are some common examples): general purpose (general purpose use--no specialty bulbs); screw-based (any compact fluorescent bulb with a screw base, but no pin based compact fluorescent bulbs); mercury-containing (bulbs that contain mercury will be labeled "Hg and/or contains mercury" on the bulb and/or the package.
January 1, 2024 – Act No. 120. This act prohibits the sale or distribution in the State of four-foot general purpose, low pressure, mercury-containing linear fluorescent lamps (tubes).
For more information contact karen.knaebel@vermont.gov