The Vermont Lay Monitoring Program (LMP) trains and equips volunteers (or Lay Monitors)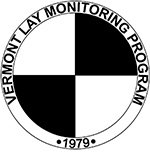 to conduct periodic lake water quality sampling using quality-assured methods.  Since the program's inception in 1979, the principal goals have remained the same: 
to establish baseline water quality conditions,
to track long-term nutrient enrichment, and
to teach lakeshore homeowners and lake users about lake ecology and stewardship. 
In total more than 90 lakes and 40 Lake Champlain stations have been monitored by this dedicated group of citizen scientists, with support from the Department of Environmental Conservation. We are grateful for their interest and commitment to better understanding the health of Vermont lakes and ponds.
What We Monitor and Why
How You Can Help
Lake Score Card and LMP Annual Reports
View and Export LMP Data
Lakeshore Land Use/Land Cover Maps
Other Resources
---
Lay Monitors sample a lake for total phosphorus, chlorophyll-a concentration, and water clarity every week to ten days from Memorial Day to Labor Day, collecting a minimum of eight samples. Total phosphorus is collected to determine a lake's level of nutrient enrichment.  Excessive phosphorus feeds aquatic plants (including nuisance and invasive plant populations), algae, and other plankton (free floating, aquatic life). Chlorophyll-a is the green pigment in plants and algae. The concentration of chlorophyll-a in a lake is used to describe the amount of algae. Generally, lakes with high phosphorus concentrations will have increased algae growth. Water clarity is measured by using a Secchi disk, an eight inch diameter disk painted with black and white quadrants. The disk is lowered into the lake by a rope, marked in meters, until it disappears from sight.  The lowest depth at which the black and white pattern can be seen is the Secchi depth.  Generally, the more algae, the lower the water clarity.
Why measure total phosphorus, chlorophyll-a and water clarity? The primary cause of a lake's water quality problems is excess phosphorus. Human activity along a lake's shoreline and in the watershed can accelerate the amount of phosphorus entering a lake. Sources of phosphorus include: shoreline erosion, fertilizer run-off, run-off from dirt roads, failing septic systems, agriculture runoff, residential runoff, erosion from logging, and erosion from construction.
Unnaturally high levels of phosphorus cause excessive aquatic plant and algae growth, which lowers the water clarity. Additionally, nuisance plant and algae growth can interfere with boating, swimming, fishing and other recreational activities. As the excessive growth dies back each year it falls to the lake bottom, causing sediments to build up more rapidly. When the natural environment of a lake is altered, the species of fish and other wildlife in the lake may also change.
---
Water quality sampling equipment and training are provided by the Department of Environmental Conservation. The monitor supplies their time and a boat. For more information on volunteering, email Mark Mitchell or call (802) 490-6129. 
 If you observe or have knowledge of any activity that may be in violation of Vermont's Shoreland Protection Act, an unauthorized lake encroachment, or other lake-related violation, please report the violation to the Environmental Enforcement Office (you may remain anonymous).
---
The Vermont Watershed Management Division's Lakes and Ponds Program developed the Lake Score Card to convey the large amount of data gathered through our monitoring efforts. The Lake Score Card answers the commonly asked question, "How is my lake doing?" Monitoring data is analyzed and reported out in a simple, visual, interactive format. The Lake Score Card rates Vermont lakes in terms of: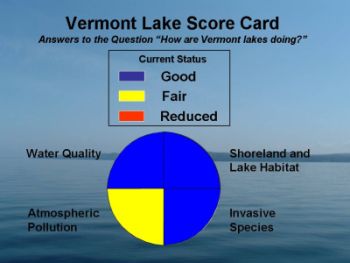 Water Quality
Aquatic Invasive Species
Atmospheric Pollution
Shoreland and Lake Habitat
2015 Lay Monitoring Program Report (PDF, 156 MB)
2014 Lay Monitoring Program Report (PDF, 8 MB)
35 Year Vermont Lay Monitoring Program Report - Inland Lakes (1979-2013) (PDF, 8 MB)
35 Year Vermont Lay Monitoring Program Report - Lake Champlain (1979-2013) (PDF, 2 MB)
2012 Lay Monitoring Program Report - Lake Champlain 15 MB
2012 Lay Monitoring Program Report - Inland Lakes 8 MB
---
Lay Monitoring Lake Water Quality Data - from 1979 to Present (view and export to Excel)
Vermont Integrated Watershed Information System (IWIS): The VTDEC-Watershed Management Division's new online data portal for water quality information. Here you can access water quality and chemistry testing information from throughout Vermont.
---
A lake's health is directly impacted by the land use and land cover (LULC) around the lakeshore. These maps depict the LULC -mapped within a 100-meter or 600-meter buffer zone- of lakes within the Lay Monitoring Program.  These maps were created as an outreach tool and include layers from the Vermont Center for Geographic Information and the UVM Spatial Analysis Lab. For more information about this LULC layer, click here. 
---
Other Resources
Lake Champlain Lay Monitoring Program Quality Assurance Project Plan - 2013 - 2017
Inland Lakes Lay Monitoring Program Quality Assurance Project Plan - 2013 - 2017
Vermont Volunteer Surface Water Monitoring Guide
Vermont Department of Health Lake Conditions and Cyanobacteria (Blue-green Algae) Updates
Vermont Department of Health Swim Water Testing for E. coli