THE  SCHEDULE OF 2019 GREETER PROGRAM TRAININGS IS NOW AVAILABLE!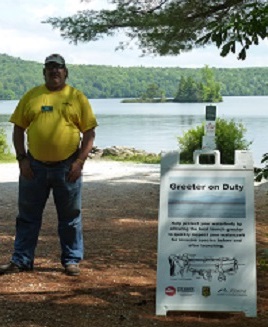 Aquatic invasive species are spread by overland transport of watercraft, trailers, and fishing and recreational equipment. The most effective way to prevent spread is through education and equipment inspections designed to catch invasive species "hitching a ride" from one waterbody to another. Preventing the spread of aquatic invasive species is far more effective and economically sensible than eradicating invasive species once they are established. With support from Vermont DEC, Public Access Greeters educate lake visitors about invasive species, provide courtesy watercraft inspections and STOP introductions.
The Program
Since 2002, the Vermont Public Access Greeter Program has expanded operation to access points at 32 lakes and ponds statewide, and those numbers are increasing annually. The total number of inspected watercraft has increased since the programs inception, with 404 inspected in 2002 to 25,897 in 2016. In 2018, 25,495 watercraft were inspected in Vermont. Greeters intercepted and removed 613 instances of aquatic invasive species, roughly 79% of recorded intercepts. A large number of intercepts were Eurasian watermilfoil; this is similar to what was found in 2017.

Boat Access Greeter Duties
Approaching and interacting with boaters
Inspecting watercraft
Identifying and handling suspicious specimens
Collecting and reporting data
Distributing educational material on aquatic invasive species 
Training
If you are a new greeter, a program coordinator, or would just like to brush up on the latest information regarding aquatic invasive species, join us for a training workshop and learn about:
Aquatic invasive species biology, threats to Vermont, and the importance of spread prevention

Access area rules and regulations, invasive species laws

Tips on delivering invasive species messages and interacting with the public

How to inspect watercraft and data collection methods 
Program Materials
If you currently run a program or want to start a new program, we provide a "Greeter on Duty" welcoming sandwich board for each program, "Access Greeter" t-shirts and training manual for each greeter, up-to-date informational literature for public distribution, and other giveaways for the boating public designed to promote the "Clean, Drain, Dry" message.
Contact
If you are interested in starting a greeter program, hosting a training workshop or learning more about aquatic invasive species, contact Kim Jensen at Kimberly.Jensen@vermont.gov or (802) 490-6120. 
Greeter Program Resources
2019 Public Access Greeter Program Manual
Watercraft Inspection Data Sheet
Intercepting Aquatic Organisms