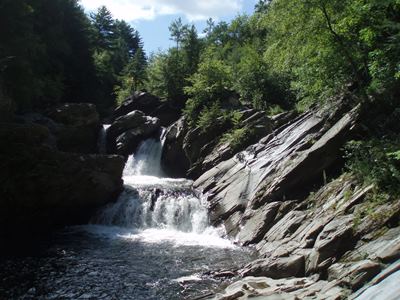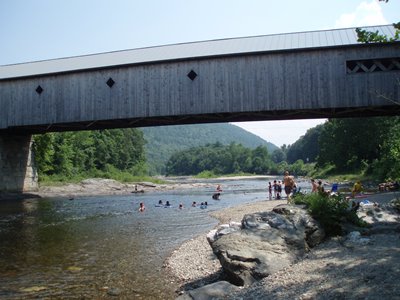 January 7, 2016
Final Basin 11-13 Tactical Basin Plan for the West, Williams, Saxtons River and lower Connecticut River & tributaries
Final Appendices for the Plan
The Department is pleased to offer this new draft tactical plan for use by Agencies and partner organizations to protect, maintain, enhance, and restore surface waters.
For additional information on how to use the plan to assist in these activities in your neighborhood, contact:
Marie Levesque Caduto, Watershed Coordinator 
Office: 802-289-0633
Cell: 802-490-6142
Email: Marie.Caduto@vermont.gov
From the headwaters off of South Mountain in Mount Holly, and framed by Bromley, Stratton, and Hogback Mountains on the west and the Connecticut River on the east, Basin 11-13 runs from the crest of the southern Green Mountains almost to the Massachusetts line, dropping over 3700' in elevation from the high point in Stratton to its outlet in Brattleboro.  Twenty-nine towns in full or in part, make up the Basin.
The largest of the major watersheds in the Basin is the West River draining 423 square miles from Weston to Brattleboro.  Its tributaries include the Rock and Winhall Rivers and Wardsboro and Ball Mountain Brooks.  The Williams River running from the hills of Andover down to Herrick's Cover in Rockingham drains 117 square miles and the Saxtons River covers 78 squares miles from Windham to Westminster.
The approximately 26 miles of the Connecticut River mainstem covered in this basin include Rockingham/Bellows Falls to Brattleboro.  The largest brooks feeding directly into the Connecticut River are East Putney and Sacketts Brooks both of which are in Westminster and Putney.
The Vermont Department of Environmental Conservation's (VDEC) tactical planning process is designed to identify and prioritize state and local water quality issues and implement on-the-ground watershed protection and restoration projects.  The VDEC collaborates with state, federal and municipal organizations, local conservation groups, businesses, and a variety of landowners and interested citizens to develop the water quality management plan for waters in these Basins.
For more information or to become involved in the basin planning process contact:
Marie Levesque Caduto, Watershed Coordinator 
Vermont ANR / Department of Environmental Conservation
100 Mineral Street, Suite 303 
Springfield, VT 05156-3168
Phone: 802-289-0633
Fax: 802-885-8890
Email: Marie.Caduto@vermont.gov
Additional Resources
Water Quality Assessments:
Other Supporting Documents:
Partners: