Legal Requirements: Dental Best Management Practices and Amalgam Separators
In 2005, legislation was passed in Vermont requiring dental offices to comply with environmental best management practices (BMPs) for amalgam wastes developed by the Department of Environmental Conservation. The law requires the installation of amalgam separators in the wastewater discharge.
How Does a Dental Office Comply?
IMPORTANT: Orthodontists, periodontists, endodontists, and oral and maxillofacial surgeons are NOT required to file a self-certification form or install an amalgam separator.
All other dental practices:
Read and comply with the Dental BMPs (condensed).
Install an amalgam separator on your wastewater discharge.
Self-certify your compliance status with the Dental BMPs by filing a self-certification form by January 31st every other year starting in 2011.
On July 14, 2017, Federal Rule Effluent Limitations Guidelines and Standards for the Dental Category went into effect. Existing sources must be in compliance with this rule by July 14, 2020, while new sources must meet the requirements of the rule beginning July 14, 2017.
Questions? Contact Karen Knaebel at (802) 522-5736 or by email at karen.knaebel@vermont.gov.
---
Amalgam Separator Installation and Maintenance Requirements
Installation Requirements
Vermont dental offices are required to install amalgam separators no later than January 1, 2007. This requirement applies to any practice that places or removes dental amalgam. The following categories of dental practices are exempt from the requirement: orthodontists, periodontists, endodonists, and oral and maxillofacial surgeons.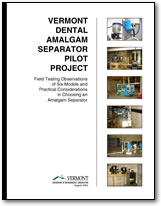 A list of approved amalgam separators that meets the installation requirement (ISO 11143 Standard for amalgam separators) will be updated periodically. Further information on amalgam separators and practical considerations in choosing an amalgam separator are contained in the Vermont Dental Amalgam Pilot Project Report. You may benefit by speaking to other dentists that have installed separators, dental suppliers, and the vendors/manufacturers of amalgam separators. Installation may require the services of a plumber.
Inspection & Maintenance Requirements
It is important to perform routine maintenance on amalgam separators to ensure that they are serving their intended purpose of amalgam removal. Failure to perform maintenance and change cartridges or collector boxes when full can lead to bypass of the system and discharges of mercury in the wastewater.
The Dental Best Management Practices require that an inspection log be maintained for your amalgam separator. Click on the links below to view a sample inspection log and a log that you can download for your use.
For further information or if you have questions, please contact the Environmental Assistance Office at 802-622-4111.
---
Additional Resources