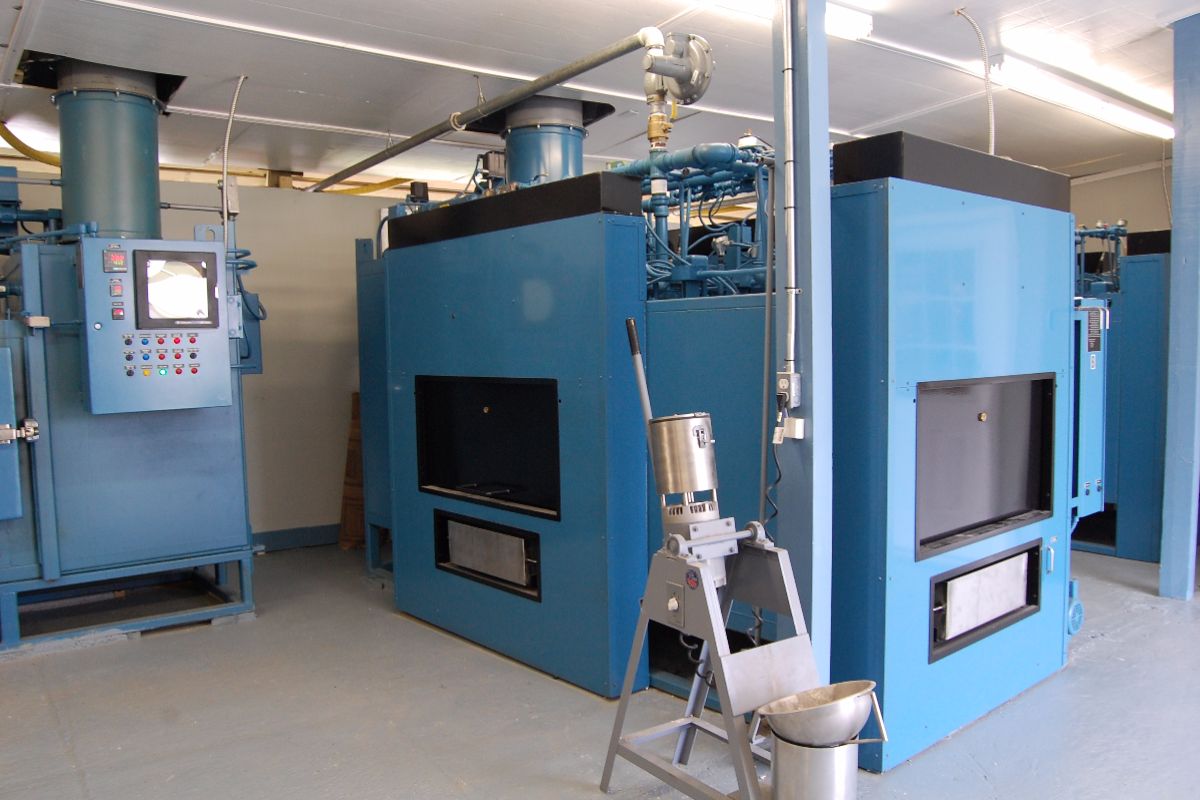 Do I Need a Permit for my Human or Animal Crematorium?
In all cases, if you plan to operate a crematory in Vermont with the sole purpose of reducing the volume and weight of human or animal remains, you will need to obtain an air permit.  Crematoriums are classified as "incinerators" under [VAPCR 5-401(1)].  
Why do we Regulate Human and Animal Crematoriums? 
Crematories are a concern to air quality for several reasons.  These units typically operate in moderately populated areas and release air emissions such as particulate matter, nitrogen oxides, carbon monoxide, hydrogen chloride, sulfur dioxide, dioxins, furans, formaldehyde and mercury.  Proper design and operation are critical to minimize these pollutant emissions and to ensure odors and nuisance are contained within the property boundary.  
What do I Need to do to Obtain an Air Permit?  
A Permit to Construct application must be submitted with the appropriate application fee  to the AQCD.  The Permit must be issued before the applicant can commence construction of the project.  Please refer to our Permit to Construct Application Guidance webpage for more information. A typical crematory permit application submittal should also include the following information.  
Operation and Maintenance Plan: 
Crematory applications should include an O&M Plan that includes provisions for proper operation of the unit, conducting daily and routine maintenance inspections, findings of those inspections, and any corrective actions taken, and provisions for identifying and preventing PVC type plastics from being burned in the unit such as from surgical wastes or containers.  The O&M Plan should also contain provisions for maintaining an operator's log book to record the following information: operators' name, date, number of charges per day, start and stop time of each charge, approximate weight of each charge including casket if present, casket description if present (wood, cardboard, crematory friendly casket designed for crematory use, approximate weight) and initial temperature of last combustion zone before charging.  
Equipment Specifications & Designs:
Please submit the following information to the Permitting and Engineering Section when applying for a permit. A printable version of this information can be found in our Application Guidance for Crematories document.
Crematory manufacturer, model no., serial no.
Maximum charging rate, lbs/hr
Method of loading: batch, continuous, other
Cycle time for full charge, minutes
Type and characteristics of waste to be incinerated
Number of combustion chambers
Type of auxiliary fuel
Burner maximum heat inputs, MMBtu/hr
Min. and max. operating temperatures, oF
Minimum residence time, seconds @ oF
Exhaust air flow rate, acfm and dscfm
Stack outlet height
Stack internal diameter
Stack exhaust temperature at outlet
Static pressure, if known
Description of other design features, see Design Considerations below
Attach copies of all manufacturer's literature
Attach copies of valid stack emission test results
Design Requirements
Each proposed crematory unit should have the following minimum design requirements:
Multi-chambered design
Half-second minimum retention time at 1600 

o

F

 
Design Considerations
Each proposed unit should consider the following criteria to ensure safe and efficient operation:
Insulated refractory lined stack
Self-locking and self-sealing doors
Modulated temperature control system
Automated opacity indiciators
Safety feedback mechanism to prevent overheating
State Regulations
In addition to the permitting regulations of 5-501 (Permits to Construct), the Vermont Air Pollution Control Regulations include the following rules that would apply to crematories.  
5-211 Prohibition of Visible Air Contaminants.  This regulation restricts the visible emissions from the crematory.
5-221(1) Sulfur Limitations in Fuel.  This regulation restricts the sulfur content of fuels.  Inherently, propane and natural gas comply with this regulation.  These are typically the fuels used for firing crematories.  Gaseous fuels are highly recommended as fuel oil units tend to smoke.
5-231 Prohibition of Particulate Matter (Dust). These regulations limit the amount of particulate matter that can be emitted from the crematory and require that all reasonable measures have been taken to prevent particulate matter from becoming airborne.
5-241 Prohibition of Nuisance and Odor. This regulation prevents the crematory from causing a public nuisance, of either particulate matter or odors, off their premises.
Federal Regulations
There are several federal regulations that do apply to incinerators including the following:
40 CFR Part 60, Subpart Ec—Standards of Performance for Hospital/Medical/ Infectious Waste Incinerators for Which Construction is Commenced After June 20, 1996.
40 CFR Part 60, Subpart CCCC—Standards of Performance for Commercial and Industrial Solid Waste Incineration Units for Which Construction Is Commenced After November 30, 1999 or for Which Modification or Reconstruction Is Commenced on or After June 1, 2001 (and Subpart DDDD for existing units).
40 CFR Part 60, Subpart EEEE – Standards of Performance for Other Solid Waste Incineration (OSWI) Units for Which Construction is Commenced After December 9, 2004, or for Which Modification or Reconstruction is Commenced on or After June 16, 2006.
However, these rules do not apply to human or animal remains intended for interment or cremation. Therefore, if your cremation unit is used exclusively for this purpose, it is not subject to the above listed federal regulations.
Stack Testing
Prior to proceeding with purchasing a cremation unit, please keep in mind that there is a Vermont particulate matter standard, applicable to all crematories, of 0.06 grains per dry standard cubic foot adjusted to 7% oxygen.  Thus, all applications must contain valid stack emission testing data for the proposed unit that demonstrates the unit complies with the particulate matter emission limit of the Vermont Air Pollution Control Regulations ("VAPCR").  If valid stack test data are not available, you will be required by the permit to perform a test on the unit at your own expense once the unit is installed and operational.  Compliance stack tests can cost as much as $6,000 per crematory unit.  If the unit fails to comply with the emission limit during testing, the unit must be repaired and retested to demonstrate compliance.  To be considered valid, stack emission tests must:
Be performed on the same make and model as the proposed unit
Have been performed during a cremation cycle that includes a standard wooden casket if the facility wishes to be approved for cremations with caskets
Contain sufficient information to demonstrate compliance with the VAPCR including detailed stack test data and results, approximate charge weight, casket description and operational parameters of the unit during the test
The final decision to approve or reject test data rests with the AQCD. The AQCD may also require a stack retest at any time, at the owner's expense, if excessive visible emissions are observed and documented by the AQCD.
Things to Keep in Mind
The owner or operator is responsible for complying with the Vermont Air Pollution Control Regulations.
An Air Pollution Control Permit must be obtained prior to installation or modification of a unit.
The particulate matter standard in Vermont is 0.06 grains per dry standard cubic foot adjusted to 7% O2
No odors or nuisance allowed beyond property line.
The stack must extend at least four feet above any roof top, peak, or near-by structure which may affect the plume.
Only natural gas or propane fuels are recommended. Fuel oil units tend to smoke.
Only human or animal remains can be cremated (other waste streams by written authorization only).
No caskets may be burned unless valid emission test data demonstrates unit can comply while burning a casket.
Operators must receive first-hand training from a qualified instructor or representative. Annual inspection and maintenance required.
What other permits or requirements may be applicable to my project?
The Department of Environmental Conservation Environmental Assistance Office provides permit assistance through the Permit Navigator tool. The Permit Navigator can help you identify what environmental permits you may need for a project on a single parcel. If you have a linear, polygon, or multi-parcel project, contact a Community Assistance Specialist to get started.