Mobile sources, primarily motor vehicles, are the largest source of a number of air pollutants in Vermont, including greenhouse gases, air toxics, the ozone precursors (volatile organic compounds and nitrogen oxides), and carbon monoxide. In order to reduce the impact of mobile source emissions on air quality and human health, the Mobile Sources Section implements and manages a number of programs and strategies for controlling on-road and non-road mobile sources of air pollution.
---
---
What Are Mobile Sources & Why Do They Matter?
Mobile sources include vehicles, engines and equipment, that can be categorized as either on-road mobile sources (e.g. trucks, buses, passenger cars, and motorcycles) or non-road mobile sources (e.g. locomotives, marine vessels, construction equipment, lawn, garden and snow equipment, personal recreation equipment, etc.).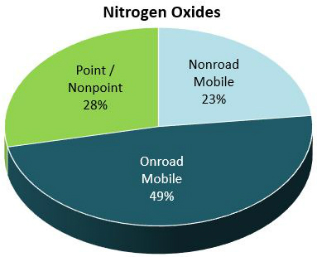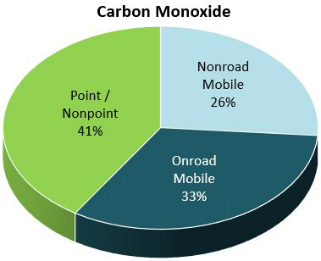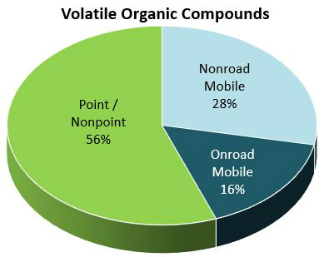 The transportation sector accounts for the highest share of both greenhouse gas emissions and energy use in Vermont.
Mobile source emissions include:
Greenhouse gases, which contribute to climate change;
Volatile organic compounds (VOCs) and nitrogen oxides (NOx), which combine to form ground level ozone that triggers asthma attacks, damages lung tissue, and damages forests and crops;
Fine particulate matter (PM), which causes respiratory and cardiovascular damage, and leads to haze that limits visibility;
Toxic and carcinogenic compounds such as benzene, aldehydes and butadiene; and
Carbon monoxide (CO), which interferes with the delivery of oxygen to the body's organs and tissues.
Toxic and carcinogenic air pollutants are of concern because they are known or suspected of causing cancer in humans, and pose a threat even at very low levels. Diseases aggravated by air pollution include chronic sinusitis, bronchitis, asthma, and allergies. Studies show that air pollution poses significant risk of pulmonary problems in developing fetuses, young children, and older individuals, and damages the immune system in healthy adults.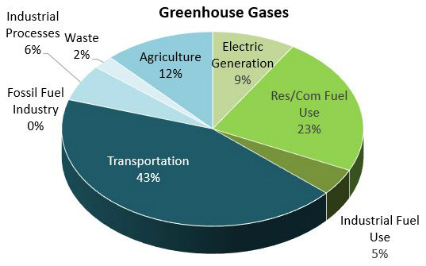 Gross Emissions by Sector. Source: Vermont 2014 National Emissions Inventory.
Primary Mobile Sources Section Programs
Vermont's Low Emission Vehicle (LEV) Program, including its

Zero Emission Vehicle

 requirements, is a key strategy in climate change mitigation, and is crucial to our efforts to remain in attainment of the National Ambient Air Quality Standards.

 
The Diesel Emissions Reduction Program helps to reduce diesel emissions by providing technical support and funding for vehicle and equipment replacement, repowering and retrofitting; installation of idling reduction technologies; and by providing technical and equipment support for in-use testing.
The Vehicle Emissions Inspection and Maintenance Program helps to ensure that Vermont vehicles remain clean throughout their useful lives by requiring annual testing of vehicle emissions control systems and repairs if needed.
The Automotive Technician Training Program provides information and training opportunities to automotive technicians to help ensure effective and cost-effective maintenance and repair of vehicle emission control systems.
---
More Mobile Sources Information
Idle Reduction Efforts – Visit our Be Idle Free page for more information.  The American Lung Association has a number of initiatives aimed at eliminating unnecessary idling. 
Transportation and Air Quality – The U.S. EPA's Office of Transportation and Air Quality (OTAQ) addresses mobile sources issues on a national level. The OTAQ web page provides information on their mission, variety of programs, and organizational structure.
Reduce Your Environmental Impact – Go! Vermont is a resource for Vermonters who want to reduce the cost and environmental impact of driving and the Vermont Clean Cities Coalition promotes alternative fuels and energy independence and is part of the U.S. Dept. of Energy's Clean Cities Program network. FuelEconomy.gov is a resource for those who want to compare cars according to gas mileage, greenhouse gas emissions and air pollution ratings. Additional buying guides for clean and efficient vehicles are provided by California (DriveClean) and the U.S. EPA (Green Vehicle Guide).
Electric Vehicles – Drive Electric Vermont is a statewide coalition of stakeholders from the business, nonprofit, and government sectors dedicated to promoting the spread of electric transportation in Vermont. DEV provides information and hosts events and demo days around the state to educate Vermonters about electric vehicle technology and its benefits to our transportation sector.
---