Motor vehicles, while an essential mode of transportation in a rural state like Vermont, are a major source of air pollutants that are associated with a variety of environmental and human health threats, including, but not limited to climate change, ground level ozone, air toxics, acid precipitation, and regional haze. The Vermont Low Emission Vehicle (LEV) Program ensures that new vehicles sold in Vermont are the cleanest available by requiring that 1) new vehicles sold in Vermont meet California emissions standards, 2) vehicle manufacturers meet a sales-weighted fleet average emissions standard for criteria pollutants and greenhouse gases, 3) a portion of the vehicles sold meet zero-emission vehicle standards, and 4) vehicle manufacturers provide extensive warranty coverage to consumers. 
Background
The essential element of Vermont's LEV Program is the adoption of California vehicle emissions standards, which has played a critical role in controlling pollution from motor vehicles in Vermont since 1996. Moreover, Vermont works closely with and coordinates implementation of the standards with numerous other northeastern states that have also elected to adopt California standards as part of a regional effort to reduce air pollution and help mitigate climate change.
The California vehicle emissions standards that apply to new vehicles sold in Vermont are more comprehensive than the federal emissions standards that would otherwise apply, resulting in greater emissions reductions. These California standards have driven technology development, resulting in hybrid-electric, battery-electric, and hydrogen fuel cell vehicles, as well as continuing advancements in significantly cleaner internal combustion engines.

In Vermont
New vehicles sold, leased or purchased in Vermont must be California-certified or certified to what are known as "50-state" standards.  New motor vehicles not certified as California or 50-state vehicles cannot be registered in the state of Vermont. This is particularly important for Vermont dealerships that may trade vehicles with dealerships in a non-LEV state, as well as for dealerships outside of Vermont where a vehicle may be purchased by a Vermont resident.
Vehicle Emission Control Information Label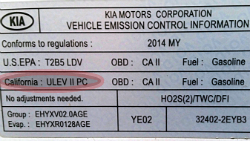 To identify vehicles that can be sold in Vermont, vehicles are required to have a Vehicle Emission Control Information label placed under the hood stating that the vehicle conforms to California emissions control regulations. The label may indicate that the vehicle complies with the regulations of California's LEV program, or that in addition to California regulations, the vehicle also complies with federal regulations (also known as 50-state certified). 
Extended Emissions Warranty
As part of Vermont's LEV Program, vehicle manufacturers are required to provide extensive emissions warranty coverage to Vermont vehicle owners. A vehicle's entire emissions control system must be warranted for a minimum of 3 years or 50,000 miles. More expensive emissions control components are covered for at least 7 years or 70,000 miles, and the engine computer and catalytic converter are covered for 8 years or 80,000 miles. Certain vehicles' emissions control systems are warranted up to 15 years or 150,000 miles. 
Environmental Performance Label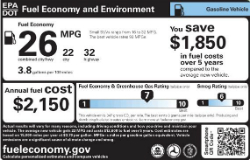 The Environmental Performance Label, also known as the Smog Index Label or Fuel Economy and Environment Label, is on all new cars sold in Vermont.  Designed to help consumers compare vehicles, the vehicle technology and fuel, the fuel economy of the vehicle and a comparison of fuel economy to other vehicles are listed on the label.  
The label provides a Smog Rating and a Greenhouse Gas Rating, both from 1 to 10, with 10 being cleanest and 5 representing the average vehicle. The label also includes additional information such as fuel consumption rate and potential savings compared to the average vehicle, estimated annual fuel cost, and CO2 emissions. For more information visit fueleconomy.gov.