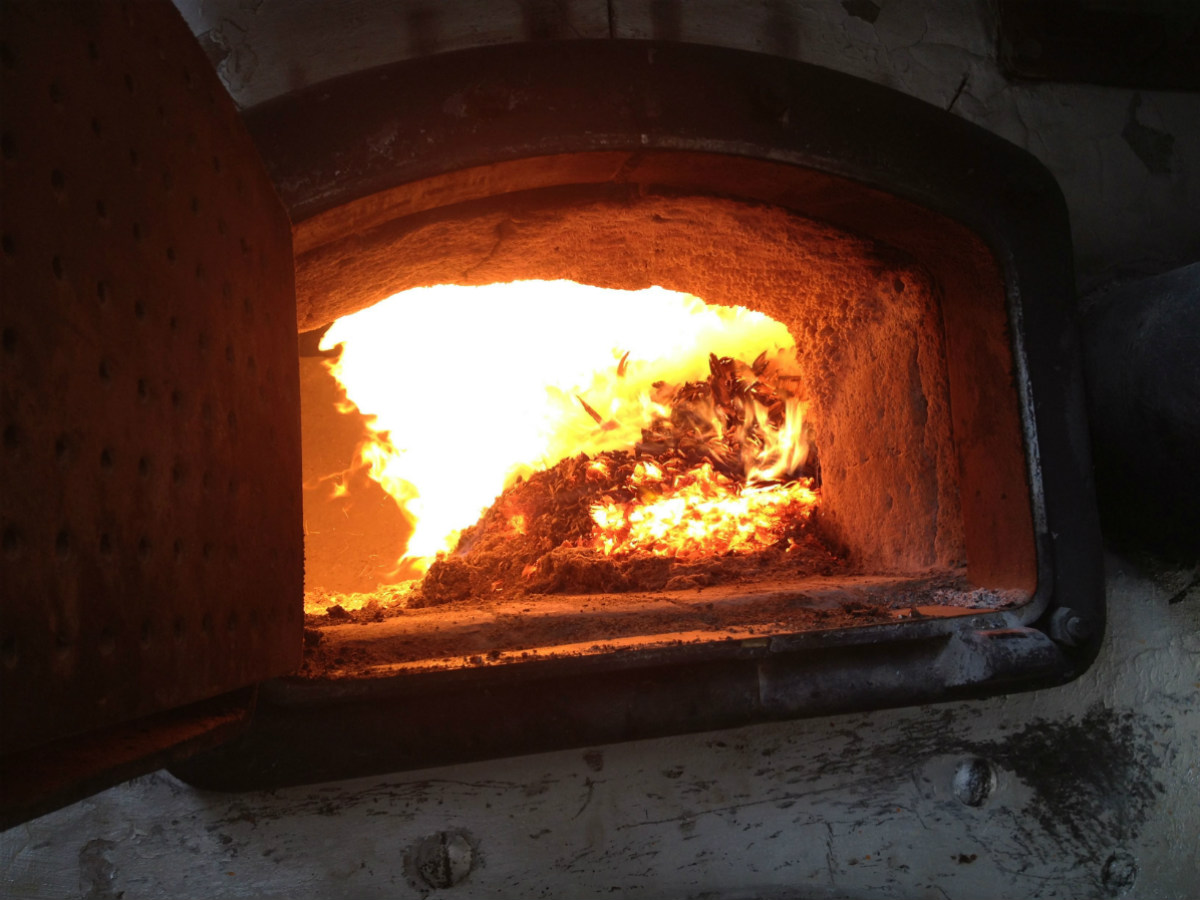 Do I Need a Permit to Install a Boiler?
The size of a boiler, and the type of fuel it burns are crucial in determining whether or not you will need to obtain a permit to install a boiler. In general, small residential hot water furnaces or heaters will not need a permit to install, however, larger units that provide steam to a process or facility will likely need a permit. Please contact the AQCD Permits & Engineering Section to confirm permit applicability before installing a new boiler at your facility.
Fossil Fuel Boilers
For boilers that operate on gaseous fuels (e.g. propane, natural gas, etc.), the threshold is 10 MMBtu/hr of heat input to the boiler. For boilers that burn fuel oils (e.g. diesel, kerosene, etc.), the threshold is for individual units of 3 MMBtu/hr or greater, which aggregate to greater than 10 MMBtu/hr, combined. If the boiler burns coal, the threshold is 5 MMBtu/hr if anthracite coal, and any size boiler that burns bituminous coal will need a permit.
Wood Boilers
On December 16, 2022, amendments to several sections of the Vermont Air Pollution Control Regulations were adopted that relate to control of air contaminant emissions from wood burning stoves, central heaters and boilers. These amendments affect wood heating units in three size categories by implementing the following requirements:
0-350,000 BTU/hr

:  Units rated at or less than 350,000 BTU/hr heat input are regulated under §5-204 and are required to be EPA certified to meet the Step 2 standards (0.10 lbs total PM/million BTU heat output).  This requirement is for both residential and non-residential units.

>350,000 – ≤3,000,000 BTU/hr

:  Units greater than 350,000 BTU/hr heat input and less than 3,000,000 BTU/hr heat input fall under newly adopted §5-205 (Mid-size Wood Fuel Burning Equipment) and are required to meet one of the following to be sold or leased for use in Vermont:




Obtain EPA certification showing they meet the Step 2 standards (mandatory by federal regulation for residential units larger than 350,000 BTU/hr heat input).

Obtain VT State certification for each make and model by demonstrating the unit meets the emission limits of 0.10 lbs filterable particulate matter (PM)/ million BTU/hr heat input and 270 ppm carbon monoxide (CO) @ 7% O2 through a valid stack emission test (EPA Method 5 for PM; EPA Method 10 or equivalent for CO).  Once a specific make and model of unit has obtained VT State certification, additional identical units may be installed at other locations with a notification to the Air Quality & Climate Division.

Obtain VT State certification for each make and model by demonstrating the unit is certified to European EN-303-5 Class 5 standards (this is for units up to 1,700,000 BTU/hr heat output).  For units larger than 1,700,000 BTU/hr heat output they must demonstrate the unit has been tested using EN-303-5 and meets the Class 5 standards.  The European standards and emission testing methodology are not directly comparable to EPA or state standards.  However, the European EN-303-5 Class 5 standards represent the highest standards and cleanest units available in Europe and will be accepted as demonstration of meeting the Vermont standard.

To apply for a VT State certification, manufacturers or distributors need to complete and file an application with the Air Quality & Climate Division.

Prior to completing a sale or lease, sellers need to complete a Notice to Buyer of Mid-Size Wood Fuel Burning Equipment and file a copy with the Air Quality & Climate Division. This document notifies buyers of important requirements that apply to these units including the types of fuels the unit is certified to burn. If you will be selling or leasing mid-size wood fuel burning equipment, contact the AQCD to obtain a supply of these Notices.

Purchasers of mid-size wood fuel burning equipment will need to maintain a record of fuel consumption. Examples of fuel consumption logs are available from the Air Quality & Climate Division in paper or electronic format. Contact the Division if you need a paper copy mailed to you.

≥3,000.000 BTU/hr:Units rated at 3,000,000 BTU/hr heat input and larger must obtain a State permit and document compliance with the emission limits through a stack test for each installation. The emission limits for units 3,000,000 – 10,000,000 BTU/hr are 0.10 lbs filterable PM /MMBTU heat input (EPA Method 5) and 270 ppm CO @ 7% O2 (EPA Method 10) and the limits for units >10,000,000 BTU/hr are 0.030 lbs filterable PM /MMBTU heat input (EPA Method 5) and 270 ppm CO @ 7% O2 (EPA Method 10).The emission limit for units between 3,000,000 and 10,000,000 BTU/hr heat input is the same as for mid-size units 350,000 to 3,000,000 BTU/hr heat input. A site-specific stack compliance test is required for each installation rated at 3,000,000 BTU/hr heat input and larger.
What Do I Need to do to Obtain an Air Permit?
A Permit to Construct application must be submitted with the appropriate application fee  to the AQCD.  The Permit must be issued before the applicant can commence construction of the project.  This would be required before installing or operating a regulated boiler at the site.   Please refer to our Permit to Construct Application Guidance webpage for more information. In addition to the information required to be submitted for a Permit to Construct Application, please also submit the following equipment specifications and designs.
Equipment Specifications & Designs
Please submit the following information to the Permitting and Engineering Section when applying for a permit.
Boiler Manufacturer, Model No., Serial No., Date of Manufacture
Date of Installation
Purpose of Boiler (e.g. steam or hat water production? Process heat or electric generation?)
Boiler Type (e.g. water-tube, fire-tube, sectional)
Boiler Maximum Rate Heat Input: (million British Thermal Units per hour - MMBtu/hr)
Boiler Maximum Rated Heat Output: (horsepower)
Boiler Design Heat Transfer Efficiency (i.e., MMBtu/hr output divided by MMBtu/hr input)
Firebox Heating Surface Area and Volume (esp. for solid fuel-fired boilers)
Maximum & Design Operating Pressures (psig)
If purpose of the boiler is for steam production, indicate maximum and design steam production rate (lbs of steam/hr)
Fuel Type: primary & secondary
Assumed Fuel Higher Heating Values: liquid (MMBtu/gal); solid (MMBtu/dry ton); gaseous (Btu/cubic foot):
Fuel Sulfur Content (% by weight, dry):
If solid fuel, indicate ash content (% by weight, dry) and fuel moisture content (% by weight):
Will fly ash collection/reinjection be used? If so, provide specifications on this equipment.
Number of Burners
Burner Manufacturer, Model No., Serial Nos. (if available)
Burner Type or Fuel Feeding Mechanism
Maximum Fuel Firing Rate: liquid fuel (gal/hr); solid fuel (tons/hr); gaseous fuel (cubic feet/hour)
If oil-fired, indicate method of atomization (steam or compressed air)
Forced draft or atmospheric boiler
Combustion air blower capacity in actual cubic feet per minute (if applicable)
Excess Air (% by volume)
Carbon Dioxide (CO2) Content of the Flue Gas (% by volume, wet)
Moisture Content of the Flue Gas (% by volume)
Will flue gas re-circulation (FGR) be employed?
Will staged air combustion or staged fuel combustion be used?
Will the combustion air be preheated?
Will low-Nox burners be utilized? If so, what type:(staged air combustion, staged fuel combustion, internal flue gas recirculation, external flue gas recirculation, or ceramic radiant combustion)?
Sootblowing frequency and duration
Will the steam be utilized for electrical generation? If so, provide specifications on the generating capacity.
State Regulations for Boilers
Wood fired boilers are significant air pollution emission sources in the region whose emissions can be exacerbated by lack of proper operation and maintenance.  New wood boilers greater than 90 bhp are required to equip the boiler with an emission control device such as an electrostatic precipitator or a fabric filter to achieve an emission limit of 0.03 lbs/MMBtu of filterable particulate matter.  Wood boiler permits will also include a requirement for an operation and maintenance (O&M) plan so current and future boiler operators are aware of proper operation and maintenance requirements.  There will also be a requirement to test combustion efficiency of the unit periodically so the unit can be tuned up to improve efficiency. The frequency of the combustion efficiency test will depend on the size and extent of use of the boiler.  The facility could purchase their own unit to do this, share a unit with another facility, or contract this out.  A separate federal requirement requires the boiler to be tuned-up at least every two years. 
There are less air pollution concerns with oil and gas fired boilers and the permit requirements to ensure proper operation and maintenance will be less.  Consistent with New England regional regulations, the allowed sulfur content of fuel oil decreased in 2014 and will decrease again in 2018.  Your fuel supplier should be well aware that they will not be able to deliver fuel anywhere after those dates that is not compliant with the regional requirements. For additional information, see Vermont Air Pollution Control Regulations §5-221.
Federal Regulations for Boilers
The federal US EPA has several air pollution related regulations that may apply to your boiler. Part 60 applies to new boilers and part 63 applies to existing boilers. Depending on the size, fuel type, when the boiler was installed, and how the boiler is used, the requirements of these regulations may vary. A summary of these regulations is provided below. Since Vermont has not taken delegation of Part 63 Subpart JJJJJJ,, the US EPA is the implementing authority and is responsible for determining compliance and implementation of these regulations. You should consult the US EPA's Boiler Compliance Webpage for more information.
Part 60 Subpart D, Da, Db, Dc, and TTTT
Most of these regulations apply to large, utility-scale boilers of which Vermont has few – if any. However, for installations of smaller commercial, institutional, and industrial boilers, Subpart Dc may apply. This regulation applies to oil boilers installed on or after June 9, 1989 that are between 10 and 100 MMBtu/hr. Subject units less than 30 MMBtu/hr must comply with notification, fuel sulfur content limitations, and semi-annual reporting requirements. Units larger than 30 MMBtu/hr are subject to additional particulate matter requirements.
Part 63 Subpart JJJJJJ
This regulation applies to new and existing industrial, commercial and institutional oil-fired boilers located at area sources. Small residential oil-fired hot water boilers less than 1.6 MMBtu/hr, as well as natural gas or propane boilers, are not subject. Existing coal, oil, and biomass boilers were required to complete an energy efficiency audit by March 21, 2014. The rule also requires a tune-up for each boiler once every two years except boilers with oxygen trim and oil boilers less than 5 MMBtu/hr must conduct tune-ups every five years.  New boilers greater than 10 MMBtu/hr are subject to PM emission limits.  Boilers that commenced construction on or before June 4, 2010 are considered an existing source.
Steam Turbines
Steam turbines can be installed on existing boilers in order to harness any excess steam generated from the heat plant and turn it into electricity. This can be useful for facilities that require varying amounts of steam throughout their processes in order to even out the load on the boiler. These turbines are often called "steam following turbines" and can vary their load in order to maintain a consistent steam pressure. These types of turbines are encouraged by the Agency, provided the facility can operate it within the confines of its existing fuel limit, and typically do not require a permit amendment to install one.
What other permits or requirements may be applicable to my project?
The Department of Environmental Conservation Environmental Assistance Office provides permit assistance through the Permit Navigator tool. The Permit Navigator can help you identify what environmental permits you may need for a project on a single parcel. If you have a linear, polygon, or multi-parcel project, contact a Community Assistance Specialist to get started.