PFAS Draft Final Response Plan
The PFAS Draft Final Response Plan and additional information are available here. 
PFAS Data
Data are received and updated on a periodic basis when they are received from the laboratories.
As the science surrounding per and polyfluoroalkyl substances (PFAS) continues to develop, so has technical guidance and regulation.  No federal maximum contaminant level (MCL) for PFAS currently exists, however, EPA has established a lifetime health advisory for perfluorooctanoic acid (PFOA) and perfluorooctane sulfonic acid (PFOS) of 70 parts per trillion (ppt).  Recent analysis of data acquired under EPA's Third Unregulated Contaminant Monitoring Rule program (UCMR3) found numerous detections nationwide of PFOA and PFOS.  Many of the public water systems with detections of PFOA and PFOS have taken action to reduce these levels. 
In 2019, Act 21 (S.49), an act relating to the regulation of polyfluoroalkyl substances in drinking and surface waters, was signed by Governor Scott.  The act provided a comprehensive framework to identify PFAS contamination in Vermont and to issue new rules to govern acceptable PFAS levels in drinking water. On March 17, 2020, a revised Vermont Water Supply Rule was adopted to establish a Maximum Contaminant Level (MCL) as well as routine public drinking water monitoring frequencies for PFAS.  The MCL is 20 nanograms per liter (ng/L) and it is for five PFAS in drinking water: PFOA (perfluorooctanoic acid), PFOS (perfluorooctane sulfonic acid), PFHxS (perfluorohexane sulfonic acid), PFHpA (perfluoroheptanoic acid), PFNA (perfluorononanoic acid). The sum of these five PFAS cannot exceed 20 ng/L.
1 nanogram per liter (ng/L) is equal to 1 part per trillion (ppt).
Required Water Quality Monitoring for PFAS
PFAS monitoring has been added to routine 2020 monitoring schedules and water systems must sample according to their monitoring schedule.  Monitoring schedules are available online here. The entry point to distribution is where PFAS samples should be collected.  The entry point is the same sampling point where the system routinely collects IOCs, VOCs, SOCs, Nitrate, or Radionuclide samples. If water is drawn from more than one source and the sources are combined before distribution, a sample shall be collected at an entry point to the distribution system where water is representative of all permitted sources supplying that entry point.  If a water system has multiple entry points, this will be reflected on the system's monitoring schedule.  Please sample according to your schedule. Composite sampling among multiple entry points is not allowed. 
Samples must be submitted to a laboratory that is certified by the Vermont Department of Health for analysis of drinking water in Vermont. The current list of certified laboratories can be found here. The water system will be responsible to coordinate with the laboratory to ensure samples can be analyzed within the method hold time. 
2020 PFAS Sampling: Within the newly adopted Vermont Water Supply Rule, all NTNC and Community water systems are required to sample for PFAS in 2020.  Sampling at TNCs may also be required if contamination is known or suspected to occur near these water systems.  Results received from 2020 monitoring will be used to determine future sampling frequencies.  This approach is similar to initial monitoring requirements for organic chemicals established within EPA's standard monitoring framework and will provide a baseline of monitoring data necessary to assess the presence of PFAS at each system.
Monitoring requirements will be determined as follows:
If PFAS sample is non-detect (i.e. ND or < 2.0 ng/L) for all 5 regulated PFAS compounds, sampling may be decreased to once every 3 years. Furthermore, if 2 consecutive 3-year monitoring results indicate non-detects, sampling frequency may be decreased to once every 6 years. 
If regulated PFAS are detected above 2 ng/L but less than 15 ng/L, annual monitoring continues. If regulated PFAS are detected above 15 ng/L, quarterly monitoring will be required. 
If regulated PFAS are detected above 20 ng/L, quarterly monitoring and a confirmation sample is required. 
If regulated PFAS are confirmed above 20 ng/L or detected above 40 ng/L in a single sample, an immediate Do Not Drink notice will be required.
PFAS Do Not Drink public notice template and public notice instructions
For systems awaiting confirmation sample results (which can take in excess of 30 days) following an initial sample result above the 20 ng/L standard, interim public notice must be distributed using the PFAS interim public notice template. 
SAMPLE COLLECTION INFORMATION - Updated July 29, 2020
LABORATORY AND REPORTING INFORMATION - Updated July 29, 2020
PFAS sampling data results may be scanned and submitted by email to ANR.DWpfasdata@vermont.gov. Please note that only PFAS data may be submitted to this email address.  All other data must be submitted to the Division through US mail or fax.
PFAS Drinking Water Regulation Training
The Division is pleased to offer trainings on the revised Vermont Water Supply Rule and new PFAS regulations. Please contact Vermont Rural Water to sign up.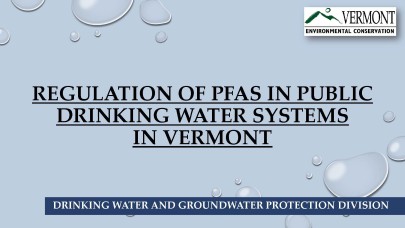 Important Links and Information
PFAS Press Releases
VT-DEC Drinking Water PFAS Information Page
Drinking Water PFAS Rulemaking Documents
Information on Construction and Source Permits
Guidance from the Vermont Department of Health on PFAS in Drinking Water
EPA PFAS Website
ASDWA PFAS Lab Testing Primer Version 2
Method 537.1 Determination of PFAS in Drinking Water by LC/MS/MS, 2018
PFAS Fact Sheets Including Technical Guidance by ITRC
Drinking Water Laboratory Certification by the Vermont Department of Health
Draft PFAS Response Plan
Vermont PFAS Investigation and Response