PFAS Draft Final Response Plan
The PFAS Draft Final Response Plan and additional information are available here. 
PFAS Data
Data are received and updated on a periodic basis when they are received from the laboratories.
As the science surrounding per and polyfluoroalkyl substances (PFAS) continues to develop, so has technical guidance and regulation.  No federal maximum contaminant level (MCL) for PFAS exists, however, US EPA has established a lifetime health advisory for perfluorooctanoic acid (PFOA) and perfluorooctane sulfonic acid (PFOS) of 70 parts per trillion (ppt).  Recent analysis of data acquired under the United States Environmental Protection Agency's (US EPA) Third Unregulated Contaminant Monitoring Rule program found numerous detections nationwide of PFOA and PFOS .  Many of the public water systems with detections of PFOA and PFOS have taken action to reduce these levels. 
In May 2019, Act 21 (S.49), an act relating to the regulation of polyfluoroalkyl substances in drinking and surface waters, was signed by Governor Scott.  This new law provides a comprehensive framework to identify PFAS contamination and to issue new rules to govern acceptable levels in surface water and drinking water.
The Act requires the Agency of Natural Resources (ANR) to adopt a maximum contaminant level (MCL) by Rule for per and polyfluoroalkyl substances (PFAS). The Department of Health's health advisory level of 20 ppt for the sum of five PFAS compounds including PFOA; PFOS; perfluorohexane sulfonic acid (PFHxS); perfluoroheptanoic acid (PFHpA); and perfluorononanoic acid (PFNA) will be used as the initial basis for the state MCL.  Adjustments or variances from the advisory level may be proposed based on scientific evidence, industry standards, or public input.  The proposed rule will be available for public comment later this fall.  The final proposed rule must be filed with the Secretary of State's office by February 1, 2020.
In addition, all public Community (CWS) and Non-Transient Non-Community (NTNC) Water Systems must perform initial entry point sampling on or before December 1, 2019 and report results to the Drinking Water and Groundwater Protection Division (Division) within 10 days of receiving the laboratory report. Future required monitoring frequencies will be determined based on the results.
If you have a detection for any of the PFAS-related compounds, contact the Division to discuss the next steps. Systems with confirmed entry point results above the 20 ppt standard, will be required to post a Do Not Drink Notice to all users and pursue treatment or other permanent means to provide drinking water below the standard. Prior to installing any treatment, drilling or altering a well, or making any change to the water system that affects either the quality or quantity of water, a Construction and/or Source Permit will need to be obtained.
1 nanogram per liter (ng/L) is equal to 1 part per trillion (ppt).
Expected future water system monitoring requirements after the Division receives valid PFAS results:
If non-detect (i.e. < 2.0 ng/L) no follow-up required and schedule set to sample again in 3 years
If detected (i.e. between 2.0 and 19.4 ng/L) must sample annually and schedule set to equivalent quarter in 2020
If detected at 20 ng/L (i.e. results between 19.5 and 20.4) quarterly monitoring required
Above 20 ng/L ( i.e. 20.5 or higher) require confirmation (if not already on quarterly monitoring) and take average of initial and confirmation results

Confirmed above 20 ng/L (by average) will be required to install treatment and/or seek new source(s); and
Required to post Do Not Drink (DND) public notice to all users with required health language on at least a quarterly basis until the issue is resolved
The sampling requirements above are designated by Act 21, however, differing PFAS monitoring requirements when effective by the final rule would supersede current PFAS monitoring frequencies.
PFAS Do Not Drink public notice template
For systems awaiting confirmation sample results (which may take in excess of 30 days) following an initial sample result above the 20 ng/L standard must post public notice using the PFAS interim public notice template. 
The Division has conducted multiple training sessions throughout the State on Act 21 requirements.  Download the full presentation: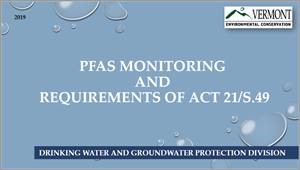 Required Water Quality Monitoring for PFAS
The monitoring schedule entry point(s) to distribution will be identified for each water system and posted online.  Water systems must sample according to their monitoring schedule.  The water system will be responsible to coordinate with the laboratory to ensure samples can be analyzed within the method hold time.  Samples must be collected at every entry point to the distribution system which is representative of each source after treatment, per the water system's monitoring schedule.  There may be more than one entry point per water system.  If water is drawn from more than one source and the sources are combined before distribution, a sample shall be collected at an entry point to the distribution system where water is representative of all permitted sources supplying that entry point.  Composite sampling among multiple entry points is not allowed.  A trip blank and field blank are also required to be submitted as part of the monitoring protocol.  More information on trip and field blanks can be found in the Sample Collection Information link below. Samples collected under this Act are required to be analyzed by EPA Method 537.1. Prior sample results analyzed by a method other than 537.1 will not be accepted under this requirement.
Samples must be submitted to a NELAP-certified laboratory for PFAS drinking water analysis of 18 analytes by EPA method 537.1 for compliance with Act 21 required monitoring. Please note that in order to meet the requirements of Act 21, the labs must have certification for 18 PFAS.
As of September 19, 2019, the laboratories meeting this certification are:
Alpha Analytical (https://alphalab.com)
Mansfield, Massachusetts
800-864-9220
Battelle Analytical Chemistry Services Laboratory (https://www.battelle.org)
Norwell, Massachusetts
800-201-2011
Con-Test Environmental Lab (https://contestlabs.com)
East Longmeadow, Massachusetts
413-525-2332
Vista Analytical Laboratory, Inc. (http://www.vista-analytical.com)
El Dorado Hills, California
916-673-1520
Eurofins Lancaster Labs (https://www.eurofinsus.com/env)
Lancaster, Pennsylvania
717-556-4641
A sampling contract has been established for water systems to access the services of a qualified contractor to perform PFAS monitoring and reporting for a set price.  There are two firms under the contract and, if their services are used, the cost identified below covers the initial PFAS sample, trip blank, field blank, delivery to the lab and proper reporting from the lab (ultimately reporting will be the responsibility of the water system but is considered a deliverable under the contract).  NOTE: the State is not paying for any work done under this contract, it is simply to help coordinate qualified contractors for a set price with water systems that want to purchase their services.  Click on either of the two selected contractors below to view the full contract.
Weston and Sampson - $1,096
    Cost per additional sample if more than one entry point to distribution $475
    Contact:  Steven LaRosa 802-244-5051 x6007 or larosas@wseinc.com
Aquaterra - $535
     Cost per additional sample if more than one entry point to distribution $265
     Contact: Roland Luxenberg 802-238-0071 or roland@luxenberg.us
Note: If you choose to sample yourself, and not purchase the services of the State's sampling contractor, it is important that you use good sampling technique.  Given the low concentration of the standard, and the widespread presence of PFAS in the environment, it is quite possible to contaminate the sample ("false positive").  You will find proper sampling technique guidance below.
A trip blank is required. A field reagent blank (at each sampling location) is required.
You can also register for water operator classroom training on PFAS through the Vermont Rural Water Association (VRWA) website.
PFAS Monitoring Letter sent to PCWS and NTNC water systems
SAMPLE COLLECTION INFORMATION - Updated August 8, 2019
LABORATORY AND REPORTING INFORMATION - Updated August 8, 2019
PFAS sampling data results may be scanned and submitted by email to ANR.DWpfasdata@vermont.gov. Please note that only PFAS data may be submitted to this email address.  All other data must be submitted to the Division through US mail or fax.
Important Links and Information
PFAS Press Releases
The Vermont Department of Environmental Conservation General PFAS Information
Proposed Drinking Water PFAS Rulemaking Documents
Find a NELAP-certified Lab for Method EPA 537.1
Information on Construction and Source Permits
Guidance from the Vermont Department of Health on PFAS in Drinking Water
EPA PFAS Website
ASDWA PFAS Lab Testing Primer Version 2
Method 537.1 Determination of PFAS in Drinking Water by LC/MS/MS, 2018
PFAS Fact Sheets Including Technical Guidance by ITRC