Vermont public water systems are regulated under the federal Lead and Copper Rule (LCR) and the Vermont Water Supply Rule that refers to it. See the main Vermont Lead and Copper Rule page for general information, current requirements, and forms and templates. This page was last revised on 12/28/2021.
Click here for the December 2021 update from the EPA about the next steps with the Lead and Copper Rule Revisions. 
Federal LCR rulemaking and implementation timeline
The federal LCR is undergoing major revisions, as summarized on the US EPA's Revised LCR website. On December 16, 2021 the US EPA identified the next steps to be taken over the next few years to reduce lead in drinking water. The Lead and Copper Rule Revisions (LCRR) will go into effect by October 16, 2024. Between now and when the LCRR goes into effect the EPA is taking steps to develop a new rule, the Lead and Copper Rule Improvements.
Many of the details are unknown, however, the one thing that looks certain is that systems subject to the LCRR (the same systems that are subject to the current Lead and Copper Rule) will need to develop service line inventories (see below).
There are things water systems can do now to meet current LCR requirements and prepare for rule revisions:
Service line inventories – see more info below on this page.
Remove lead sources where possible. Watch for grants and low interest loans. Plan lead removal and service line inspections with other street work to make the most of limited summers.
Be sure to follow your current sampling plan, and update it as needed. Community water systems must sample residential locations. DWGPD will be in touch with water systems about updating or converting sampling plans as inventories are being updated.
If your water system has corrosion control treatment (CCT, to raise pH or add orthophosphate), make sure it is functioning properly and that you are checking and reporting corrosion parameters (e.g., pH) regularly.
Communicate with your users about lead via the annual CCR, lead notices, and other outreach opportunities. Do not create health language; use templates on this website and submit documentation to DWGPD. Your system's water quality affects the concentration of lead at the tap, and plumbing upgrades by users may improve your water system's results and/or require sampling plan updates.
Let DWGPD know what questions you have, or what questions you receive from users, so that we can develop resources to help you.
Service line material inventories
An accurate service line inventory is necessary to ensure proper compliance sample site choice and eventual replacement of the largest lead components. Many material inventories have not been revisited since the start of the LCR in the early 1990s. A detailed service line material inventory will be required even if the water system contained or contains only small amounts of lead or if most lead is thought to have been removed over time. Inventory development will be easy for a small system with a uniform distribution system and clear documentation. A more complex system will need to devote more time to records review and can start that process now, assembling the pieces of information that will be used to complete the form once the rule is finalized.
An inventory will consider every service line in the system, and the materials and approximate age of its components. You can think of starting with a blank map, table, or database of all service line segments and filling in as much of the information as possible over time. By the inventory deadline, some segments or the overall service line classification may be "unknown" but there are likely to be limits on what percentage of unknown lines is acceptable, and they may be assumed to be lead service lines for other aspects of the rule. Inventories will also be required to be updated or recertified periodically.
Service line parts
A service line is comprised of several parts between the distribution main and premise plumbing, and these parts may be made of different materials:
Connector from a distribution main. This may be or include a lead gooseneck/pigtail.
Outer segment of the service line (if there are two segments). Often owned by the water system.
Curb stop / shutoff valve.
Inner segment of the service line (if there are two segments). Often owned by a homeowner on a community system.
Connector into the building. This can include a lead pipe segment.
This diagram from EPA is an example of a partial lead service line. In this scenario, the part of the service line owned by the utility is not lead (colored blue), but the portion on the homeowner side is made of lead (colored red and with the arrow pointing to it). Additional graphics in this series are provided on EPA's page Advice to Chicago Residents About Lead in Drinking Water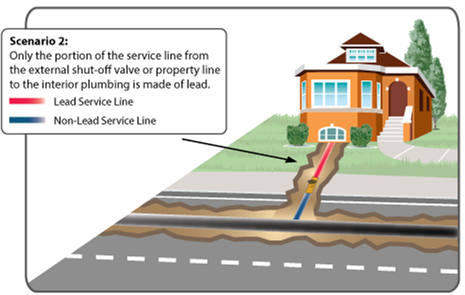 Service line materials and age
The material type choices for the inventory may include:
lead
cast iron
galvanized iron/steel
copper (with solder)
brass
bronze
plastic
The Lead Service Line Replacement Collaborative provides examples of what different materials look like from DC Water, Philadelphia Water, and other members. Note that many older pipes will look dark gray or brown unless cleaned.
Exact age of materials will probably not be required, but you may need an approximate year or decade relative to the 1986 and 2010 reductions in lead content of drinking water materials and other state and federal plumbing code requirements. DWGPD will provide guidance on those dates when the rule is finalized. The lead content identified in the inventory will affect other aspects of compliance with the rule.
Information sources for the inventory
The final LCR revision and the related state requirements will have more information about what information sources are sufficient for determining service line materials. Some information sources will be more reliable or more current than others. In the best case, multiple types of evidence will support the determinations. As you compile information, make note of what sources you used to determine materials (e.g., Act 250 permit in 1999). For now, water systems should explore the following as available and relevant to their system:
Record drawings
Permits for buildings, wells, water lines, wastewater lines, and other development
Other municipal and state permits and other records
Water system documents: distribution system maps, card files, lead and copper inventories from the 1990s, prior lead and copper sampling plans, etc.
Field records from installation or repairs
Data from sequential (e.g., liter after liter) samples for lead and other metals, or stagnant/flush comparisons
Information provided by wholesale or consecutive water systems
Information provided by local plumbers and building contractors
Information provided by other public works staff
Information provided by homeowners, residents, and property managers (including photos)
Inspection of clean visible pipe segments (appearance against reference materials from EPA, LSLRC, others; color change swabs; scratch tests with caution)
Previous results for lead, copper, or other metals. Presence of a metal indicates a source; absence of a metal in solution may not indicate an absence.
Internal plumbing
A small community or non-transient non-community system such as a hospital, school, or office may have only one or several service lines to consider in an inventory, so the inventory step will be relatively simple. Internal plumbing information will be used to update sampling plans and prioritize sample sites, so gathering information is still a necessary exercise. A community system with relatively uniform service lines (e.g., all old copper or all new plastic) may still need to prioritize sample sites within the distribution system based on general information on internal plumbing (e.g., an older home with original internal copper pipe vs. a newer or remodeled home).