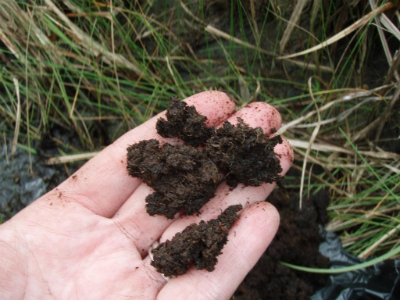 Wetland soil characteristics form when soil is continuously saturated for periods of one or two weeks or more during the growing season. The parent material influences how the soil retains water, and the hydric (wet) soil characteristics that form. The biology of the soil also influences hydric soil characteristics. Under saturated conditions, soil micro-organisms can rapidly use up the oxygen in the soil, which can change its color and appearance.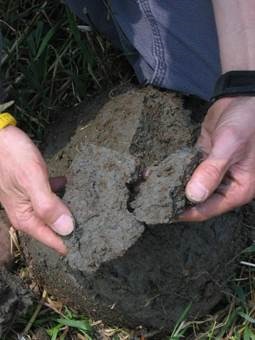 If the soil is continually saturated throughout the growing season, the lack of oxygen may severely slow the rate of decay of plant matter and result in the accumulation of a thick layer of peat or muck. Such soils are known as organic soils. All organic soils in Vermont are considered to be hydric, or wetland soils. Muck is an organic soil in which most of the plant material is heavily decomposed and there are still a few recognizable plant fragments. Peat is an organic soil in which most of the plant material is still identifiable. Mucks are usually black, while peats may range in color from brown or reddish brown to black. Many organic soils emit an odor of rotten eggs, resulting from the partial decomposition of plants under waterlogged conditions.
Soils composed predominantly of mineral matter, such as sand, silt, clay, or loam, are known as mineral soils. If the saturation is of a shorter duration and/or if there is more flow of water through the wetland, there may be little or no accumulation of organic matter. Prolonged saturation leads to the development of gleyed, depleted, or mottled soils. Depleted soils are grey to nearly white in color. Gleyed soil horizons are greenish or bluish gray in color.  Soils that are gleyed up to within 18 inches of the surface are hydric soils. Mottled soil horizons form in locations where the water table fluctuates over the course of the year. Soils which contain brown or yellow mottles (spots or specks) within a grayish matrix are hydric soils when the mottling occurs within 18 inches of the surface.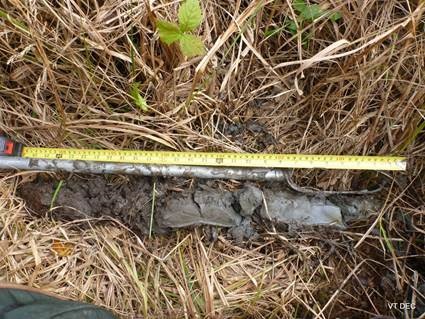 Links of Interest