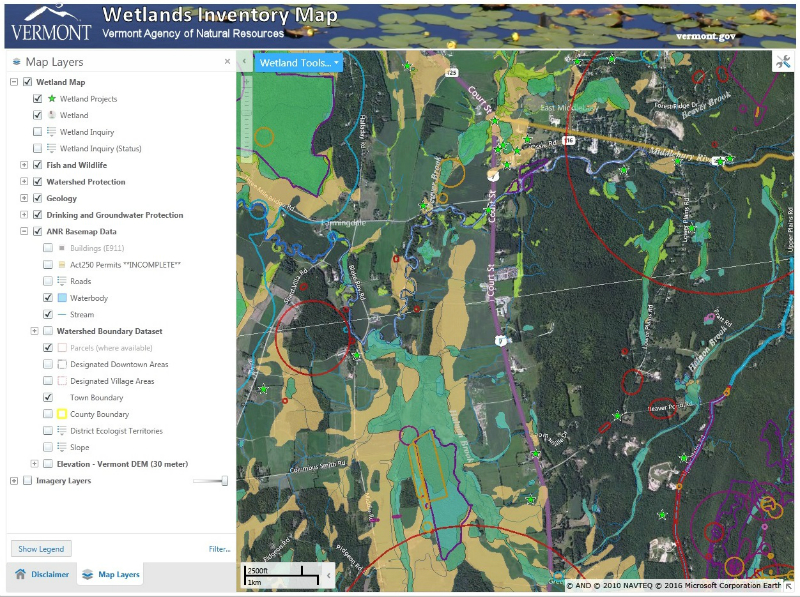 Mapping of hydric (poorly drained wet) soils and aerial interpretations of wetland locations are useful tools for land use planning. 
The Wetlands Inventory Map is a web-based mapping tool designed to help the public research wetland locations and features. Users may navigate to an area of interest, locate potential wetlands and other features, and create printer-friendly maps. The tool shows mapped wetland boundaries from the Vermont Significant Wetlands Inventory (VSWI), as well as wetland indicators including hydric soils, flood hazard zones, standing water, and vernal pools. Other features of special consideration when planning wetland-related projects are perennial surface waters (lakes & streams), rare, threatened and endangered (RTE) species and natural communities, impaired waters, and ground and surface water protection areas.
The VSWI maps are intended to denote approximate wetland locations and boundaries. They should not be relied upon to provide precise information regarding the location or configuration of wetlands (see Section 3.2 of the Vermont Wetland Rules). Additionally, not all wetlands are mapped, and wetlands not mapped on the VSWI may still be considered significant. Only a qualified wetland scientist may determine the absence or presence of a wetland and its boundaries. 
The Secretary shall revise the VSWI maps to reflect wetland determinations issued by the Secretary pursuant to 10 V.S.A. § 914 and by the Panel pursuant to 10 V.S.A. § 915. The Secretary may also adjust the boundaries of wetlands shown on the VSWI maps to more accurately depict the location of a wetland, as determined by aerial photos, field visits, field delineations and other relevant information.