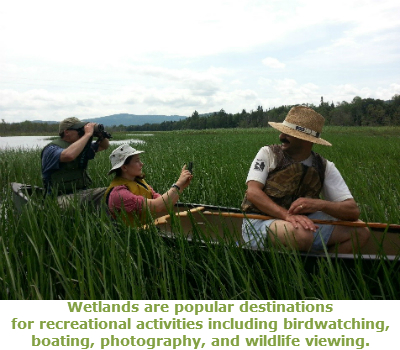 Wetlands provide endless opportunities for popular recreational activities, such as hiking, boating, hunting, fishing, trapping and birdwatching. Almost everyone likes being on or near the water, and the presence of so many fascinating lifeforms makes our wetlands especially enjoyable treasures. The observation and photography of wetland dependent birds, alone, entice an estimated 50 million people to spend nearly $10 billion each year. The nation's harvest of muskrat pelts is worth over $70 million annually. Waterfowl hunters in the United States spend over $600 million annually to harvest wetland-dependent birds.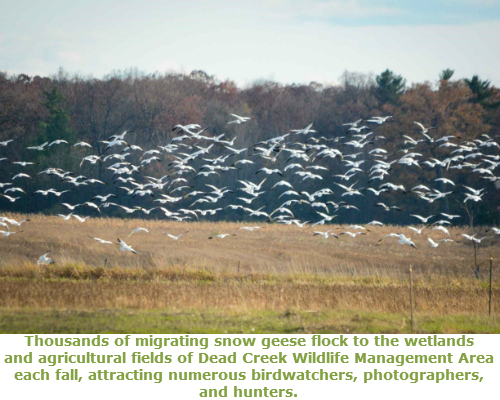 Vermont wetlands not only contain recreation value, but also substantial economic value. A wealth of natural products are produced in wetlands. Those available for human use include timber, fish and shellfish, wildlife, blueberries, cranberries, and wild rice. Approximately 82 million acres of forested wetlands are harvested nationally for commercial timber operations. In addition, wetlands provide functions (such as water quality treatment, erosion control, and flood control) that when lost can be very expensive to replace. The cost of replacing the flood control function of the 5,000 acres of wetlands drained each year in Minnesota was determined to be $1.5 million (USEPA 1995). Other functions, such as wildlife and fish habitat, recreation opportunities, and open space can be permanently lost when wetlands are destroyed. This can also have significant financial repercussions if we lose visitors that come to Vermont for hunting, fishing, and sight-seeing.
According to the Vermont Wetland Rules, wetlands that provide substantial recreational values or economic benefits are significant wetlands. In determining a wetland is significant for the Recreational Value and Economic Benefits function, the Secretary or Panel shall, at a minimum, consider the extent to which it: 
a.  Is used for, or contributes to, recreational activities.
b.  Provides economic benefits.
c.  Provides important habitat for fish or wildlife which can be fished, hunted or trapped under applicable state law.
d.  Is used for the harvesting of wild foods.
Links of Interest