Introduction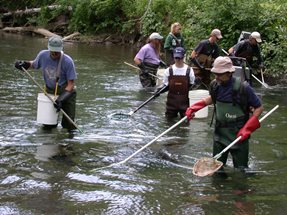 Biologists in the Biomonitoring and Aquatic Studies Section (BASS) assess the biological health of Vermont's aquatic environment through macroinvertebrate and fish communities.   (Note: The Vermont Department of Health's Fish Consumption Advisory recommends that people limit their consumption of some fish caught in Vermont waters.) 
Fish Sample Collection Methods: 
Stream fish community sampling is presented in Section 6.7 of the Field Methods Manual (2022).
Fish Indices of Assessment: 
Two Indices of Biotic Integrity (IBI) are used to evaluate fish assemblage health at most sites. A full description of the Vermont IBI can be found in the Biocriteria for Fish and Macroinvertebrate Assemblages in Vermont Wadeable Streams and Rivers.   The Mixed water IBI (MWIBI) is a modification of Karr's original mid-western U.S. streams index (Karr, Assessment of biotic integrity using fish communities. Fisheries 6(6):1981). The nine-metric MWIBI is specifically formulated for Vermont streams that support five or more native species. The six-metric Coldwater IBI (CWIBI) is used on small coldwater streams supporting two to four native species. Both indexes are multi-metric and score in a range 9-45 (corresponding to poor to excellent). Currently neither index can be applied to slow-flowing, sand-bottomed streams or very large non-wadeable rivers.