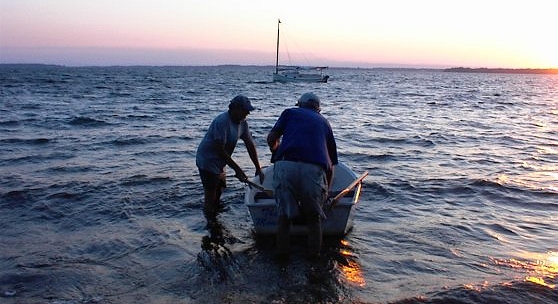 December 28, 2017:  The Northern Lake Champlain Tactical Basin Plan has been updated to include the Lake Champlain Phosphorus TMDL – Phase II Plan materials, such as high-resolution phosphorus load modeling. Please see below for public meeting dates and locations.
---
Draft North Lake Champlain TMDL Phase II Plan Update Public Meetings:
November 28th 5:00 - 6:30pm, St. Albans City
Northwestern Medical Center, Conference Room #2
133 Fairfield Street
November 30th  5:00 - 6:30 pm, Essex Junction
Fish and Wildlife building in the Act 250 conference room,
ANR Essex Junction Regional Office, 111 West Street
The Northern Lake Champlain Direct Drainages Tactical Basin Plan (Basin 5 TBP), a plan to protect and restore the basin's surface waters, was completed and signed by the Agency of Natural Resources in 2015 
The Agency is in the process of updating the 2015 Basin 5 TBP to include the Phase II content for the Lake Champlain Phosphorus TMDL. The update will establish targets for phosphorus loading from the Northern Lake Champlain Direct Drainages to Lake Champlain. The Lake Champlain Phosphorus TMDL Phase I Implementation Plan and the TMDL both point to issuance of these plans in 2017 as components of the accountability framework.  
The Phase II content includes high-resolution phosphorus-load modeling and projected phosphorus reductions for smaller sub-watersheds as well as by types of sources (wastewater treatment plants, developed lands stormwater, roads, forestry and agriculture).
The plan also describes strategies relating to the development of new regulations associated with the Vermont Clean Water Act. Future iterations of the Basin 5 Tactical Basin Plan will provide augmented specificity regarding phosphorus reductions achieved, reductions planned, costs, and as appropriate, success stories documenting incremental water quality improvement.
Copies of the draft plan may be obtained by clicking here or by requesting a copy from Karen Bates by email at Karen.Bates@vermont.gov or 802-490-6144.  Comments can be directed to Karen Bates at above email address or by mail at 1 National Life Drive, Main 2, Montpelier VT 05620-3522. Comments will be accepted through end of business day (4:30 pm) on December 18th, 2017. Comments received by this date will be addressed in a responsiveness summary.
---
The Basin 5 Plan dated 
August 27, 2015 can be found at the following link:
The Basin 5 plan dated 2009 can be found at the following links:
Two maps useful to reviewers of the document

A hard copy of the DRAFT Basin 5 Plan may be obtained by contacting Karen Bates
Basin Specific Reports
Additional Resources