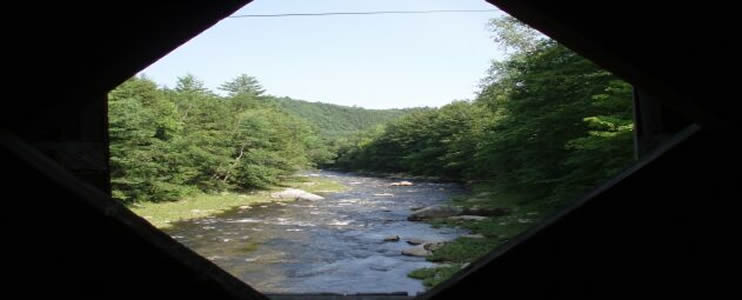 ---
 Black and Ottauquechee Rivers FINAL Tactical Basin Plan Released
---
Black and Ottauquechee Rivers DRAFT Tactical Basin Plan released for public comment by Agency of Natural Resources.
Please click the links below for more information:
---
05/18/2012 Final Basin 10 Water Quality Management Plan and Appendix
Flowing from the Killington Mountain area down into the Connecticut River, the Black and Ottauquechee rivers drain an area that is approximately 425 square miles in size.  The two rivers, their tributaries and the land drained by them is sometimes known as Basin 10 (Vermont's major drainage basins have been organized into 15 regions for assessment and planning purposes) which encompasses mountainous headwaters, industrial towns, village centers and floodplain farm fields.  The diverse landscape covers all or part of eighteen towns.
The Black River, which has a mainstem length of about 40 miles, is formed at the outlet of Black Pond in the Town of Plymouth.  With its tributaries, the Black River drains an area of 202 square miles.  The river flows southeasterly through the Town of Plymouth passing into and through Amherst, Echo Lakes and then Lakes Rescue and Pauline.  Its major tributaries include the North Branch, Patch Brook (which drains Lake Ninevah), Branch Brook, Jewell Brook, Twenty Mile Stream, Great Brook, Chester Brook and Seavers Brook.  A number of other significant lakes are within the Black River watershed including Stoughton Pond, the North Springfield Flood Control Reservoir, Springfield Reservoir and Woodward Reservoir and the smaller Colby Pond, Tiny Pond, Reading Pond and Knapp Ponds.
The Ottauquechee River has a mainstem length of about 38 miles and drains an area of 223 square miles.  The mainstem drops 1,485 feet in elevation over its course.  The Ottauquechee River originates on the eastern slopes of the Green Mountains in the Town of Killington.  The watershed includes the major tributaries of North Branch, Woodward Brook, Reservoir Brook, Broad Brook, Pinney Hollow Brook, Kedron Brook, Barnard Brook, Gulf Stream, and Barnard Brook.  Notable lakes or ponds in the watershed include Woodward Reservoir, Deweys Mills Pond, North Hartland Flood Control Reservoir, The Pogue, Lakota Lake and Kent Pond.
The Vermont Department of Environmental Conservation's (DEC) comprehensive planning process, which began in spring of 2008, will identify and prioritize state and local water quality issues and implement on-the-ground watershed protection and restoration projects.  The purpose of the river basin water quality management plan being developed is to protect the values of high quality water resources, and restore the waters which do not meet the Vermont Water Quality Standards.  The DEC Watershed Coordinator will collaborate with state, federal and municipal organizations, local conservation groups, businesses, and a variety of landowners and interested citizens to develop the water quality management plan for waters in Basin 10.
For more information regarding the waters and water quality of Basin 10, the basin planning process and the Basin 10 Watershed Council, watershed actions or if you would like to learn more about and attend future meetings, contact:
Marie Levesque Caduto, Watershed Coordinator 
 Vermont ANR / Department of Environmental Conservation
 100 Mineral Street, Suite 303 
 Springfield, VT 05156-3168
 Phone: 802-289-0633
 Fax: 802-885-8890
 Email: Marie.Caduto@vermont.gov
Basin 10 Watershed Council:
Formed in spring 2008, the Basin 10 Watershed Council is the main body of individuals helping to guide the basin planning process.  The open ended Council, is comprised of volunteers and local watershed constituents that are guided and supported by the DEC Watershed Coordinator.   Council meetings are held on the 3rd Tuesday of each month and all are welcome and encouraged to attend.
Topics addressed by the Watershed Council to date include:
Basin 10 River Basin Planning - Meeting Notes
Uses and Values of Surface Waters, Town Planning and Zoning, Wildlife and Travel Corridors, Fisheries, Floods and Flood Hazards, Lakes and Ponds, Dams, Water Quality Conditions, Invasive Species, Roads, Buffers, Agriculture, Recreation, Forests, Groundwater and Source Protection and Stormwater.
    
Basin Planning In Action (includes the following but is not limited to):
Various watershed projects are already underway and in the planning stages as a result of these early meetings.
Stream Geomorphic Assessments (SGA) The assessment of the Black River mainstem and its major tributaries along with the tributaries leading to Round Pond, the northern end Lake Rescue, have been completed.  The SGA includes Phase 1 & 2 assessments and a Corridor Conservation Plan laying out the priority projects chosen to lead to better geomorphically stable conditions in the watershed.  A full assessment of the Ottauquechee River mainstem and major tributaries is underway.  Partnering organizations: Southern Windsor County Regional Planning Commission, Lake Rescue Association, Two Rivers-Ottauquechee Regional Commission.
Agricultural water quality issues and recommendations are being developed for the Basin Plan by the Agriculture Focus Group being convened by Sylvia Harris, the Agricultural Resource Specialist with the Natural Resources Conservation Districts.  To be involved with this group contact Sylvia by dialing 802-254-5323 extension 105. Partnering organization:  Ottauquechee Natural Resources Conservation District.
Ottauquechee River Group was formed in 2008 in response to the need for active participates from the Ottauquechee River in the basin planning process.  ORG has taken on a number of projects first and foremost being re-establishing the long defunct water quality monitoring program on the river in 2010; conducting river clean-up days; and co-organizing with ONRCD an 800' riparian buffer planting on an agricultural field of the Billings Farm Museum. Partnering organization: Ottauquechee River Group.
Buffer plant nursery has been established on land owned by Luzenac America / Rio Tinto, Inc. and is a nursery of trees and shrubs native to Vermont to provide planting stock for future buffer projects in the Basin.  Partnering organizations: Southern Windsor County Regional Planning Commission, Ottauquechee Natural Resources Conservation District, Black River Action Team, Rio Tinto, Inc.
Buffer plantings have been carried out in two areas within Springfield to prevent bank erosion and stem the spread of invasive Japanese knotweed.  Partnering organizations: Black River Action Team (BRAT); Ottauquechee Natural Resources Conservation District.
Japanese knotweed control has included a day-long workshop that was attended by over 40 people who learned several control techniques.  Attendees were provided with an educational brochure on plant identification and control.  Partnering organizations: Southern Windsor County Regional Planning Commission, Ottauquechee Natural Resources Conservation District, Black River Action Team, US Army Corps of Engineers.
Click here to see the two page brochure developed for this workshop
Kedron Brook Horse Crossing Improvements.  Private landowners and the Green Mountain Horse Association (GMHA) are participating in program offered by the VAAFM to install improved stream crossings to fix at least seven crossings along the brook to help control erosion and sedimentation. Partnering organizations: Ottauquechee NRCD, VACD, GMHA
Lake Rescue Sediment Control Projects.  Lake Rescue Association (LRA), working with the Town of Ludlow DPW and the Better Backroads Program have implemented erosion control projects on numerous roads, sediment basins have been constructed and ditches have been rock lined on roads surrounding the lake.  Outreach and education to lakeshore landowners on property management and buffers is also a strong focus.  Partnering organizations: LRA & Town of Ludlow 
Low impact development (LID) interest resulted in creation of a brochure describing low impact development options for towns and developers.  The educational material was distributed throughout the region to promote the use of these techniques and their effectiveness in addressing stormwater runoff and pollution.  Partnering organizations: Southern Windsor County Regional Planning Commission.
Click here to see the two page brochure on LID
River clean-ups where the Black River Action Team has held annual river clean-up events, called the RiverSweep, since 2000.  The Ottauquechee River Group held its first event in 2008 at the Quechee Covered Bridge.  Partnering organization:  White River Watershed Chapter of Trout Unlimited. 
Skidder Bridge Rental Program.  Portable skidder bridges are used by loggers to cross upland streams during logging operations without disturbing the streambed and causing erosion and sediment to enter the steam. A training workshop for loggers and foresters on construction and use of skidder bridges along with a bridge rental program are being offered beginning in the fall of 2011. Partnering organizations: Ottauquechee NRCD, Marsh-Billings-Rockefeller National Historic Park
Click on the link below for a recent update concerning basin planning progress within the watershed area: 
- 2010 Legislative Report
- June 2011 Grant Tracking Report
Additional Resources