Program Reports
Below are reports produced by the Vermont Wetlands Program
Study of the Effects of Solar Panels in Agricultural Wet Meadow Type Wetlands, Years 2018-2020 – Results of the first three years of studying five solar arrays in wet meadow wetlands in Vermont.
Biological Monitoring of Vermont's Wetlands, 2018-2020 – This report describes the findings of the Program's biological monitoring in the years 2018-2020.  There were 150 intensive monitoring sites sampled and 395 Rapid Assessments (VRAM).
Methodology Creation for Understanding Stressors of Solar Farm Development in Agricultural Wet-Meadows Type Wetlands – Methodology and data analysis of monitoring at five solar sites during two growing seasons.  Prepared by Arrowwood Environmental and Fitzgerald Environmental Associates, LLC for Vermont DEC.
Wetland Restoration Indicators of Success (2019) - A guide to quantifying the success of wetland restoration efforts in Vermont.
Literature Review of Monitoring Methodology and Wetland Impacts from Solar Facilities (2018) – Literature review for the Vermont Wetlands Program produced by Arrowwood Environmental and Fitzgerald Environmental Associates LLC.
Wetland Delineation Consultant Improvements Report:  The Agency of Natural Resource (ANR) Department of Environmental Conservation (DEC) Wetlands Program retained consultation services from the Vermont Certified Public Managers Program (VCPM®) in November 2017 to assist with Wetland Consultant Accountability.  This is their final report which outlines action items for improving the quality of wetland delineation work throughout the State.
2011-2015 Trend Report and Regulatory Update:  This report fulfills the U.S. EPA Performance Partnership Agreement task of reporting on the gains and losses of wetlands state-wide and gives an update on state wetland regulation.  The time-period reported on and analyzed in this report is from January 1, 2011 to December 31, 2015.
2009 Bioassessment Report:  This report describes the findings of the Wetlands Bioassessment program in the years 2008 and 2009.  51 wetlands were sampled during this time period, with emphasis on wetlands in the Green Mountain ecoregion, in a wide range of conditions.  Plant transect data and water quality data were collected for each wetland.
Preliminary Analysis of Vermont's Wetland Biological Monitoring Floristic Quality Assessment Index (2015):  This report describes the use of Floristic Quality Assessment Index (FQAI) and Coefficient of Conservation as  measurements of Vermont wetland condition.  The methodology is described, and the Coefficient of Conservation scores are compared with Vermont Rapid Assessment Index scores and water chemistry metrics to establish the connection between the FQAI and wetland condition.  Results indicate that FQAI is an effective measure of wetland condition but only when comparing wetlands of similar types.
Vermont Rapid Assessment Method Protocol:  This protocol describes the Vermont Rapid Assessment Method (VRAM), a rapid wetland assessment method that is used by the Wetlands Program to assess wetland condition and function.  The VRAM is quick and easy to conduct, and after attending a training can be completed by conservation groups and citizen scientists.
Fish and Wildlife Classes
Wetlands offer an amazing opportunity for learning about the natural world.  Fish and Wildlife offers a course for educators with wetland exploration as part of its curriculum.
Click here to learn more about the course from Fish and Wildlife's website
Click here to see a video of a training in progress
Wetland Buffers
A buffer is a setback area of a specified distance from a wetland's edge, where development and other activities are restricted and vegetation is allowed to grow naturally. An adequate buffer zone minimizes disturbance to a wetland, protecting the significant functions and values it provides. In Vermont, a standard 100-foot buffer zone is designated around all Class I wetlands, and a 50-foot buffer zone around all Class II wetlands. The size and shape of a buffer may be adjusted to adequately protect a particular wetland. Select from the following links to learn more about buffers and their importance.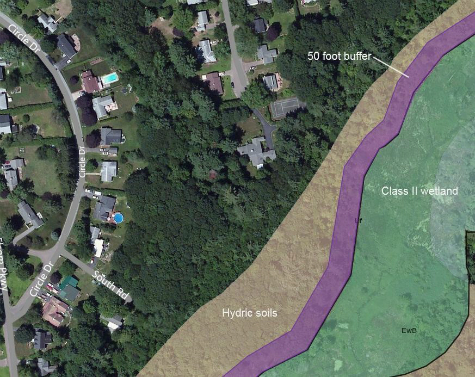 Vernal Pools
Vernal pools are wetlands that flood temporarily when seasonal precipitation and runoff collects in small basins (for a detailed description, see Wetland Types). Certain amphibians and invertebrates rely specifically on vernal pools for breeding habitat. Because vernal pools are small and isolated – meaning they don't have inlets or outlets that connect with other water bodies – and because they only flood seasonally, they are often overlooked and do not always receive adequate protection. Several state agencies and nonprofit groups are working to locate and protect vernal pools across New England, and to support the significant functions they provide for wildlife. Select from the links below to learn more.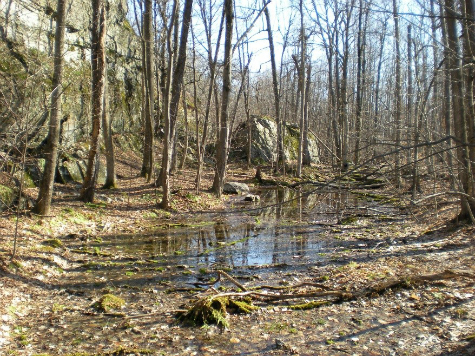 Northeast Amphibian Information
Invasive Species
Plants and animals that are transported from their native habitats to new locations, either intentionally or accidentally, are called exotic species. Some exotic species blend in and coexist with the native species, having little impact on their new environment. Others thrive so successfully under the conditions of their new habitat that they outcompete the native species. These invasive species degrade natural habitats by reducing biodiversity, and disrupting food webs and other complex ecological processes. 
Invasive species are one of the major threats to wetlands. By displacing native plants and animals, they can impair the significant functions and values that wetlands provide. The following links provide information about some of the most common invasive species in Vermont's wetlands, and about how to prevent their introduction and control them once they become established.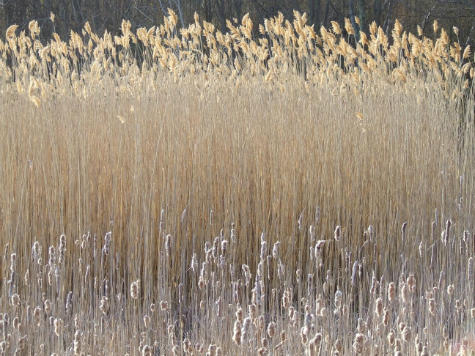 Additional Resources