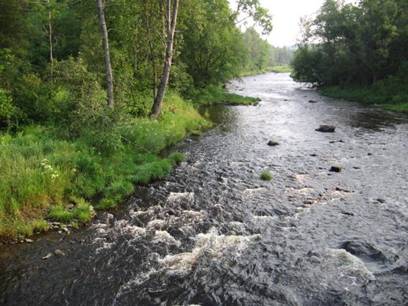 June 20, 2014  Approved Tactical Basin Plan
The Passumpsic River watershed is located in northeastern Vermont and drains 507 square miles, a major portion of Caledonia County and minor portions of Essex, Orleans and Washington counties.  The watershed is largely forested. The Passumpsic River mainstem forms where the East Branch and West Branch join just northeast of Lyndonville and flows about 23 miles north to south until it reaches the Connecticut River in East Barnet.   The East Branch originates in the town of Brighton and flows south-southwesterly for about 19 ½  miles draining a 65-square-mile watershed before meeting the West Branch.  The West Branch originates with several tributaries in the town of Westmore and it flows south-southeasterly for about 14 miles before joining the East Branch.  The West Branch drains a 68-square-mile watershed.  The Passumpsic River watershed also includes the drainages of Millers Run, Joes Brook, the Water Andric, the Moose River, and the Sleepers River.
The Passumpsic River watershed was included along with portions of the Upper Connecticut River basin north of the Passumpsic River for the creation of the Passumpsic and Upper Connecticut River Tactical Basin Plan that was approved by the Secretary of ANR and Commissioner of DEC June 20th 2014.  The basin plan was developed with the purpose of improving both water quality and aquatic habitats, and presents the recommendations of State and Federal resource agencies, watershed partner organizations, planning commissions, municipalities, and individual citizens.  The draft basin plan includes a description of high quality waters recommended for reclassification to Class 1 wetlands and class A(1) waters, the potential designation of the Nulhegan River basin as an outstanding resource water on top of potential floodplain forest protections and restoration along the Connecticut and Passumpsic Rivers.  Water quality issues addressed in the basin plan include bacteria from combined sewer overflows in St Johnsbury, flooding in the town of Lyndon and erosion hazards in many locations in the basin, sediment and stormwater runoff in the Dish Mill Brook, along with sediment, phosphorous and nitrogen issues across the watershed
The central component of this Tactical Basin Plan is an implementation table with targeted actions to protect high quality waters and to address the water quality issues identified above.  Top priority actions in the plan include improving river corridor and floodplain protections in town zoning, establishing water quality sampling program, addressing combined sewer overflows in St Johnsbury with a focus on targeted green stormwater infrastructure, work with farmers on nitrogen management on farms, developing a stormwater master plan for the Dish Mill Brook watershed, and completing road erosion inventories for targeted towns in the basin.  Maps of these actions can also be viewed in ANR's Natural Resource Atlas by selecting tactical basin planning from the Atlas Layer drop down list in the upper right hand corner.
Additional Resources