The Passumpsic River Tactical Basin was published in October of 2019. The Plan provides an overall assessment of the health of the Passumpsic River basin and defines on-going and future actions and strategies to address high-priority pollutants such as pathogens, sedimentation and stream channel erosion. The Plan presents the recommendations of State and Federal resource agencies, watershed partner organizations, planning commissions, municipalities, and individual citizens.  Public meetings on the draft plan were held in June of 2019 in coordination with Northeast Vermont Development Association, the Burke Conservation Commission, and the Caledonia and Essex County Natural Resources Conservation Districts and comments received on the draft plan were responded to in a responsiveness summary included as an appendix.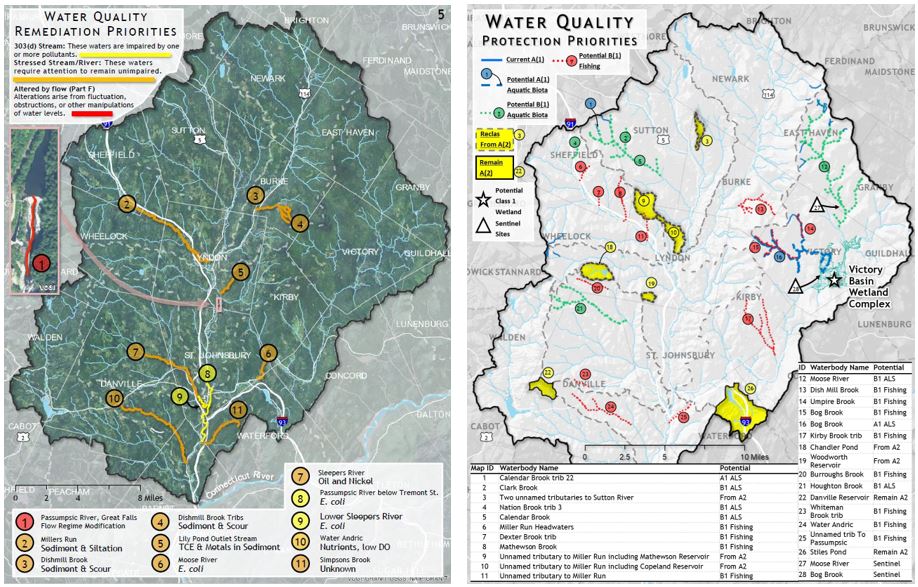 Maps of water quality remediation and protection priorities identified in the 2019 Passumpsic Tactical Basin plan 
A summary of the Passumpsic River tactical basin plan is available at the following link: 2019 basin plan Summary
The full plan is available at the following link: 2019 Passumpsic Tactical Basin Plan
A story map providing a summary of the plan is available at the following link: Passumpsic Story map
Projects that have been identified or completed in the basin can be found in the Watershed project database and the interagency clean water projects dashboard available on the Clean Water Portal.  
A report on water quality conditions in the Passumpsic River basin is available at: The Passumpsic Watershed - Water Quality Assessment Report 2018 (January 2019)
The previous version of the Passumpsic tactical basin plan was published in 2014 in conjunction with the Upper Connecticut River Basin.  This plan is available at the following Link: 2014 Passumpsic and Upper Connecticut River Tactical Basin Plan
Our Major Partners & Stakeholders
The priority projects and strategies in the tactical basin plans are completed with help from our partners. The list below is not an exhaustive inventory of all the folks that help make the waters of the Passumpsic River Basin clean for consumption and recreation. Many thanks to all those who volunteer and support Vermont's goals for water quality excellence