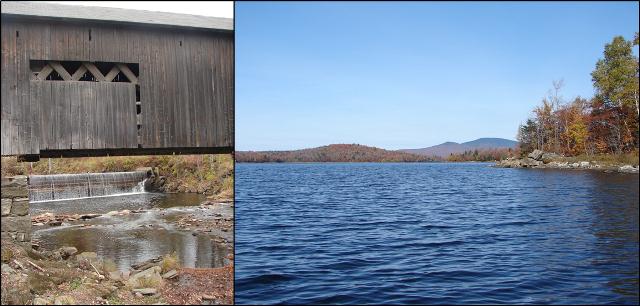 March 11, 2014 - Deerfield River and Adjacent Connecticut River Tactical Plan Issued
The Agency is pleased to present the Deerfield River Tactical Basin Plan for public use.  Accompanying the Plan are a set of Appendices. The Agency encourages all prospective users of this plan to contact: Marie Levesque Caduto, Watershed Coordinator, for more information on how to get work with ANR for the protection or restoration of the Deerfield River Basin. Hardcopies of the Plan and appendices are available by request.
The mapping specialists at the Agency have geographically identified all of the protection and restoration strategies in the Implementation Table of the Deerfield River Tactical Basin Plan on the ANR Atlas. This content can be enabled in the Atlas by looking to the upper-right of the screen, and selecting "Tactical Basin Planning" from the various Atlas Themes.
The Deerfield River rises in the Green Mountains in the towns of Glastenbury and Stratton in the southern part of Vermont.  It flows through south central Vermont then cross the Vermont-Massachusetts border before it joins the Connecticut River.  The Deerfield River has four branches in Vermont: North Branch, South Branch, East Branch and West Branch.  Two of the Deerfield's main tributaries, the East Branch of the North River and the Green River, originate in Vermont and enter the Deerfield River near Greenfield, Massachusetts.   The Deerfield River system, including the East Branch of the North River and the Green River, drains 14 Vermont towns in two counties and is about 318 square miles in area.  The Deerfield River watershed is designated as Planning Basin 12.
Draining directly into the Connecticut River from the towns of Brattleboro, Dummerston, Guilford and Vernon, on south to the Massachusetts line are the Broad, Crosby, and Whetstone Brooks and the Fall River.  Broad Brook drains 23.8 square miles; Crosby Brook 5.71 square miles; Whetstone Brook 25.5 square miles; and the Vermont portion of the Fall River, 10.4 square miles.  These waters make up a portion of Planning Basin 13.
Marie Levesque Caduto, Watershed Coordinator 
Vermont ANR / Department of Environmental Conservation
100 Mineral Street, Suite 303 
Springfield, VT 05156-3168
Phone: 802-289-0633
Cell: 802-490-6142
Fax: 802-885-8890
Email: Marie.Caduto@vermont.gov
Additional Resources
Partners