What's New
Memphremagog Tactical Basin Planning kick off meeting.  You are invited to learn about water quality conditions and the kickoff of the tactical basin planning process for the Lake Memphremagog watershed. The tactical basin plan serves as a guidebook for protecting and restoring waters for the state and community partners and we need your local input into this process.  The Vermont Department of Environmental Conservation will provide updates on water quality challenges in the Lake Memphremagog watershed, progress that has been made over the last five years improving waters for fishing, swimming and boating, and will be seeking your input on how we can improve these efforts over the next five years. Efforts include practices on farm, forest, and developed lands as well as efforts to restore streams, lakes and wetlands in the watershed.  This meeting will be held on June 8th from 6:30 - 8:00 on Teams.  You can participate in the meeting using the following link:
Join Teams meeting on your computer or mobile app
Click here to join the meeting
This meeting will include the presentation of a StoryMap that can be viewed online at this Link.
As we kick off the process up update the tactical basin plan for this basin the Vermont Department of Environmental Conservation (DEC) is asking for your feedback in this survey  to better understand your knowledge, concerns, and activities in relation to water quality in the Lake Memphremagog Tomifobia and Coaticook (Basin 17) both locally and watershed wide. Please fill this survey out and share with other watershed residents so we can get as broad of an understanding to guide the development of this next tactical basin plan.  This survey can take anywhere from 10 to 30 minutes based on the level of detail you provide for the questions.
The process to update the Lake Memphremagog Tomifobia and Coaticook tactical basin plan was initiated in 2019 with a round of water quality monitoring and a year for assessing this date to determine conditions of waters across this watershed.  In the summer and fall of 2021 partners across watershed provided updates to the 66 strategies that were identified in the 2017 plan showing that over 80% have been initiated or completed since this plan was published.  The status and updates on these strategies is available at this link Basin 17 report card.
This report card and updated information on the conditions of waters across the watershed will guide the development of new strategies which will be revised at a series of meetings early in 2022. These meetings will focus on river and lake restoration efforts, addressing runoff form developed and agricultural lands which will further refine strategies and the final plan which will go out for public comment in late 2022 as shown in the timeline below: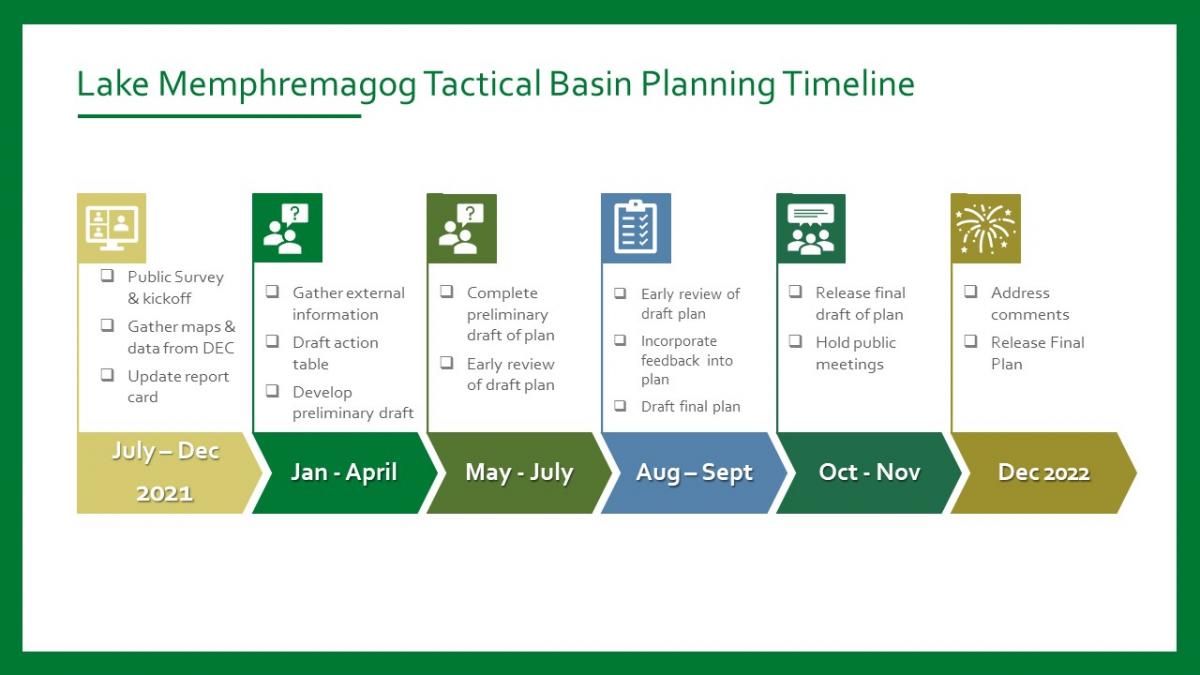 Basin 17 includes the Vermont portions of the St. Francis River Watershed encompassing a total of 589 square miles between the Lake Memphremagog drainage and the Tomifobia and Coaticook River watersheds. The Vermont portion of this basin includes the Black, Barton and Clyde Rivers and many lakes and ponds, including Great and Little Hosmer Lakes, Lake Parker, Shadow Lake, Crystal Lake, Lake Willoughby, lake Salem, Island Pond, Great and Little Averill Ponds, Norton Pond, Holland Pond and Seymour Lake.  
Phosphorus Total Maximum Daily Load (TMDL) and 2017 Tactical Basin Plan
Lake Memphremagog is shared with the province of Quebec, with a majority of the lake in Quebec, but a majority of the watershed in Vermont. Phosphorus levels in Lake Memphremagog are above the Vermont State Water Quality Standards. Excess phosphorus that runs off the land into the lake causes occasional cyanobacteria blooms and nuisance plant and algae growth, which limit the recreational use of the lake. The Total Maximum Daily Load or TMDL for Lake Memphremagog, developed using lake and watershed models and approved by the Environmental Protection Agency (EPA) in September 2017, calls for a 29% reduction in phosphorus inputs. 
The Lake Memphremagog, Coaticook and Tomifobia Tactical Basin Plan was approved in November of 2017. It identifies specific actions to reduce phosphorus and sediment pollution from farmland, roads, developed lands, wastewater treatment facilities, forest lands and wetlands, along with addressing water level fluctuations and aquatic invasive species spread over the next five years. It also outlines additional concerns in the basin, including two streams, Roaring Branch and an unnamed tributary to Stearns Brook that are impaired from nutrient runoff from farms; 13 additional lakes in the watershed with either elevated levels of phosphorus or increasing phosphorus trends; water level fluctuations on lakes and streams in the Coaticook watershed; and the spread of aquatic invasive species. The Vermont Department of Environmental Conservation adopted a new wastewater treatment facility wasteload allocation for facilities in the Lake Memphremagog watershed.
Learn about projects in your area, and view more than 350 specific actions for the Lake Memphremagog, Tomifobia and Coaticook Basin through the Watershed Projects Database. Select "Basin 17-Lake Memphremagog" and click on the "Search" button. 
Visit the Restoring Lake Memphremagog webpage to learn more about the Lake Memphremagog TMDL and work of the Quebec Vermont Steering Committee on Lake Memphremagog.
Contact Ben Copans at 802-490-6413 with any questions about the TMDL or tactical basin plan.
Resources​
2012 Tactical Basin Plan
In 2012, the Basin 17 water quality management plan was approved with goals reduce nutrient enrichment and exotic invasive species and to improve aquatic habitat conditions.  In total 79 specific actions were identified in the plan to achieve these goals of which more than three quarters have been initiated or completed as of 2016 as can be seen in the report card at this link.  Some highlights include:
Illicit discharge detection and elimination study completed for all basin communities.
Stormwater master planning completed for Brighton, in progress across in other areas of the watershed.
Over 4 acres of buffer plantings completed across the watershed each year through the NorthWoods Stewardship Centers Trees for Streams program and 6 lakeshore buffer plantings.
 Rain garden instillation and rain barrel sales by the Memphremagog Watershed Association and numerous outreach events each summer.
Additional Resources