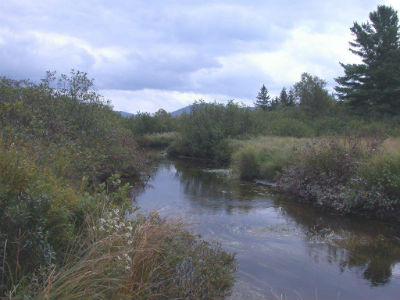 June 20, 2014  Approved Tactical Basin Plan
Basin 16 consists of the northern Connecticut River and direct drainages to it from the Canadian border down to White River Junction.  It includes the Nulhegan River watershed and the Paul Stream watershed among others.  It does not include the Passumpsic River watershed (Basin 15) nor the Stevens, Wells, and Waits Rivers watersheds (these are part of Basin 14). Portions of Basin 16 North of the Passumpsic River were included with the Passumpsic Basin in the development of the Passumpsic and Upper Connecticut River Tactical Basin Plan.
The basin plan was developed with the purpose of improving both water quality and aquatic habitats, and presents the recommendations of State and Federal resource agencies, watershed partner organizations, planning commissions, municipalities, and individual citizens.  The draft basin plan includes a description of high quality waters recommended for reclassification to Class 1 wetlands and class A(1) waters, the potential designation of the Nulhegan River basin as an outstanding resource water on top of potential floodplain forest protections and restoration along the Connecticut and Passumpsic Rivers.  Water quality issues addressed in the basin plan include bacteria from combined sewer overflows in St Johnsbury, flooding in the town of Lyndon and erosion hazards in many locations in the basin, sediment and stormwater runoff in the Dish Mill Brook, along with sediment, phosphorous and nitrogen issues across the watershed
The central component of the Tactical Basin Plan is an implementation table with targeted actions to protect high quality waters and to address the water quality issues identified above.  Top priority actions in the plan include improving river corridor and floodplain protections in town zoning, establishing water quality sampling program, work with farmers on nitrogen management on farms and completing road erosion inventories for targeted towns in the basin.  Maps of these actions can also be viewed in ANR's Natural Resource Atlas by selecting tactical basin planning from the Atlas Layer drop down list in the upper right hand corner. 
Copies of the plan may be obtained on-line (see above) or by requesting a copy from Ben Copans by email at ben.copans@vermont.gov or 802-751-2610.
Additional Resources