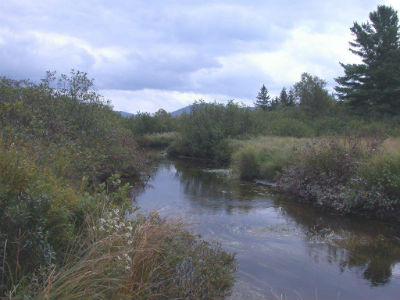 Basin 16 consists of the Upper Connecticut River and direct drainages to it from the Canadian border down to the Passumpsic River.  It includes the Nulhegan River, Willard Stream, and Paul Stream watersheds among others.  
The tactical basin planning process for Basin 16 was initiated in the 2019 in coordination with several state and watershed partners.  Basin 16 is a largely forested watershed that includes extensive wetland complexes particurlarly in the Nulhegan River watershed.  These basin characteristics have led to many unique habitats in the basin and good water quality which have been identifed as water quality protection opportunities. 
There is more intense development and agricultural land use along the Connecticut River and the shorelines of many lakes and ponds in the basin which contribute to the water quality issues highlighted during the basin planning process including:
E. coli impairments on the Connecticut River
Increasing nutrient trends and shoreland conditions along several basin lakes
Nitrogen Loading to Long Island Sound
Discussions in the basin have focused on addressing these water quality concerns through working on BMP's on farms, restoring wetlands and floodplains, and protecting and restoring lakes in the basin.  Other issues that are also addressed in the plan to improve water quality include wastewater treatment facilities, roads and stormwater runoff as well as improving aquatic organism passage.  Strategies to address pollution from each of these sectors will be listed in the implementation plan.
The draft plan will be release for public in late 2020 and dates times and locations (likely as a Microsoft Teams meeting with a phone in option) for these meetings will be posted as soon these are set.  In addition to this, a story map will be created to graphically present tactical basin plan information. The public is encouraged to contact Ben Copans by phone at 802-490-6143 or by email at ben.copans@vermont.gov with any comments or questions.
Coming Soon: Upper Connecticut River Story Map, basin plan summary, draft basin plan for public comment.
The previous version of the Upper Connecticut River Basin tactical basin plan was published in 2014 in conjunction with the Passumpsic River Basin.  This plan is available at the following Link: 2014 Passumpsic and Upper Connecticut River Tactical Basin Plan
Additional Resources