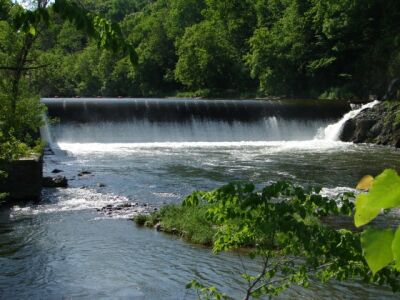 The Vermont portions of the three rivers which comprise this river basin have the unique distinction of being the only watersheds within Vermont that are part of the larger Hudson River regional basin. The Batten Kill, Walloomsac River and Hoosic River and their associated tributaries have their origins in the southwest corner of Vermont and collectively comprise what is referred to as Basin 1.  The watershed area of the Batten Kill in Vermont is about 200 square miles.  The Walloomsac River in Vermont drains a watershed of about 139 square miles and eventually flows into the Hoosic River in New York.  The watershed area of the Hoosic River in Vermont is about 89 square miles.  The Taconic Mountains, Vermont Valley and Southern Green Mountains make up the three biophysical regions that play an integral part in the dynamic nature of the 428 square mile Basin 1.  
The Tactical Basin Planning process for the Hudson River Basin commenced in 2014 to identify water resource concerns as well as water quality improvement recommendations for the Batten Kill, Walloomsac River and Hoosic River and their associated tributaries in the southwest corner of Vermont.  The goal of this tactical basin planning process is to produce the Hudson River Tactical Basin Plan that identifies high priority actions for the protection and restoration of surface waters in this Basin. This Watershed Improvement Plan will draw from previous efforts identified in the draft Basin 01 Water Quality Management Plan (2009) and drawing from many river corridor plans and other biological and land use assessments.  
In late 2012, the newly designated Watershed Coordinator for Basin 01 met with key stakeholders in the basin to discuss priorities for anticipated surface water monitoring and assessment efforts for the 2013 field season. With refreshed surface water quality information following the 2013 field season, DEC has been focusing on identifying priority surface water quality issues and is committed to finalizing the plan development process for the basin, and to pursuing a tactical planning approach thereafter. Despite the lack of DEC-led watershed planning efforts in Basin 01 between 2008 and 2012, the DEC River Management Program has provided oversight of stream geomorphic assessments in the tributaries to the Batten Kill (including the White and Mill Creeks) and led the development of River Corridor Plans for the Batten Kill and Walloomsac River Basins (including the Roaring Branch tributary). The attendant actions recommended in these river corridor plans will build flood resiliency and reduce private property losses that occurred following Tropical Storm Irene.
For more information about this important effort, contact Watershed Coordinator Angela Allen 802-490-9081.
Basin Specific Reports
Additional Resources