Updated: 01/27/23

Project Purpose & Benefits:
This project is aimed at addressing the degraded concrete and structurally deficient radial arm flood gates (Tainter gates) at the spillway at the eastern end of Waterbury Dam. The Vermont DEC Dam Safety Program is working with the New England District (NED) of the United States Army Corps of Engineers on the evaluation and design of this project. The project is funded with Federal and State dollars.   
Benefits of the project include:
Allow full flood control capability of the dam to be realized while reducing risks of flooding in downstream communities.
Improve water quality in Waterbury Reservoir and the Little River by eliminating the need for seasonal drawdowns in water level.
Improved Operation and Maintenance of the dam.
Improved public safety.
Continued support for existing hydropower and recreational uses of Waterbury Reservoir.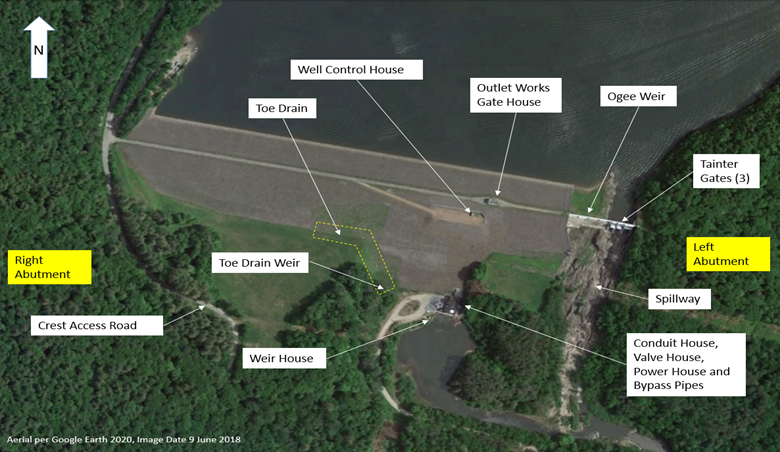 Project Timeline:
Risk Assessment – Currently under State Review 
Section 542 Water Resources Development Act (WRDA) – Lake Champlain Basin Program, $700k
Holistic evaluation of complete dam including site visits, reviewing existing plans, records, and data.
Identification of Potential Failure Modes (PFMs) of the dam and downstream consequences of dam failure.
Inform future project study and design to reduce dam safety risks.
Dam Safety Modification Study (Underway-2023)
Section 1177 Water Infrastructure Improvements for the Nation Act (WIIN), $3M
Additional study necessary to better evaluate the risk driving PFMs identified in the Risk Assessment.

Quantitative risk assessment of key risk driving PFMs.

Field data collection including structural inspections of the Tainter Gates, geologic exploration and mapping of spillway bedrock, collection of representative bedrock and concrete samples from the spillway, laboratory testing, and updated analyses.

Identification of rehabilitation alternatives.
Design (2022-2023)
Section 1177 WIIN, ~$5M
Construction (2024-2027)
Section 1177 WIIN, ~$37M
Additional Resources:
Waterbury Dam Spillway Refurbishment Project Public Information Meeting