Dam Orders
Vermont law (10 V.S.A. Chapter 43) requires a permit, or dam order, for construction, alteration or removal of dams (including lagoons, off-stream and "dug ponds") impounding more than 500,000 cubic feet of any liquid. The volume of liquid includes any accumulated sediments, as measured to the top of the non-overflow part of the structure, i.e., including freeboard. Permitting for non-hydroelectric dams is administered by the Dam Safety Section. Hydroelectric dams are regulated by the Vermont Public Utilities Commission which may be contacted for more information.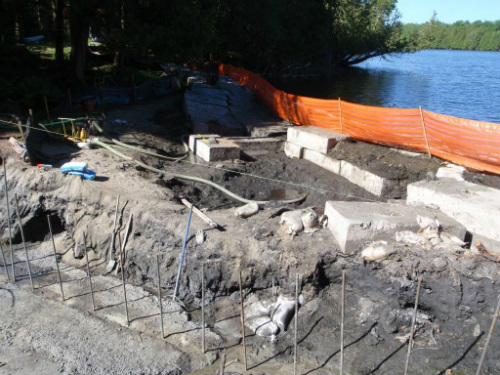 View all Current or Past Permits
Permit Database managed by the VT Dam Safety Program 
Process Overview
Review of a dam order application will consider two broad issue areas of the public good and may include conditions to address these and other issues:
Public safety: design criteria, hazard classification, upstream flood impacts. 
Environmental impacts: water quality (including temperature, dissolved oxygen, conservation flows and erosion control), wetlands and aquatic habitat.
The complete list of public good criteria can be found at 10 V.S.A. Chapter 43 §1086 (a)
A court decision found that the Department not have the authority to make rules regarding the public trust doctrine. In light of this decision a dam order issued under 10 V.S.A. Chapter 43 will make no finding or conclusion regarding the project's conformance with the public trust doctrine.
Other Permits
Other permits may be required instead of, or in addition to, a dam order prior to construction of a dam or work on a new dam.  Dams impounding less than 500,000 cubic feet of liquid may require a Stream Alteration Permit, if they would otherwise fall under the jurisdiction of that program.  In addition, dams may require a Wetland Conditional Use Determination, an Act 250 Permit, a permit from the U.S. Army Corps of Engineers and Section 401 Water Quality Certification, as well as local permits.  Finally, any project that will obstruct the movement of fish requires authorization from the Commissioner of Fish and Wildlife. We recommend that all potential applicants use the Permit Navigator tool to identify the required environmental permits and approvals for projects on a single parcel early in the planning process. If it is a linear, polygon, or multi-parcel project, contact a Community Assistance Specialist to get started.
Additional Information
For more information about dam-related permitting issues, please contact Ben Green.