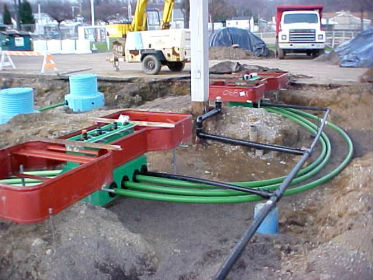 The state of Vermont is under a Stay Home Stay Safe order from Governor Phil Scott due to Covd 19.
For guidance on allowable acitivity, please go to the ACCD website: https://accd.vermont.gov/content/stay-home-stay-safe-sector-specific-guidance
INSTALLATION OF A NEW UNDERGROUND TANK SYSTEM(S)
For USTsystems that will be permitted (Category One Tanks or COTs including piping), a construction permit must be issued before installation begins. Complete the UST Registration/Permit Form (see below) and submit it along with any fees to the UST Program 60 days prior to commencement of construction. Once the review of the form is complete, a construction permit will be issued and construction may commence.
List of Underground Storage Tank Contractors
List of Cathodic Testing Contractors
After the tank(s) and/or piping have been installed, your contractor must complete and submit a Tank Installation Checklist and/or Piping Installation Checklist (see below).
All Forms:
UST Registration/Permit Form
Part I, Part II, Part III, and Part IV *PDF and Instructions to complete form
Financial Responsibility Form *PDF
Change of Ownership Form *PDF First Page of registration/permit form only
Tank Installation Checklist *PDF
Piping Installation Checklist *PDF
Piping Installation Without Excavation Checklist *PDF
Operator Designation Form *PDF
Mailing address:
VT DEC, Waste Management & Prevention Division UST Program
1 National Life Dr, Davis 1
Montpelier, VT 05620-3704