Installation of New UST Systems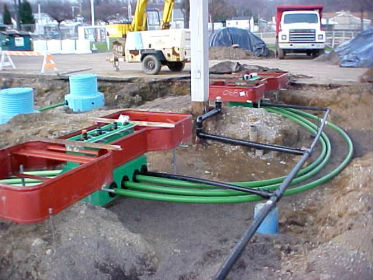 For UST systems that will be permitted (Category One Tanks or COTs including piping), a construction permit must be issued before installation begins. The UST Registration/Permit Form (see below) must be completed and submited, along with any fees, to the UST Program at least 60 days prior to beginning construction. Once the review of the form is complete, a construction permit will be issued, and construction may commence.
After the tank(s) and/or piping have been installed, your contractor must complete and submit a:
Tank Installation Checklist; and/or
Lists of Contractors
The storage tank program does not license environmental consultants or contractors nor endorse/recommend anyone on these lists.
---
Forms
UST Registration/Permit Form:
Part I, Part II, Part III, and Part IV 
Operating Permit Fees
From the ANRonline webpage, scroll down to the bottom, and click "Begin Form Entry" to start the process of payment.
Change of Ownership
This link directs you to the "ANRonline" tool. The city/town clerk fee for recording in the land record is $15; make check out to the municipality where the tanks are located. Instructions on where to send the check are found on the ANRonline "Change of Ownership" page. Note that the UST Form Part l will not be accepted for changes of ownership.
---
Contact
To submit completed forms and proof of paid permit fees, and/or if you have questions about UST intallation in Vermont, please contact:
Sue Thayer
802-522-0487
susan.thayer@vermont.gov