Click here for our Vermont Brownfields Handbook.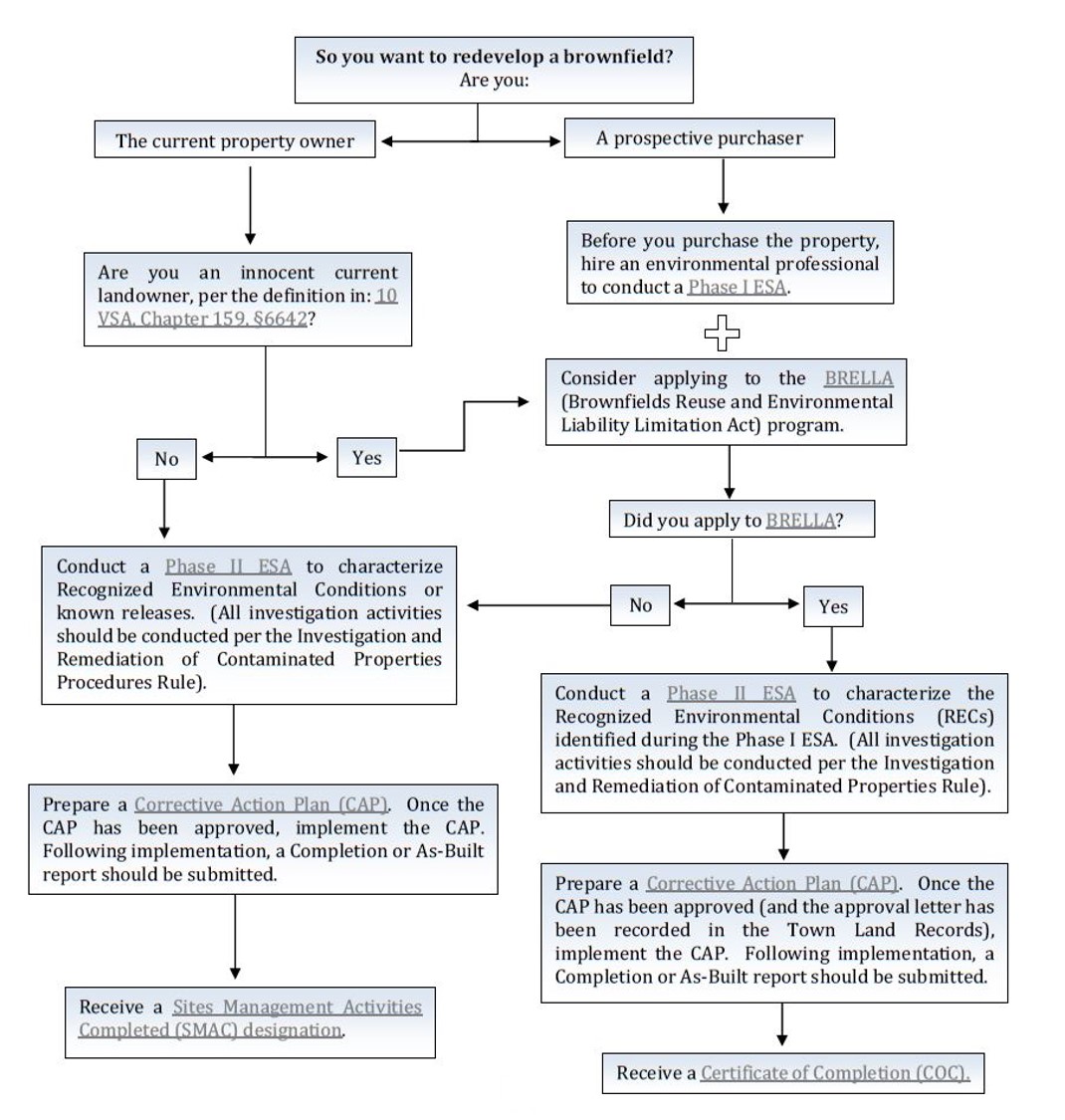 ---
Quick Links (Under Construction)
Corrective Action Plan (CAP)
Sites Management Activities Coompleted (SMAC)
Certificate of Completion (COC)
---
Conduct a Phase I Environmental Site Assessment
A Phase I Environmental Site Assessment (ESA) evaluates the potential for contamination to be present on a property. Phase I ESAs are conducted to satisfy the federal All Appropriate Inquiry (AAI) requirements and Vermont Innocent Current Landowner defenses and must be conducted in accordance with the standard practices issued by ASTM International, currently ASTM E1527-13. Phase I ESAs generally consist of the following main components:
A records review. Intended to encompass both current and historical documents pertaining to the property, the records review should identify possible sources of contamination originating from both on and off-site activities. It is especially critical that this review covers documents from the entirety of the historical record for the property, and when possible should include Town Land Records, Manning's City Directories, Sanborn Fire Insurance Maps, and other relevant historic documents. The VT ANR Natural Resources Atlas online mapping tool is also an important resource. More information on how to utilize these resources is included later in this document.
Site reconnaissance. A visual inspection of both the interior and the exterior of the subject property, conducted by an environmental professional. In particular, the presence of any hazardous materials, underground and aboveground storage tanks, stains, stressed vegetation, odors, sumps and floor drains, heating and cooling systems, and electrical transformers will be noted. General conditions of the site and surrounding properties, including the presence of surface water bodies and other geographic features may be noted as well.
Interviews. At least one individual who is knowledgeable about the property, as well as relevant state and local regulatory officials, are interviewed regarding the site history.
Based on the results of the records review, site reconnaissance, and interviews, a series of Recognized Environmental Conditions (RECs) will likely be identified.
ASTM E1527 defines a REC as "the presence or likely presence of any hazardous substances or petroleum products on a property under conditions that indicate an existing release, a past release, or a material threat of a release of any hazardous substances of petroleum products into structures on the property or into the ground, groundwater, or surface water of the property".
The ASTM standard further specifies that "the term includes hazardous substances or petroleum products even under conditions in compliance with laws. The term is not intended to include de minimus conditions that generally do not present a threat to human health or the environment and that generally would not be the subject of an enforcement action if brought to the attention of appropriate governmental agencies. Conditions determined to be de minimus are not recognized environmental conditions." The final Phase I ESA report will include recommendations regarding the steps, if any, that must be taken to address the RECs identified during the course of the Phase I ESA. This information, should help assist you in determining your level of comfort moving forward with a redevelopment project on a property.
Once a Phase I ESA has been conducted for the property in question, a copy of the report should be submitted to the VT DEC Sites Management Section for review. VT DEC will help you evaluate your Phase I ESA to ensure that it meets the current ASTM standards and will therefore be a suitable prerequisite for certain liability protections and forms of funding assistance. VT DEC will also evaluate the recommendations presented by your qualified environmental professional and discuss next steps.
Conduct a Phase II Environmental Site Assessment
 
The purpose of a Phase II Environmental Site Assessment (ESA) is to assess the degree and extent of contamination, or lack thereof, on a site. Phase II ESA's will vary by site and the RECs identified during the Phase I ESA. Samples will be collected from potentially contaminated media and submitted for laboratory analysis to confirm the presence of hazardous materials. Materials that are commonly sampled during the course of a Phase II ESA include the following:
Surficial and subsurface soils
Shallow or deep soil gas
Indoor air
Surface water and sediments
Groundwater
Sediments in dry wells, floor drains,
and catch basins
Please note that this is not a comprehensive list.