While all smoke is harmful, uncertified outdoor hydronic heaters tend to generate more particulate pollution than most other wood burning devices including indoor wood stoves.  The units are designed to burn wood at lower combustion temperatures and generally have shorter stacks  that emit smoke at house level. Wood smoke releases fine particulates ("soot"), carbon monoxide, and other toxic pollutants.  
While certified wood burning devices (woodstoves, wood pellet stoves, indoor wood boilers, wood-fired forced air furnaces and outdoor hydronic heaters) produce less smoke, wood smoke in any form is a potential human health problem. As more and more families turn to wood for their energy, the devices they use need to be cleaner and cleaner in order to maintain Vermont's air quality.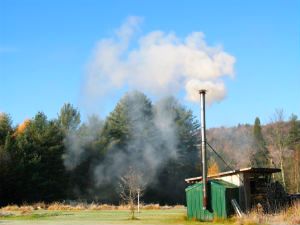 Children, whose lungs are still developing, and people with health, heart or lung problems such as coronary artery disease, asthma, or emphysema are especially affected by smoke.  Legitimate health concerns account for the majority of nuisance complaints and have resulted in many municipalities and states passing regulations to protect the public health.
Concerns about health impacts and general air pollution prompted states in the Northeast and Midwest and the US EPA to adopt programs limiting the smoke from outdoor hydronic heaters. Regulation of outdoor hydronic heaters took a major step forward in 2015 when the EPA promulgated new regulations governing the manufacture and sale of outdoor hydronic heaters across the nation.
Is Natural Wood Smoke Harmful?
Yes, all wood smoke is harmful, but smoke from uncertified outdoor hydronic heaters is worse due to the poor combustion and large amounts of smoke emitted. While smoke and gases from burning fossil fuels, such as oil, contain air pollutants like sulfur dioxide, the smoke from wood burning contains much higher levels of small particles. In fact, the vast majority of particulate in woodsmoke  is very fine (less than 2.5 microns in size) and can become trapped in the delicate air exchange sacs deep in your lungs when inhaled. Numerous studies have found strong relationships between high fine particulate levels and chronic lung diseases, cardiovascular disease and premature death. According to the American Lung Association, the fine particulate found in woodsmoke can be linked to higher school absenteeism, emergency room visits and hospitalizations for cardiopulmonary conditions, respiratory infections and asthma.
I Want to Burn Wood... What Should I Do?
Consider your neighbors. Burning wood in some dense residential neighborhoods is not always a good idea.
Have an energy expert inspect your home. You may find that more insulation or other energy saving improvements may be a better investment than an expensive wood heating device.
If you have an older uncertified wood stove, consider purchasing a cleaner, more efficient EPA certified woodstove or pellet stove.
Consider an efficient indoor wood boiler that may include a large hot water storage tank. Operated properly, these units cycle less and burn hotter and cleaner.
If you like the idea of an outdoor hydronic heater, purchase a new unit certified to meet the federal Subpart QQQQ emission standards effective on May 15, 2015.. Purchasing an outdoor hydronic heater is a big investment; make it wisely.
For more information please check out the related wood-burning literature on our publications page. If you have questions, please contact John Wakefield at john.wakefield@vermont.gov or call (802) 279-5674
Want to learn more?
The Dangers to Health from Outdoor Wood Furnaces, Environment & Human Health, Inc. 2010
Health Consultation, Michigan Department of Community Health & US Department of Health and Human Services, 2009
Guidance for Health Professionals, Wisconsin Division of Public Health, 2005
Increased use of outdoor wood boilers..., Wisconsin Department of Natural Resources, 2005
In-Field Fine Particulate Monitoring of an Outdoor Wood Boiler: Public Health Concerns, Johnson, NESCAUM, 2006
Long-Term Exposure to Air Pollution and Incidence of Cardiovascular Events in Women, NEJM, 2007
Short-Term Exposure to Fine Particulate Air Pollution Increases Risk of Heart Attack for Those with Clogged Arteries, BYU, 2006
Smoke Gets in Your Lungs, State of NY, Office of the Attorney General, 2005
What is Particulate Matter?, American Lung Association
Woodsmoke Health Effects: A Review, Naeher et al., Inhalation Toxicology, 2007