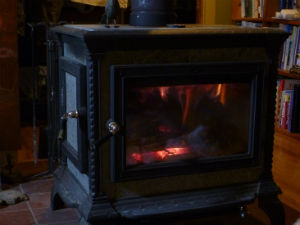 Using wood to heat our homes is common practice for many Vermonters whether it be with cordwood or wood pellets. According to the Vermont Department of Forests, Parks and Recreation's Vermont Residential Fuel Assessment: 2014-2015, 38% of Vermont households burned wood for at least some of their space heating needs.
Wood stoves have historically been the most common wood-heating device but wood pellet stoves and wood-fired central heaters have become more common over the past 15 to 20 years. Central heaters include indoor wood boilers, outdoor hydronic heaters (formerly known as outdoor wood boilers or OWBs) and wood-fired forced-air furnaces, operating on cordwood or wood pellets.
Until 1997, Vermont had no state regulations that applied to wood burning devices; the only requirements were from a federal regulation (40 CFR Part 60, Subpart AAA), adopted in 1988, that set emission limits for most woodstoves and some wood pellet stoves. This regulation did not cover wood-fired central heaters.
Due to numerous complaints about excessive smoke from outdoor hydronic heaters during the early and mid-1990's, the Air Quality & Climate Division adopted the first regulation addressing outdoor hydronic heaters in 1997 to require setbacks from neighboring residences and taller smoke stacks. As these requirements failed to resolve the complaints being received, the regulation was amended in 2007 to require new outdoor hydronic heaters to meet an emission standard to be sold in Vermont. The emission standard was amended to be more stringent in 2009.
The most recent development to promote cleaner wood burning technology came with the update of the existing federal regulation for residential wood heaters in 2015. The new regulation made several significant changes to the original requirements in Subpart AAA for woodstoves and wood pellet stoves including the following:
it removed some loopholes in the original regulation that excluded certain woodstoves and wood pellet stoves from having to meet the emission standard, and;
more stringent emission limits are applied to woodstoves and wood pellet stoves in two phases with the first applying to those manufactured after May 15, 2015 and the second as of May 15, 2020.
Significantly, the new federal regulation also added a new Subpart (QQQQ) that established the first nationwide emission standards for wood-fired central heaters. Both cordwood and wood pellet units are covered by the regulation. Effective on December 15, 2016, Vermont adopted amendments to the existing regulation for outdoor hydronic heaters to update the requirements for outdoor hydronic heaters and include other wood-fired central heaters, woodstoves and wood pellet stoves. Any wood-fired central heater, woodstove or wood pellet stove that is certified for sale under the federal regulations is also allowed to be sold in Vermont. ​